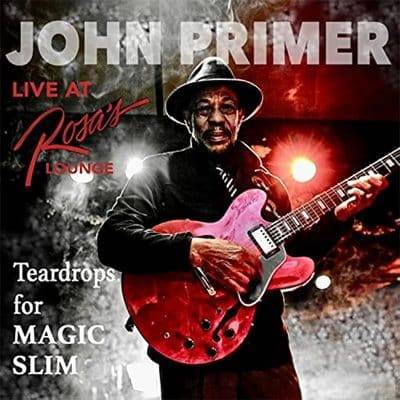 John Primer
Live at Rosa's Lounge – Teardrops for Magic Slim
Blues House Productions
Guitarist and singer John Primer releases his second album in the space of only six months, with Teardrops for Magic Slim, a live recording from Chicago's blues haven, Rosa's Lounge. The late Magic Slim (Morris Holt) was Primer's second famous boss, after Muddy Waters. Primer played with the blues giant for 13 years from 1981-1993. Recorded at a packed house on November 26th, 2022, the intention all along was to release the album around the tenth anniversary of Slim's passing, February 21, 2023. Primer has included these Chicago blues standards and Slim's tunes in his live performances with his own Real Deal Blues band but this was truly a special occasion as he reunited with the living members of Slim's band, the Teardrops, as well as Slim's son, Shawn Holt. So, this was not only commemoration but a thirty-year reunion.
The Teardrops are Jon McDonald (2nd guitar), Earl Howell (drums), Danny O'Connor (bass), Lenny Media (drums), and Shawn Holt (guitar and vocals on "Let Me Love You Baby" and "It Hurts Me Too." As you can glean from just those two titles, the 70 minute performance is stacked with blues standards and covers. In fact, the only Slim penned tune is "Trouble of My Own." Yet, this too is authentic as Slim's live sets were leaned heavily on covers, rendered in Slim's distinctive Chicago 12-bar shuffle style. The energy is at a joyous, exuberant level from the outset, as the band sings on the choruses of J.B. Lenoir's "Mama Talk to Your Daughter" as Primer coaxes sweet and biting lines from his guitar, featured even more prominently on the following, Jimmy Dawkins' "Luv Sumbody." Along with Lurrie Bell and Billy Flynn, Primer is one of the few traditional blues guitarists still playing today. When listening to these songs from Bo Diddley ("Before You Accuse Me"), Elmore James ("It Hurts Me Too" and "Look Over Yonder Wall"), Willie Dixon ("Let Me Love You Baby") and Little Milton ("The Blues Is Alright'), the essence of Chicago blues unfolds in its down and dirty but pure glory.
The sound quality is very good, not up to studio standards, but just raw enough to add to the exciting quality of that evening's show. This is the kind of recording that should not only encourage you to seek out Magic Slim's recordings but to get yourself to a Primer show. Just listen to his stinging guitar on Jimmy McCracklin's "Every Night and Every Day." A real blues fan would need no further convincing beyond just that one track. Other highlights include "Trouble of My Own," the two guitar duels with Shawn Holt who has some of the powerful vocal chops of his dad, and the Guitar Slim cover, "The Things I Used to Do." Yet, there's not a weak track here because Primer and the band play with sweaty, raging passion throughout. It was a truly special night at Rosa's, Primer and band feeding off the audience's hearty response.
This writer has seen both Slim and Primer multiple times but only once when Primer was a member of The Teardrops. The contrast between the two is striking. Slim was a larger than life presence, sheer power along the lines of Howlin' Wolf, while Primer is a lithe figure who slithers rather than stomps through his electrifying guitar solos. For better context, we offer this from writer David Whiteis in 1988 – "A whiff of violence, a touch of grace: Magic Slim and John Primer play both ends of the blues. Where Slim stalks the stage like a predator, assuming command with his physical dominance and the thundering roar of his music, Primer hugs his guitar close to his chest and coaxes out notes of silken purity, joyful imagination, and sensual delight…John is yin to Slim's yang."
Primer and the Teardrops hold nothing back. This is the raw, real deal blues – invigorating and chilling. Dig in.
Help Support Making a Scene
Your Support helps us pay for our server and allows us to continue to bring you the best coverage for the Indie Artists and the fans that Love them!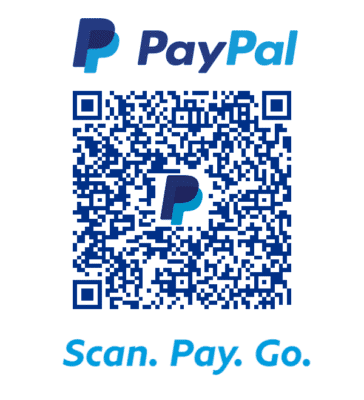 FOLLOW US ON INSTAGRAM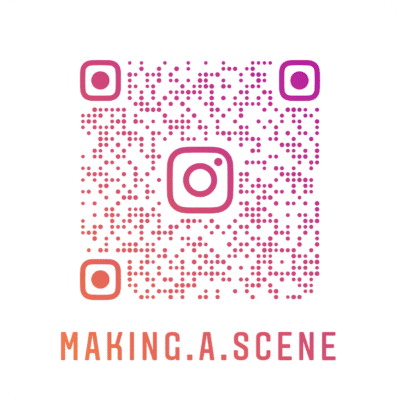 Subscribe to Our Newsletter