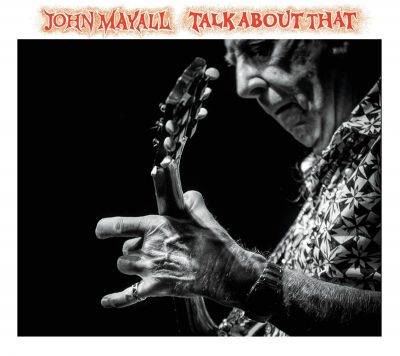 John Mayall
Talk About That
Forty Below Records
John Mayall is the influential British bluesman who formed his band The Bluesbreakers in 1963. A great guitarist, harmonica player, singer, songwriter and bandleader he is still going strong after more than fifty years.
Mayall's band members have included guitarists Eric Clapton, Peter Green, Mick Taylor, Harvey Mandel, Freddy Robinson, Coco Montoya, Walter Trout, Sonny Landreth, Robben Ford; and many other notable musicians. Mayall's best selling albums include 1966's "Blues Breakers with Eric Clapton"; 1968's "Blues From Laurel Canyon", 1969's "The Turning Point" and 1970's "Empty Rooms". Mayall began incorporating jazz and gave us 1972's "Jazz Blues Fusion" and 1973's "Moving On". This new album is Mayall's sixty-seventh and that doesn't include reissues. Last year at the 2016 Blues Music Awards Mayall was inducted into The Blues Hall of Fame.
The band on "Talk About That" includes Mayall, vocals, Hammond organ, piano, harmonica, and guitar; Rocky Athas, rhythm and lead guitar; Greg Rzab, bass; and Jay Davenport, drums and percussion. The album was recorded in February 2016 at The House of Blues Studios in Encino, Ca.
Eight of the eleven tracks are new songs written by Mayall. Mayall states that the title track "Talk About That" is a modern bit of funk and a reflection on thoughts that, at the time, were running through his head. Mayall solos on organ.
Guitarist Joe Walsh, of The Eagles, guests on two originals; the topical "The Devil Must Be Laughing" with Mayall on organ; and "Cards on The Table". Walsh states that playing with Mayall has been on his bucket list for some time and it fulfills a life long dream.
A horn section is added on the New Orleans styled "Gimme Some of that Gumbo" featuring Ron Dziubla, tenor and baritone sax; Mark Pender, trumpet; and Nick Lane, trombone. This tune with its infectious second line beat is my favorite on this fine album.
Other originals include "I Didn't Mean to Hurt You" with a great vocal and piano solo from Mayall; "Blue Midnight"; "You Never Know" and "Across the County Line" co-written with the band and featuring the horns, Mayall on harp, Davenport's infectious drumming and some great guitar from Athas.
Mayall also covers three songs; Bettye Crutcher's "It's Hard Going Up" with the horns and Mayall on piano; Jimmy Rogers' "Goin Away Baby" with some solid bass from Rzab, and "Don't Deny Me" from songwriter Jerry Lynn Williams who also wrote songs for Bonnie Raitt, Eric Clapton, and B.B. King.
After seven years guitarist Athas has announced he is leaving the band to pursue a solo career; while Mayall states he is looking forward to the idea of performing as a trio.
Mayall continues to give us great music.
Richard Ludmerer
[amazon_link asins='B01M8NHUA0,B000002GLV,B00T73ATC0,B0000EMYOD,B000RHKARO,B00005R8FI,B00005K9QP,B0000C7PSC,B000RHKARY' template='ProductCarousel' store='maasc-20′ marketplace='US' link_id='3574d14a-e012-11e6-9cfc-6d96e3576cb0′]