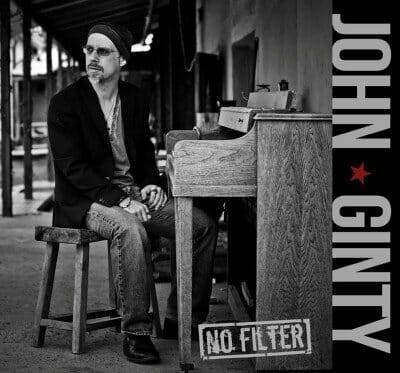 John Ginty
No Filter
American Showplace Music
John Ginty is an organist and founding member of Robert Randolph and The Family Band. He appears on their 2002 "Live At The Wetlands" album and also on their 2003 "Unclassified" studio recording. He is also an in demand session player appearing on approximately sixty albums for other artists including The Blind Boys of Alabama, Santana, Citizen Cope, Dana Fuchs, Shannon McNally, Warren Haynes, Albert Castiglia, Alexis P. Suter, and Slam Allen. Ginty's grasp of American contemporary music enables him to play in a variety of different contexts.
In 2006 Ginty released his first recording "Fireside Live". In 2013 Ginty starting working with producer Ben Elliot of American Showplace Studios and released 2013's "Bad News Travels". They followed up in 2014 with a DVD commemorating the "Bad News Travels" sessions.
This newest studio recording was also produced by Elliot at his studio in Dover, N.J. The band consists of Ginty, Hammond B-3, piano and percussion; Mike Buckman, guitars; Paul Kuzik, bass; and drummers Dan Fadel and Andrei Koribanics.
All of the compositions were authored by Ginty. The album opens with the first of three instrumentals. Lou Pallo of the Les Paul Trio plays the guitar intro on "Fredo". Chris Jacobs is featured on guitar on "Elevators". "No Jelly" featuring guitarist Jimmy Bennett, from the Alexis P. Suter band, was co-written with the band.
Guest vocalists include guitarist Chris Jacobs on "Ball of Fire"; "Annandale" and "Pirate". The fabulous Suter sings on "Old Shoes" with Bennett on guitar. Cara Kelly sings on "Battlegrounds" and on the title track "No Filter"; while Paul Gerdts is the vocalist on "Rock N Roll Sunday". The album closes with a remixed version of "Fredo" that includes lyrics written by Reggie Noble also known as the rapper Redman.
Throughout the recording Ginty coaxes soulful sounds from the keys. At the 2015 Pennsylvania Blues Festival Ginty sat in with Slam Allen. Ginty has spent half his life as a robust sideman making other artists sound better. On this superb album Ginty is a fully realized bandleader who should continue to enthrall us for many years to come.
Kudos are deserved for Ginty's performance on this recording.
Richard Ludmerer