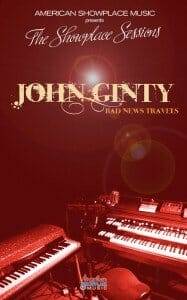 John Ginty
Bad News Travels/The Showplace Sessions Live
American Showplace Music
On June 11, 2014 John Ginty entered the studio to record this DVD. Ginty recreated music from his Bad News Travels cd released this past September. Guesting are Albert Castiglia, Todd Wolfe and Alexis P. Suter. This is the first in producer Ben Elliot's Live at Showplace Studios Concert Series.
Ginty is the renowned Hammond B3 organist and piano player who was an original member of Robert Randolph and the Family Band. He has recorded with The Blind Boys of Alabama, Citizen Cope, Santana and others. He has also sat in with The Allman Brothers during their yearly Beacon Theatre Concert run.
All songs are written by Ginty. He is an amazing keyboardist to watch. The sound he gets from his B3 is inspiring. Ginty opens with "Switch". He is accompanied by two drummers, Dan Fadel and Andrei Koribanics. On "Arrivals" they are joined by guitarist Mike Buckman and bassist Paul Kuzik. Ginty and his band cook.
Ruf Recording artist Castiglia plays guitar and sings on the slow bluesy "Black Cat". When Ginty turns to his right to switch to his piano Castiglia comes back with a wailing solo. Next a spirited Castiglia sings "I can't believe Elvis Presley is alive". Guitarist Todd Wolfe joins Ginty on two instrumentals "Peanut Butter" and "Rock Ridge".
Blues diva Alexis P. Suter sings on both "Seven and The Spirit" where she is joined by her guitarist Jimmy Bennett; and on "Damage Control" with guitarists Castiglia and Chris Jacobs (from Deanna Bogart's band). Suter, with Ginty on organ, sounds better than ever.
Castiglia joins Ginty and Jacobs on "The Quirk". The entire cast joins in on "Trinity" which closes out this performance. The small crowd shows their large appreciation. Ginty proves himself a great keyboardist and bandleader.
I'm looking forward to more from this concert series. Now that I've seen Ginty and the rest of these performers I'm interested in seeing them again somewhere soon; or I can just hit replay. This is a great addition to any music collection.
Richard Ludmerer