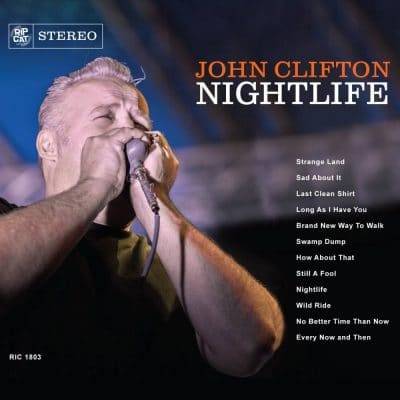 John Clifton
Nightlife
Rip Cat Records
In the late 1980's harmonica player John Clifton founded The MoFo Party Band with his brother guitarist Bill Clifton. They released their debut recording "Call The Doctor!" in 1999. That album was named one of the "Best West Coast NEW Blues Recordings of 2000" and made numerous other "Best" lists. In 2006 they followed with both "The Sound of The Mofo Party Band" and "Voodoo Dolls & Jungle Drums". Their album "Low Down" was released in 2010.
John Clifton has been featured five times with Mark Hummel's Blues Harmonica Blowout and has played onstage with harp aces James Cotton, Billy Boy Arnold, Rod Piazza, John Mayall, James Harman and Kim Wilson. He has also played with Luther Tucker, Tommy Castro, Willie "Big Eyes" Smith, and Huey Lewis. His first solo album was 2015's "Let Yourself Go" also on Rip Cat featuring Rusty Zinn and Bob Welch. In 2016 The Mofo Party Band appeared on Big Bill Morganfield's album "Bloodstains On The Wall".
The John Clifton Band includes Clifton, vocals, harmonica and guitar; Scott Abeyta, lead and rhythm guitar; Bartek Szopinski, piano and B-3; Matt Moulton, bass; and either John Shafer or Roman Rivera, drums.
Selected covers include the opener "Strange Land" from Charlie Musselwhite; "Sad About It" written and recorded by soul singer Lee Moses in 1967; Leiber and Stoller's "Last Clean Shirt" a.k.a. "Brother Bill" co-written and recorded by Charles "Honeyboy" Otis in 1965 and also covered by James Harman in 1994; Little Walter Jacobs' "As Long As I Have You" recorded in 1961; and Muddy Waters' classic "Still A Fool". The title track, "Nightlife", was originally featured in the 1964 Elvis Presley movie "Viva Las Vegas".
Five of the twelve tracks were written or co-written by Clifton. "Brand New Way To Walk" is an energized rocker with a fabulous harp solo; "Swamp Dump" is a Slim Harpo styled tune with some banter against the sound of crickets chirping in the background; while "How About That" is a high powered harmonica instrumental. "Wild Ride" is another instrumental written with pianist Szopinski. "Every Now and Then" is the nine minute highlight that closes out this fine album as Clifton, Szopinski, and Abeyta each get a chance to solo.
The John Clifton Band is making their "mark" with this outstanding sophomore effort.
Richard Ludmerer
[amazon_link asins='B07D2XL1F6,B015L1WQKE,B07D1CRTQ2,B07D1DDZGL,B07D1CRNDP,B015L1WWQ2,B07D1C5PTM' template='ProductCarousel' store='maasc-20′ marketplace='US' link_id='da635988-6408-11e8-8760-ef64d656ddb0′]