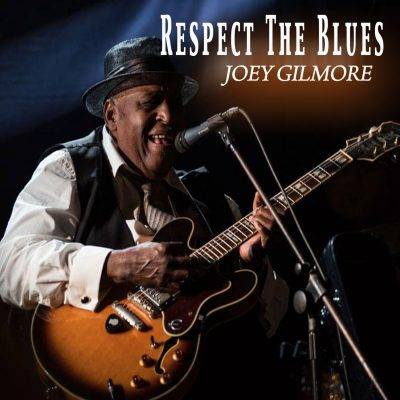 The Joey Gilmore band
Respect The Blues
Mosher St. Records
In a fifty year career Joey Gilmore has shared the stage with Bobby "Blue" Bland, Etta James, James Brown, Little Milton and Little Johnny Taylor. He was born in Ocala, Florida and released his self-titled first album in 1977. His next recording was 1989's"So Good to Be Bad". During the 1990's he recorded two albums on Ichiban Records.
The Joey Gilmore Band won the International Blues Challenge in 2006. That same year Gilmore released his widely acclaimed "The Ghosts of Mississippi Meet The Gods of Africa" on the Bluzpik Record label. He followed up with 2008's "Bluesman" on Emancipation Media; the band at the time included Regi Oliver, saxophone, who now plays with The Selwyn Birchwood Band. Gilmore's last album was 2015's "Brandon's Blues".
The band currently consists of Gilmore, guitar and vocals; Ivan Chopik, guitar; Sonny Boy Williams, keyboards; Robert "Hi-Hat" Carter, bass; and Raul Hernandez or Maurice Dukes, drums. Guesting are Rockin' Jake, harp; Drew Preston, guitar; Domino Johnson, vocals; and Edlene Hart, formerly of The F & G Band, vocals. The horns are played and arranged by Yoel Hyman. The album is produced by Marc Loren and Executive Producer Jerry Blum; and dedicated to the memory of David Shelley.
The fabulous song selection helps make this an exciting album. The album opens with "Man of My Word" written by Dennis Walker and Alan Mirikitan. It became the title track to Johnny Adams' 1998 Rounder Records recording. Gilmore's vocal is commanding.
"Can't Kill Nothin'" was the title track to Gilmore's 1993 Ichiban recording. The song was written by Stax's William Bell who also produced Gilmore's album. Gilmore sounds a lot like Albert King.
"Brownskin Woman" was composed by Andres Espre (Zydeco master Beau Jocque) and Albert Luandrew (Sunnyland Slim). This is a great vocal from Gilmore. Dukes' drums, Williams' keys and special guest harp ace Rockin' Jake sound great.
"Living A Lie" is from the late Severn Recording artist Lou Pride. The featured vocalist is Johnson.
"A Little Love (always makes it bettah) is another song from Beau Jocque. The result is a great version with an infectious dance beat.
"Break Up Somebody's Home" was written by Al Jackson Jr. the original drummer in Booker T. and The MG's. Jackson also worked for Stax Records as a songwriter and producer. This song was sung by Albert King on a Jackson produced album and also recorded by both Etta James and Ann Peebles. The production on this track is outstanding.
"This Time I'm Gone For Good" was written by Don Robey a.k.a Deadric Malone the owner of both the Peacock and Duke Record labels. This song was recorded by Bobby "Blue" Bland. Again Johnson is the featured vocalist.
"Chain of Fools" is the Don Covay classic also recorded by Aretha Franklin. Guest vocalist Hart really nails this one.
"Room 244" is from Little Milton Campbell co-written with George Jackson. It was recorded by Little Milton in 1987. This is a great version. Gilmore sounds like Johnny Rawls. Again the production on this track is excellent.
"Soul Survivor" is from Bob Trenchard of Kay, Kay, and The Rays; and was the title track on Johnny Rawls 2012 Catfood Records recording. Johnson sounds like Kay Kay Greenwade.
"Night Time is The Right Time" is the classic written by barrelhouse pianist Roosevelt Sykes and St. Louis Jimmy Oden. Here it is a vocal duet with Gilmore and Hart.
This is a fine album that should receive a substantial amount of airplay. Gilmore has still got it.
Richard Ludmerer