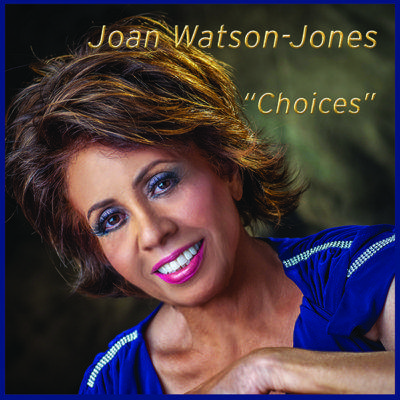 Joan Watson-Jones
Choices
EOS 4
Joan Watson-Jones is a vocalist, songwriter, multi-instrumentalist, and host of producer of The Jazz Room, an online radio program of jazz music and interviews. Choices is her fourth albums, comprised of her originals and two standards. Watson-Jones is a mainstay in the New England jazz scene, and she brings aboard old friends she has played with over 25 years for these sessions. Pianist Frank Wilkins is her arranger, accompanist and creative inspirer. Wilkins has an extensive resume, having backed Dee Dee Bridgewater and many others. He also accompanied Watson-Jones on her most recent project, a duet setting for Quiet Conversation. Bassist Dave Zox and drummer Alvin Terry are her long-time rhythm section and join again here.
This is the first album where Watson-Jones has written all the lyrics for her tunes, taking full credit for both music and lyrics on the nine contained here. The first impression will be Watson-Jones' "little girl" voice, reedy in timbre and without very many reference points except the late Blossom Dearie, who unlike Watson-Jones, was not African American. Yet, the resemblance is spooky especially on the upbeat tunes but there's a major difference. Blossom Dearie played up her cute voice and used it in a slyly sexy, seductive way, accenting her storytelling. Watson-Jones favors a more straight-ahead classy approach that accents the lyrics rather than taking her voice into that signature Blossom Dearie phrasing.
Watson-Jones was raised in Harlem and still spends considerable time there at her family home. Her father was a renowned doctor in the neighborhood and her mother was a dancer who performed at the Moulin Rouge in Paris, later becoming a pioneering female boxer. Watson-Jones has been playing music since she was four years old when she began taking piano and tap dancing lessons. She holds a Master's degree in Music Education and taught for many years, first in the Bronx and then in New Hampshire before retiring to pursue her own musical career.
She begins and ends the album with a standard, first with "Topsy 2," originally an instrumental composition penned by drummer Cozy Cole. Watson-Jones claims to hear the melody in the original as if Cole were playing notes on the drums. She ends with "Here's to Life," a commendable choice and capable rendering, though nowhere near Shirley Horn's famous interpretation of the tune. To Watson-Jones' credit, she doesn't try to mimic Horn's conversational style which is truly singular.
The title track was inspired by attending a Dianne Reeves concert at Carnegie Hall, after which Watson-Jones wrote the lyrics about her mother, one who made fearless choices and stood behind them. "Talking to Martin" is dedicated to the civil rights activist and his ideals as she can still remember attending an MLK rally with her father at a Baptist church in Harlem in the '60s. The personal bent continues with "Let Me Go," written about her "second mother," her dad's secretary who was always in the house and helped raise her. Watson-Jones returned the favor, caring for her when she became elderly. "My Child's Dreams" is for her father's response to a letter she wrote him after graduating college, expressing her fears for the future. The lyrics bear her dad's response.
"I Ain't Just a Pretty Face" is a statement of personal power while "The First Time We Met," recounts the first time she met her husband, Peter, in college after he had just come over from England. Despite their differences, it was essentially love at first sight…"You liked my eyes and my silly jokes/I liked your smile and your kind gentle voice/You knew crazy facts about all kinds of things/And best of all—we both loved Nina Simone." "A Glass Of Wine" is, in essence, a toast to that intimacy. "It's Been a Long Time Coming" was inspired by a college friend, not blessed with the best of looks, who became Watson-Jones' roommate, basically the pairing of two outsiders. After not seeing each other for many years although they did meet once, her friend later wrote that she had finally found love.
As that last tune and several of the others indicate, Watson-Jones is paying homage to family and friends, finding joy in music and celebrating a life full of hope, music, and meaningful person relationships.