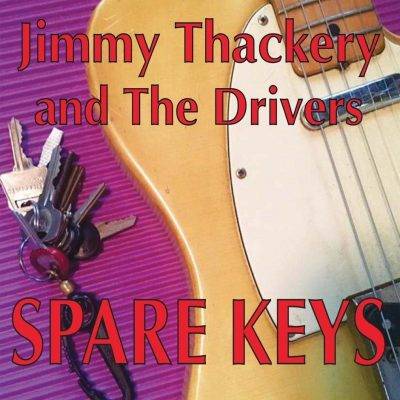 Jimmy Thackery
Spare Keys
White River Records
Jimmy Thackery was born in Pittsburg, Pa. in 1953. He began his career as a member of "The Nighthawks" and spent fourteen years with them recording 20 albums. In 1987 Thackery left the Nighthawks to form his own band "Jimmy Thackery and The Drivers" and went on to record sixteen more albums. He also collaborated with Tab Benoit and released two "Whiskey Store" albums. He is a prolific road warrior.
This newest album on White River Records is more than just another Jimmy Thackery album. This all original album features six instrumentals and six vocals.
The Drivers include Thackery, guitar and vocals; Rick Knapp, bass; and either George Sheppard or Chris Reddan, drums. The album was recorded at Tony's Treasures in Cadiz, Ohio.
Thackery gets a great tone from his Stratocaster. The opener "Candy Apple Red" has a sound akin to surf rock. "Five Inch Knife" is another great instrumental. "Same Page On Demand" has Thackery utilizing some minor chord changes. "Bella Noche" is an evocative bit of film noir.
"The Barber's Guitar" was sitting in the window of Thackery's local barber shop. The guitar spoke to him as it was in need of some repair and so he asked the barber if he could repair it. Once the repair was completed this tune poured out.
The first time we get to hear Thackery sing is on "Blues All Night". This vocal is the best I've heard from him. He also takes a smokin' guitar solo. "You Can't Come Back""; "No More Than Me" and "Fightin' in The Jungle" are all good vocals. The slow burning "I Even Lost The Blues" is my favorite as it features an expressive solo.
This is one of Thackery's best. If you haven't heard him lately your in for a treat.
Richard Ludmerer