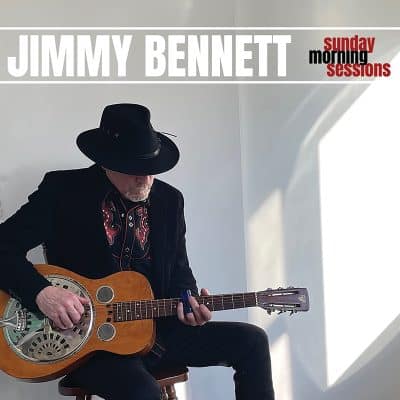 Jimmy Bennett
Sunday Morning Sessions
Junkyard Dog Productions
Sunday Morning Sessions is the gentle and unplugged side of the typically fiery guitarist Jimmy Bennett. You may recall Bennett was electric guitarist with The Bennett Brothers, Bruce Katz, John Ginty, and Alexis P. Suter albums on the American Showplace label under the late Ben Elliott to whom these tracks are dedicated. Bennett, of course, as an esteemed legacy even prior to his work at American Showplace, having shared the stage with Hubert Sumlin, Bo Diddley, Bill KIrchen, and The Band members Levon Helm, Rick Danko, and Garth Hudson.
This is simply a duo offering with Bennett on acoustic guitar, Dobro, and some vocals with producer, recorder, mixer Ginty on the Vintage vibe piano, B3, and drums. As the title might suggest, the album was born out of the pandemic. Bennett first recorded the opening "Easter Morning Melody" and shared a video of it on Facebook. The response was unexpectedly overwhelming, causing Bennett to stream more editions of "Sunday Morning Sessions," which are apparently still continuing. Eight of the ten are originals with Johnny Cash' "Ring of Fire" and Delbert McClinton's "New York City" as his two interpretative covers.
After the fingerpicked "Easter Morning Melody" he sings a rather mournful spiritual tune, "Will I See You Again," the kind of pondering many of us did during those pandemic times. He gives his Dobro a healthy workout on "Snow Sliding" as Ginty keeps steady time. "Bay Ridge Blues" slips into that melancholic John Fahey style but then, unlike Fahey, we hear a vocal tune with the guitar remaining in the same style. More Dobro slide work colors the vocal tune "Katy Mae," another with a back porch feel but lacking any sort of frivolity oft associated with such. That element is very much present, however, in his animated take on Delbert's "New York City" where we hear Ginty soloing on the Vintage vibe piano.
"Broken River Stream" has some of Bennett's best rapid fire, liquid picking while "Ring of Fire" displays impressive plucking on the bass strings while picking on the higher end in a relatively faithful rendering. The jaunty "Mr. Charlie" is not the Grateful Dead song of the same name but carries a similar spirited country blues vibe. "Serenade for New Orleans" concludes the brief, warm set with deft Dobro picking and a lingering mourn for the Crescent City.
Bennett does not possess the most distinctive voice but yet it fits with the tenor of these tunes. Yet, his calling card is his stellar guitar work, and that's of course why he released these relaxing tunes.
Help Support Making a Scene
Your Support helps us pay for our server and allows us to continue to bring you the best coverage for the Indie Artists and the fans that Love them!
Make a one-time donation
Make a monthly donation
Make a yearly donation
Choose an amount
Or enter a custom amount
$
---
Your contribution is appreciated.
Your contribution is appreciated.
Your contribution is appreciated.
Donate
Donate monthly
Donate yearly
You can donate directly through Paypal!
Subscribe to Our Newsletter