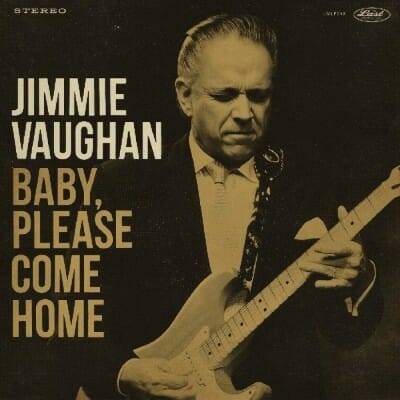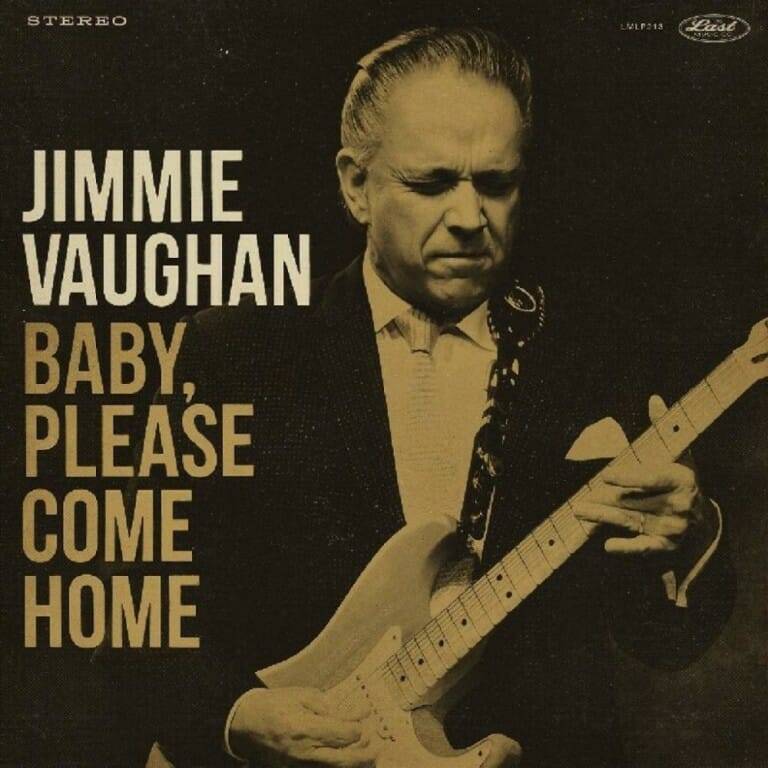 Jimmie Vaughan
Baby, Please Come Home
The Last Music Company
Jimmie Vaughan is the older brother of Stevie Ray Vaughan. While SRV was forming Double Trouble his older brother was founding The Fabulous Thunderbirds. In 1979 The Fabulous Thunderbirds with lead guitarist Vaughan released their debut recording "Girls Go Wild" on Takoma/Chrysalis Records. Jimmie stayed with The Fabulous Thunderbirds for ten years. When he departed the Thunderbirds in 1990 he partnered with his younger brother to record The Vaughan Brothers "Family Style". That album earned Jimmie two Grammy Awards; Best Contemporary Blues Recording and Best Rock Instrumental Performance. Jimmie didn't release his solo debut until 1994's "Strange Pleasure"; the song "Six Strings Down" off that album, co-written with Aaron and Charles Neville was a tribute to his late brother who died in 1990, and resulted in Jimmie's first Blues Music Awards nomination as Song of The Year. Over his career Jimmie has won four Grammy Awards and garnered six BMA nominations.
Jimmie has been content with making his "Tilt A Whirl Band" the best it can be and making the best recordings he can. However Vaughan did not record between 2001 and 2010 except for one album, 2008's "On The Jimmy Reed Highway", with vocalist Omar Kent Dykes. In 2010 Jimmie released "Plays Blues, Ballads, & Favorites" on the Proper Records label and followed up with a sequel in 2011. On these albums he recorded selected songs by artists that he found inspiring. Vaughan is a seeker always looking for a pure sound without extraneous notes or long excessive solos. There can be no shortcuts just playing in support of the song; and the freedom to achieve the desired feeling.
Jimmie has enlisted his long standing A-team of musicians, the best in the business, to get the desired feeling on each of the eleven tracks. As producer he utilized the rhythm section of George Rains, drums; Ronnie James, bass; and Billy Pitman, rhythm guitar. On seven songs they are joined by the horn section of Doug James, baritone sax; and Greg Piccolo, tenor sax. All but one track were recorded at The Firestation Studios in San Marcos Texas.
The title track, "Baby, Please Come Home", was recorded by Lloyd Price in 1961. The country standard "No One To Talk To (But The Blues)" written by Lefty Frizzell is from 1957. "What's Your Name?" was a 1953 single by Chuck Willis. "It's Love Baby (24 Hours A Day)" was recorded three times in 1955; by Louis Brooks and His Hi-Toppers, by Hank Ballard and The Midnighters, and by Ruth Brown. "So Glad" first appeared on "Fats" Domino's 1963 album "Waking To New Orleans", Vaughan's vocal is outstanding. 1954's "Midnight Hour" is from Clarence "Gatemouth" Brown. "Just A Game" originally a single for Jimmy Donley in 1964 features Mike Flanigin on the B-3.
Three tracks include The Texas Horns expanded to five pieces: John Mills, baritone sax; Mark "Kaz" Kazanoff, tenor sax; Al Gomez, trumpet; Jimmy Shortell, trumpet; and Randy Zimmerman, trombone. They are featured on "Be My Lovey, Dovey" recorded by Etta James in 1960; T-Bone Walker's 1967 "I'm Still In Love With You" with a fabulous vocal from Vaughan; and Jimmy Reed's "Baby, What's Wrong" first recorded in 1962.
"Hold It" is an instrumental written by saxophonist Clifford Scott and guitarist Billy Butler. They played with organist Bill Doggett who originally recorded the tune in 1958. This live track features guitarist Vaughan with Flanigin on organ, and drummer Rains recorded at C-Boys Heart & Soul in Austin, Texas.
These are some of the songs that first inspired guitarist Vaughan whose soulful vocals are laced with emotion. The fabulous horn arrangements can't help but provide added inspiration. The short solos are always in support of the song. This is another award winning album from Vaughan.
Richard Ludmerer