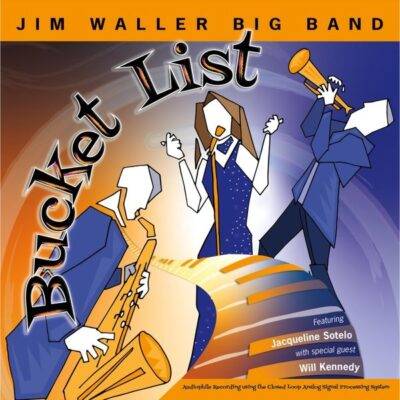 Jim Waller Big Band
Bucket List
Self-released
Have you ever noticed that the word 'debut" appears often on these pages for upstart and veteran jazz artists alike? Yes, we now bring you yet another from veteran multi-instrumentalist, composer, arranger, and educator Jim Waller. As the title indirectly suggests, this is Waller's fulfillment of a dream – his first big band album. He leads a 21-piece ensemble with vocalist Jacqueline Sotelo on five cuts, the standards; and esteemed Yellow Jackets drummer Will Kennedy driving the band for 14 selections that run well over an hour. Waller provides all arrangements, 7 of the 14 compositions and several tenor solos while also contributing on soprano and organ. The material covers a wide swath from Latin to swing to funk to straight-ahead standards. Variety is an integral part of Waller's DNA.
At an early age Waller mastered several instruments, eventually leading units where he's played all of these – tenor, alto and soprano saxes; trombone, organ, piano, and guitar. He's also a freelance arranger and record producer. He's been putting out music since the '60s, beginning with the surf group he founded, The Deltas, which recorded two albums in that decade. He was an important cog in the jazz-rock octet Los Blues, playing mostly trombone. They played from 1967-1973 in Las Vegas and he recorded and produced Los Blues Volume 1 for United Artists. In 1977 he moved to San Antonio where he was a member of Road Apple and still resides. As a freelancer and sideman, he has worked with some of the biggest names in jazz and pop.
The San Antonio influence is head right away on his opening original, written for his wife "Samba for Suzell," where he solos on tenor alongside pianist Chris Villanueva, and Kennedy. We next hear the first of Sotelo's vocals on the Peggy Lee tune "I Love Being Here with You" and Sotelo later steps out for the Peggy Lee associated 'Why Don't You Do Right," an emotive reading of "Georgia on My Mind," a faithful take on "Goody," and a BST influenced "God Bless the Child., complete with solos from trombonist Jamie Parker and altoist Adam Carillo. " "New Blue Funk" features Bill King on flute and Waller on tenor for that side of the band's repertoire which gets even funkier on "Funksuite 109" where Waller solos on B3, Jason Valdez adds searing guitar, and Kennedy takes another turn. "Blues for Los Blues" takes a straight ahead, hard swinging tact with a tenor solo from Jason Galbraith and a bari sax solo from Dr. Joey Colarusso. Waller augments Gershwin's "Rhapsody in Blue" with a five-piece string section.
Other strong ones include "Waltz for Laura," which features a tenor and trumpet solos from Waller and Lee Sparky Thomason. "A Ballad for Bob" best showcases Waller's tenor playing. Bill Doggett's "Honky Tonk" finds Valdez again spicing it up with his guitar licks while Waller gets that growling vibrato '50s R&B sound from his sax, the kind that colored so many Doggett tunes. Waller closes the sizzling set in hard driving fashion with "This Is It" as he trades statements on his soprano sax with trumpeter Curtis Calderon.
As we've called out the soloists, let's not leave these other band members behind: Karlos Elizono – lead trumpet, Brian Christensen – alto sax and flute, Dr. Adrian Ruiz – trumpet, Gilbert Garza-trombone, Al Gomez – trumpet, Mark Hill, -trombone, Matthew Erickson – bass trombone, Matthew Maldonado – tenor sax, Dr. Martin McCain – bass trombone, Georgie Padilla – congas and percussion, Joe Caploe – timpani ("Rhapsody in Blue'), Jim Kalson – electric bass, Andy Langham – piano ("A Ballad for Bob"), and Libby Barnette – French horn ("Rhapsody in Blue").
Bucket List is stirring, bright, brassy, music reminiscent of some of those great big bands of the '70s like Thad Jones -Mel Lewis. Jim Waller did himself proud,