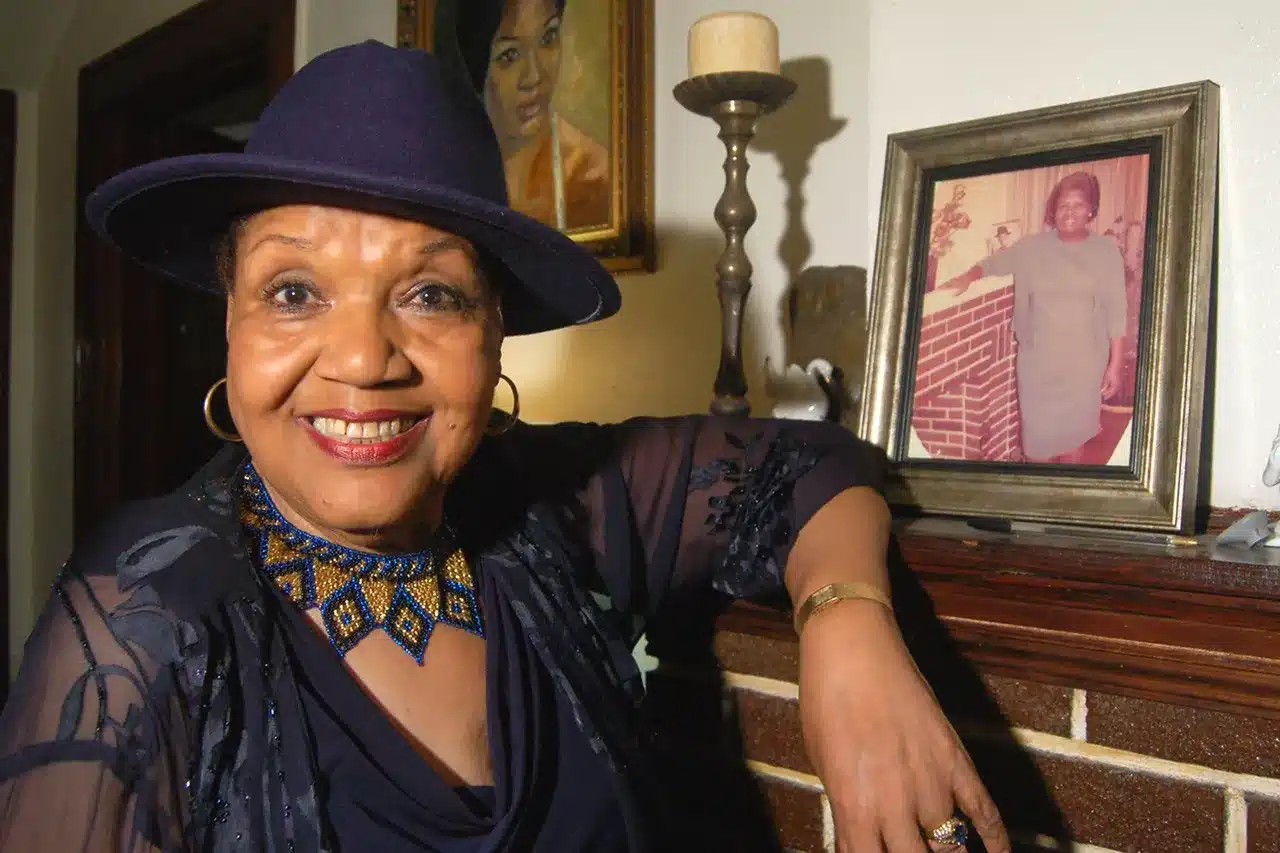 ---
---
---
---
---
---
---
---
---
---
Making a Scene Presents an Interview with Jewel Brown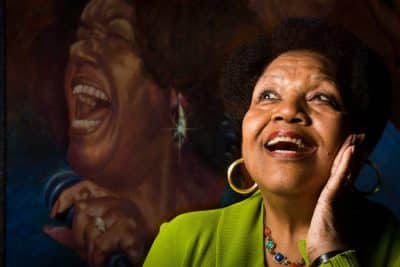 A young nightclub performer from Houston with a booming bluesy voice, Jewel Brown faced a once-in-a-lifetime career choice in 1961: whether to join Duke Ellington's band or Louis Armstrong's.
"I said Louis Armstrong in a flash, " Brown recalled this week in the French Quarter hotel room that is her home while here for the fifth annual Satchmo Summerfest.
"It was for the simple reason that I was looking at working with 17 guys in Ellington's band and six with Louis, " she said. "And Duke didn't like to fly, while Louis was traveling all over the world."
Brown, 67, sang with Armstrong and his band from 1961 to 1968, three years before the great jazz musician died, at 69.
In the 1960s, Armstrong traveled as an entertainer and as a goodwill ambassador for the United States. As part of his group, Brown played behind the Iron Curtain, where "they were starved for entertainment, " she said. In Budapest, Hungary, the band looked out on "a sea of bicycles and 90,000 people" who seemed to vanish as they left the performance "with so much order you didn't hear a sound from them, " she said.
Brown appeared in several films with Satchmo, including "Louis Armstrong and the All Stars" and "Solo."
Armstrong was born in New Orleans but, for many years, refused to perform in his hometown because of segregation. He did return after passage of the Civil Rights Act. Brown sang with Armstrong during his last performance in New Orleans in 1965.
Beloved New Orleans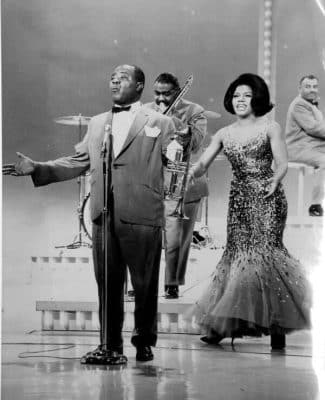 "Louis loved New Orleans — absolutely loved New Orleans, " said Brown, who will join Irvin Mayfield and Ellis Marsalis tonight for a concert at the Mahalia Jackson Theatre benefiting the Dillard University Institute of Jazz Culture.
In 1961 Brown replaced Velma Middleton, who spent most of her career as Armstrong's vocalist. A large woman who often surprised audiences by doing splits on stage, Middleton died at 43 of complications from a stroke, while touring with the band in Sierra Leone.
"That hurt Louis to lose her, " Brown said. "She and Louis were very close and the band didn't have a vocalist for a while."
Brown, who had been discovered at 23 and booked by legendary music industry manager Joe Glaser, said 500 singers applied for the job, "but the boys in the band chose me. They said, 'Pops, I think that little girl in Texas got it going on."
Armstrong took an immediate liking to her, said Brown, who shares an August birthday with Satchmo. She and Armstrong would sit "off in a corner" at restaurants so they could "smack" their lips while eating, she said.
"It wasn't good etiquette, but we would enjoy our food, " she said.
The youngest of six children, Brown began singing in church at 5. "I didn't know what I was doing, I just sang, " she said.
At 9, she was belting out songs such as "Lonesome and Blue" to growing, if still local, acclaim on a weekly Houston talent show. "They all said 'Listen to that little old girl with that big old voice, ' " she recalled.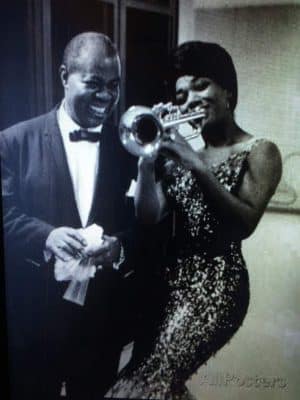 At 12, she got bumped out of first place in the talent show to a rival child performer named Bessie Travis because the talent-show host was dating Bessie's mother, Brown said.
"You know there's a trick and a game to everything, " she said.
Losing the $25 she had collected as the talent-show winner launched Brown's career. "That's when they proclaimed me a professional singer, " she said.
At 15, Brown earned enough money to help her parents move from the "raggedy house that my parents kept clean as a pea" into a house near the clubs where she headlined while finishing high school.
One year shy of graduating high school, she was offered a singing job by jazz great Lionel Hampton, she said. But she told him she owed it to her father, who raised his family as "a common laborer, " to finish school, Brown said.
"Everything he earned, he brought home, " she said. "I wanted to be the little good girl my dad wanted me to be."
Hampton's wife, Gladys, asked Brown to call her after graduation, and she did, Brown said. Once again she was offered the job but turned it down because it paid $75 a week and didn't include traveling expenses. "I was making $50 a night at home, " Brown said.
Brown played clubs in Houston and Dallas, including a club owned by Jack Ruby, who shot and killed Lee Harvey Oswald after the assassination of President John F. Kennedy.
Big tipper blues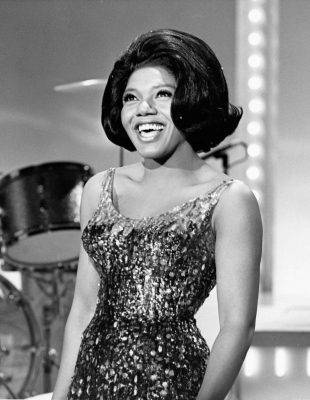 After working The Sovereign Club for $20 a night, seven days a week, for a year and a half, Brown said she walked out on Ruby after he stormed into her makeshift dressing room cursing and demanding half of a $100 tip she received from a club patron.
Ruby "turned the club into a burlesque house after I left, " Brown said. She went on to sing at a Dallas club called The Chalet, where she was discovered by Tony Papa, a manager with Associated Booking Corp. who asked Glaser to fly down and hear her booming voice.
"Someone asked me, 'What did the blues do for you?' " Brown said. "I told them I was raised in rural conditions, but I sang my way out of those conditions."
With Armstrong's health declining, Brown left the band to play the Nevada casino circuit. "He'd say he had 'very close' veins, " she said. Leaving was a sad experience, Brown said. "I didn't have any worry days when I was with him."
In 1971, she returned to Houston to care for her ailing parents.
She sings from time to time, usually for private parties, sells insurance and runs a day-care center with her son, Edward Curtis, and his wife, Sharon.
Having survived surgery in 2003 for a brain tumor and a series of radiation treatments, Brown beams optimism and a zest for life.
"I'm just a plain old common girl who walks around barefoot at home, " she said. "I've never been a glamour puss. But I try to give people something to look at on stage."
Brown recalled a European tour in the 1960s. As the band made its way down the long Paris airport terminal, Armstrong, whose luggage was handled by someone else, watched Brown juggle several bags while trying to look cool.
"I was just strutting in my black alligator heels, " Brown said when she heard Armstrong say in Satchmo style: "You're a real trooooooopah."
Tonight's Satchmo Summerfest concert audience will witness a fashion first.
"I have never ever worn a pants suit on stage, " Brown said, eyeing an outfit laid out in her hotel room: big silver earrings, steel blue silk pants and a matching jacket — price tags attached. "But this is a new day, right?"
Help Support Making a Scene
Your Support helps us pay for our server and allows us to continue to bring you the best coverage for the Indie Artists and the fans that Love them!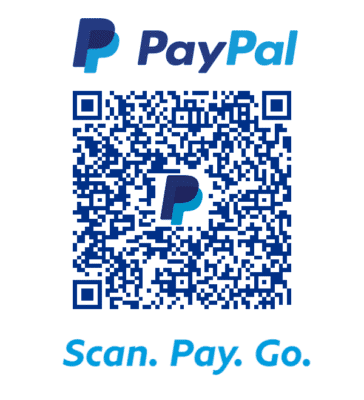 FOLLOW US ON INSTAGRAM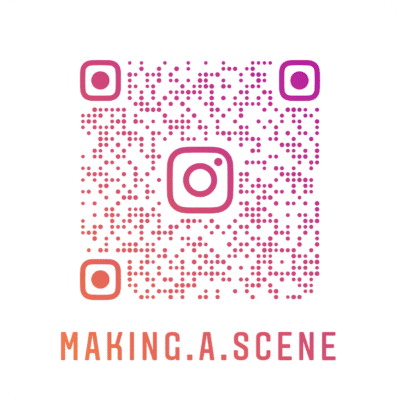 Subscribe to Our Newsletter