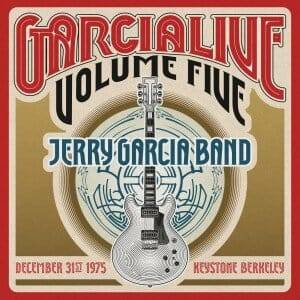 Jerry Garcia Band w/Nicky Hopkins Garcia Live Volume 5 – 2 CD's – 12/31/75 ATO Records – www.JerryGarcia.com
This is the fifth volume of this relatively new GarciaLive series from ATO Records who seemingly picked up the pieces from the now out of print "Pure Jerry" collections from the Jerry Garcia estate. Approximately two years ago ATO started releasing GarciaLive box sets which can also be found at the re-launched www.JerryGarcia.com
This edition was recorded by the always reliable recording engineer Betty Cantor-Jackson at the now defunct Keystone Club in Berkeley, CA on New Year's Eve 1975 into '76. Jerry's collaborators included his regular non Grateful Dead bassist John Kahn, plus drummer Greg Errico, and the outstanding pianist Nicky Hopkins. It's also a Dead reunion of sorts as throughout the night Bob Weir and Mickey Hart join the party along with harmonica player Matthew Kelly who had alliances with Weir's side projects. By the way; according to David Gans' liners; various versions of the Jerry Garcia Band performed over two-hundred times at the Keystone.
The first disc contains tunes from the first set and opens with a lengthy cover of Chuck Berry's "Let It Rock" that meanders without much fanfare for thirteen minutes, followed by a short but nifty two minute cover of the Beatles "Mother Nature's Son." Hopkins lures the band-members to join the Beatles tune, and then the band shifts to Jerry Williams, Gary Bonds and Don Hollinger's blues "It Ain't No Use" that lumbers along for over eleven minutes. The Garcia-Hunter "They Love Each Other" is yet another bore. The set (and disc one) concludes with Hopkins' rollicking instrumental "Pig's Boogie" that originally appeared on Nicky's solo LP "The Tin Man was a Dreamer," it's on this cover that some enthusiasm is finally demonstrated by the Garcia band.
Hopkins vocally counts-down and rings-in 1976 as the band rolls into a soulful "How Sweet It Is (To Be Loved by You)" that's pretty okay but over-recorded by every Jerry Garcia band. "Catfish John" is a fifteen plus minute bore, ah but the band puts some pedal to the metal with a twenty minute "Mystery Train" that features a short Errico drum solo, and a solid Kahn bass break, but the open jam segment doesn't impress offering just a little bit of creativity (even with Weir's interesting rhythm guitar licks) followed by an obligatory (short) reprise to "Mystery Train." Hank Ballard's "Tore up over you" is performed vigorously with Garcia leading the way on both vocals and guitar. Weir takes over the vocal chores on the traditional blues "C.C. Rider" it's one of the better inclusions here, but I found Kelly's harp volume to be significantly too hot in the mix. Time to go home with the Dozier, Holland and Holland ("I'm a) Road Runner" that's particularly dirty and greasy even though it's performed at a relatively slow pace. I must say that I was anticipating a higher-flying wrap to the evening with something like Hopkin's "Edward, the Mad Shirt Grinder."
Those expecting fiery Garcia guitar excursions should look elsewhere as the band takes some time to find their groove, and even when they somewhat flare; they are not not very impressive, falling short on inspiration, even with the party-like vibe that develops late in their set. I suspect most of these subpar performances are due to Hopkins' irregularities. Note book author Richard Loren's liners quotation; "Hopkins was a very soulful, beautiful human being, but he was physically a mess. He had Crohn's Disease and had serious problems with drugs and alcohol. Hopkins' erratic performances and drunken stage patter eclipsed his musical prowess; as a result thus 12/31/75 set was the pianist's last performance with the Garcia band." Loren would know as he managed Garcia's side projects for most of the seventies. By the way: Loren's recent "High Notes" book is very recommended reading, details at: www.HighNotes.org
For fifteen years Bob Putignano has been pivotal at WFDU with his Sounds of Blue radio show (Mon. & Wed. 9am-1pm) www.SoundsofBlue.com – Previously a senior contributing editor at Blues Revue, Blueswax, and Goldmine magazines, currently the Music Editor for the Yonkers Tribune www.YonkersTribune.com – www.MakingAScene.org & www.wfdu.fm/Whats-Happening/Bob's Music Reviews/bobs music reviews/ Bob was the 2003 recipient of the "Keeping the Blues Alive" award (given by the Blues Foundation in Memphis) for his achievements in radio broadcasting.
Putignano can be contacted at: bob8003@yahoo.com
Bob Putignano: www.SoundsofBlue.com Wed. & Fri. 9am-1pm: https://WFDU.fm Now celebrating 15 + years on the air in the NYC area Music Editor: www.yonkerstribune.com, www.makingascene.org & wfdu.fm/Whats-Happening/Bob's Music Reviews/bobs music reviews/