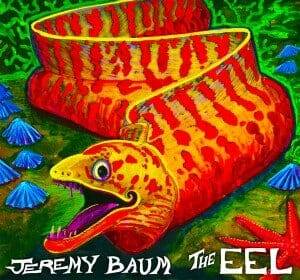 Jeremy Baum
The Eel
Flying Yak Records
Jeremy Baum is a world class Hammond B-3 and piano player who is also a first call session musician. Baum's first cd was 2002's "Lost River Jams". Baum's music is rooted in the funky soul jazz of Booker T and The MG's, the Meters, Jimmy Smith, and Jack McDuff. Where has Baum been ? Baum spent six years in Shemekia Copeland's band and has worked with Levon Helm, Melvin Sparks, Debbie Davies, Albert Castiglia, Chris O'Leary and countless other artists. Baum is a master at coaxing tones and soulful textures from the keys.
Baum enlists musicians with whom he has worked with over the years. His rotating band on these ten tracks includes guitarists Chris Vitarello or Myles Mancuso ; drummers Eric Kalb, Chris Reddan, or Michael Bram; and Juma Sultan on Congas. The album is engineered by Dave Gross.
The cd opens with a cover of Beck's "New Pollution". Jay Collins plays tenor sax on this soul jazz instrumental. Vitarello is on guitar. "Funky Monkey" is a Baum original B-3 party jam. This time its Myles Mancuso handling the guitar chores.
"Three More Bottles" features Chris O'Leary, vocal and harmonica, on this New Orleans styled song. "Charlie Baum" is "Jeremy's nod to Vince Guaraldi and the Peanuts" krewe. Matt Raymond sits in on acoustic bass.
"Dance With Me" is an instrumental arrangement of the "Orleans" classic written by Larry Hoppen. Dennis Gruenling guests on harmonica. "Borracho" is a Boogaloo cover. Phil DeMier, trumpet and Dean Jones, trombone, join Collins to complete the horn section. Eddie Torres is on congas.
"Pacific Drive" is a guitar driven instrumental featuring Mancuso. Baum states he was inspired by both The Crusaders and Larry Carlton. "Ain't It Funky Now", is a B-3 funk jam ala James Brown featuring Vitarello on guitar. Conga player Sultan sings.
"Purple Rain" is an instrumental version of the Prince classic again featuring Vitarello on guitar. The title Track "The Eel" is a funky instrumental inspired by Led Zeppellin. Mancuso is on guitar.
This is a fabulous mostly instrumental B-3 party. I'd love nothing more than to see Baum perform these compositions live at some jazz club. Baum is a monster on the keys. This is highly recommended listening.
Richard Ludmerer