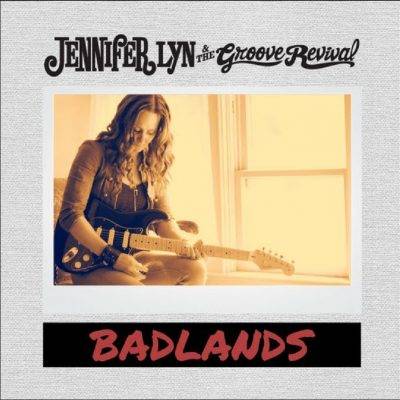 Jennifer Lyn & the Groove Revival hail from North Dakota and, as you would expect, their new album, Badlands, is rich with the lore of their home. It also reflects a number of genres while being firmly Indie blues-based, particularly rock, folk, and country. Lyn is a powerful guitar player with a soulful voice quite capable of handling robust blues-rock as well as soft ballads. Backed by Darren King (bass) and Kevin Holm (drums), she delivers a compelling experience for the listener.
It begins with the energetic tale of love gone really wrong, 'Burned It Down," in which both the lyrics and the guitar playing are riveting. it's a pretty heavy rocker, as is "Badlands," with its story of murder and its aftermath in that harsh environment. "Let Go This Time" slows the pace only slightly for a more personal song about confusion. But then the tone changes completely for the beautiful, yearning ballad "Give Into You."
Following that is a country-flavored blues, "Muddy Water." "Anything But Me" returns us to the heavy rock the album began with, with a strong declaration of personal identification, while "Gonna Let You Go" is a funky blues, as is "West to Bismarck."
It all ends with the haunting folk-influenced ballad "Goodnight Sweet Darling."
Jennifer Lyn and her band members prove themselves excellent and entertaining musicians on this album, with Lyn, in particular, delivering strong vocals and powerful guitar solos on 10 excellent originals. The album should please anyone who appreciates strong female musicians and exciting blues-based songs.
[amazon_link asins='B077K8549G,B077KBPJN4,B0783GL8HV,B077KFHNWL,B077KDP1NZ,B077KCZVKT,B077K8W81J,B077K8W3YN,B077K8W3YH' template='ProductCarousel' store='maasc-20′ marketplace='US' link_id='9709b98f-2213-11e8-a6fc-877f4029bdd5′]