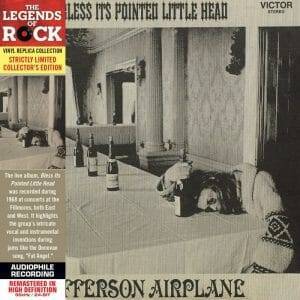 Jefferson Airplane "Bless Its Pointed Little Head" CD Vinyl Replica www.CultureFactoryUSA.com
The Jefferson Airplane's first live album recorded in '68, with the memorable cover art of Jack Casady passed out at a long table hanging onto a bottle of wine. It also validated the band's immense instrumental chops and impassioned vocals from Grace Slick, Paul Kantner, Marty Balin, and Jorma Kaukonen, often with shimmering multi-part vocal harmonies.
From the hair-raising pace of the appropriately titled "3/5's of a Mile in 10 Seconds" (authored by Balin,) it's obvious that the group was at the top of their game. "Somebody to Love" was one of their big hits, but here it's a bit rearranged allowing the band to exhibit additional interplay. The pace mellows on Donavan Leitch's "Fat Angel" stretching out (7:35) Marty Balin lifts us to the heavens on the now defunct Jefferson Airlines, as the band blasts-off keeping Balin's promise to get you/us there on time. Jorma explodes the blues with "Rock Me Baby" credited traditional but there's nothing old-fashioned on this riveting and dynamic cover. "The Other Side of this Life" was originally a folk standard of Fred Neil's that's converted into all-out rocker. Balin's "It's No Secret" continues the high-paced antics especially from Casady's thumping bass-lines and powerful lead vocals via Slick and Balin.
"Plastic Fantastic Lover" (also by Balin) finds the band jamming into the main theme like a powerful locomotive. The finale authored by the entire band (except Balin) "Bear Melt" is the albums lengthiest (11:21.) This has an intro that's similar to "Fat Angel's" hazy vibe that doesn't last long as Slick strut's her vocal chops slowly but smartly ignites the band into moments of frenzy. At the conclusion Slick addresses the crowd; now you can move your rear-ends, and the night is over.
The Jefferson Airplane was one of the bands that defined the San Francisco acid sound. Unlike their peers they were shrewd at evolving their pop album tunes, shaping them into mildly longer rocking and (sometimes) spacey pieces of flexible art. Their jams were concise, not marathons. They obviously knew how to effectively utilize their instrumental core-band prowess of Casady's bass, Kaukonen's guitar and Spencer Dryden's drumming with the vocal harmonies of Slick, Balin, and Kantner, with Kaukonen's blues vocal and guitar excursions that eventually became the forerunner of Jorma and Jack's Hot Tuna. Not bad for a bunch of hippie freaks. "Bless Its Pointed Little Head" has long been one of my favorite Airplane recordings. Yeah I liked that kooky cover, but this album also exposed what they were capable of in concert recitals. Studio recordings often come with restrictions, but performing live allowed the Airplane to play with impulsive creativity that's often exhibited on this fine snapshot performance.
*Note: Vinyl replicas by Culture Factory are limited edition pressings, so when Culture Factory runs out of stock they are out of print and gone forever. These are high quality reissued compact discs that reproduce the dynamics of the original masters/vinyl. Additionally they are also near-exact replica CD's as each disc has a black (vinyl like) look and finish, with the original label LP artwork. So they are very cool looking and (likely) will become highly collectable.
**Note: Celebrate bassist Jack Casady's 70th birthday at the Beacon Theatre on December 13th when Hot Tuna takes the stage with Jorma Kaukonen, plus another Airplane alumnus Marty Balin, and other special guests: www.beacontheatre.com/events/2014/december/hot-tuna.html
For fifteen years Bob Putignano has been pivotal at WFDU with his Sounds of Blue radio show (Mon. & Wed. 9am-1pm) www.SoundsofBlue.com – Previously a senior contributing editor at Blues Revue, Blueswax, and Goldmine magazines, currently the Music Editor for the Yonkers Tribune www.YonkersTribune.com – www.MakingAScene.org & www.wfdu.fm/Whats-Happening/Bob's Music Reviews/bobs music reviews/ Bob was the 2003 recipient of the "Keeping the Blues Alive" award (given by the Blues Foundation in Memphis) for his achievements in radio broadcasting. Putignano can be contacted at: bob8003@yahoo.com
Bob Putignano: www.SoundsofBlue.com Wed. & Fri. 9am-1pm: http://WFDU.fm Now celebrating 15 + years on the air in the NYC area Music Editor: www.yonkerstribune.com, www.makingascene.org & wfdu.fm/Whats-Happening/Bob's Music Reviews/bobs music reviews/