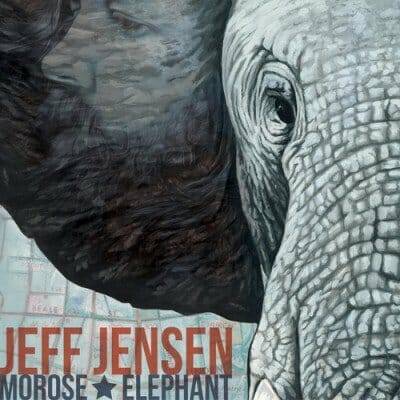 Jeff Jensen has just released his 4th studio album, Morose Elephant, and it is a real treat.
The project consists of seven original songs and four fantastic covers. My absolute favorite cut is Jensen's duet with Victor Wainwright, "What's the Matter With the Mill," which is a traditional song. It is just bursting with joy and fun and Wainwright's absolutely electrifying keyboards. Jensen and Wainwright are having as much fun as two people can have on a song and so the listener will too. I defy anyone to be depressed while listening to this song.
That said, the rest of the songs are all excellent listening. Things start out with the soulful "Make It Through," continues with the intense "Get Along" and the vulnerable "Fall Apart," "Ash and Bone" is a haunting number enhanced by the fiddle work by Ann Harris. "Bad Bad Whiskey" provides the obligatory drinking song in fine fashion.
Working with Wainwright, Harris, long-time bassist Bill Ruffulo, Reba Russell on backing vocals, Kirk Smothers and Mark Franklin on horns, Eric Hughes and Gary Allegretto on harmonica and Christ Stephenson on additional keyboards, along with James Cunningham on drums, Jensen has a powerful support group for his own guitar and vocal skills.
Altogether, it is a smorgasbord of soul, blues, sensitivity and rollicking fun. Every Jeff Jensen fan will love Morose Elephant, and every person who hears it who isn't a fan yet will be.