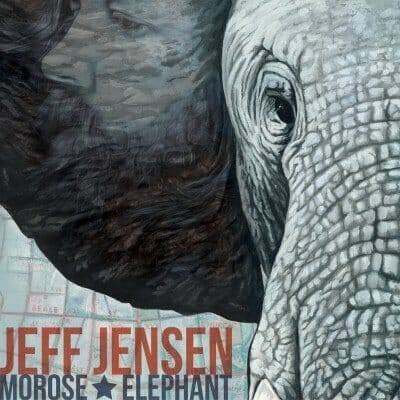 Jeff Jensen
Morose Elephant
Swing Suit Records
The Jeff Jensen Band was formed in 2004 and performed at The International Blues Challenge in 2005 and 2007. Their self-titled first album was also released in 2007. In 2011 Jensen moved to Memphis and there found work with harmonica ace Brandon Santini. In 2013 Jensen released his own third album, "Road Worn and Ragged", and also co-produced Santini's "This Time Another Year" for which Santini received a Blues Album of The Year nomination at the 2014 Blues Music Awards. This is Jensen's fourth recording.
Jensen's style is a combination of blues, swing, r' n b, and roots rock. The album's title Morose Elephant is reflected in the cover art by Shad Nowicki. Jensen has big ears and the task of boiling down these influences is his muse.
Recorded in Memphis the band is Jensen, vocals and guitar; Bill Rufino, bass; drummers James Cunningham or Robinson Bridgeforth; keyboardists Victor Wainwright or Chris Stephenson; and the horn section of Kirk Smothers, tenor and baritone sax; and Marc Franklin, trumpet.
The album opens with, "Make It Through", the first of seven original songs. Immediately noticeable is Jensen's vocal clarity and the fabulous horn arrangement by Franklin and Smothers. After Jensen takes his guitar solo Wainwright comes in on the Wurlitzer. Other originals include "Fall Apart" and "Paper Walls". "Ash and Bone" is a poetic melody featuring Anne Harris on fiddle, and Reba Russell harmonizing with Jensen. "Get Along" was co-written with Wainwright. "Elephant Blue" is an exciting instrumental co-written with Ruffino and Bridgeforth. "Empty Bottles" is one of my favorites on this fine album and it features Gary Allegretto on harmonica.
Jensen also includes four great covers. "What's The Matter with The Mill" is from Memphis Minnie and Kansas City Joe McCoy. It is sung with Wainwright who also takes a wicked piano solo. "Bad Bad Whiskey" is the Amos Milburn classic featuring Eric Hughes on harmonica. "I'll Always Be in Love With You" is an old standard that has been recorded by Jimmy Witherspoon, Ella Fitzgerald, Billie Holiday, Sam Cooke, Count Basie and many others. "Going Home" is a traditional gospel tune given the Jensen treatment as only he can do it.
Jensen has it all. He is a great singer and guitarist. There isn't a weak track on this album. He is also now in demand as a producer. It'll be interesting to see what comes next from Jensen.
Richard Ludmerer