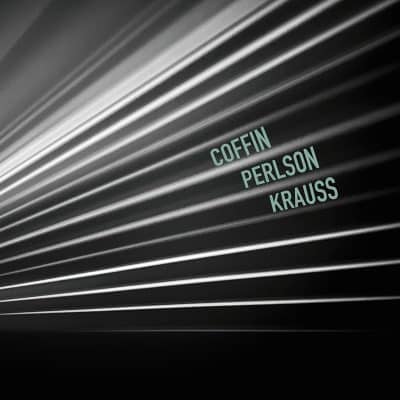 Jeff Coffin – Jordan Perlson – Viktor Krauss
Coffin/Perlson/Krauss
 Ear Up Records 
The prolific saxophonist and composer Jeff Coffin is back, this time with a chordless trio featuring his longtime drumming colleague Jordan Perlson and Nashville multi-genre first call bassist Viktor Krauss for nine tracks, to which each contributed. The trio recorded at Krauss' home studio, eventually settling on seven compositions and two solo works during the pandemic. It was only months ago that Coffin released Look for Water in a quartet recording with some of NOLA's best. Coffin gained his first-ever GRAMMY nomination as a leader for Between Dreaming And Joy just last year and continues to tour worldwide with the Dave Matthews Band while releasing a steady stream of explorative new material via Ear Up, his own label. As he has demonstrated on previous recordings, he unveils an arsenal of woodwind instruments, playing tenor and soprano saxophones, clarinet, and alto flute.
His trio partners cross lots of so-called genre boundaries as well. Jordan Perlson is one of the most versatile drummers in Music City, with appearances on more than 100 records, and with credits alongside jazz iconic Seamus Blake, Gary Burton and David Liebman to folk heroes Alison Brown and Missy Raines to innovators like Becca Stevens and Snarky Puppy. Viktor Krauss is one of the world's most influential bassists with a touring and recording career that includes Lyle Lovett, Bill Frisell, James Taylor, Tom Jones, Shawn Colvin, Sheryl Crow, Carly Simon, Buddy and Julie Miller, and many more. In 2022, he joined Robert Plant and his sister Alison Krauss on their Raise The Roof tour, completing the most recent leg this summer.
 The session is edgy, and without knowing, most would guess it was recorded in NYC or Brooklyn. Opening with "On The Precipice Of Change," a three-way collaboration, begins with Krauss' rich plucking before Coffin enters first on clarinet, delivering a rather ominous melody which grows to a feverish pitch, inspired by our turbulent issues of the day, when after a pause, he shifts to soprano and the bass-drum tandem rumbles frenetically underneath. Krauss as the anchor is especially impressive. Coffin's "Moonchild," delivered on clarinet, nods to his wife, who, based on the depth of th tune, must be a serious, thoughtful type.  Perlson sets the pace on tricky rhythm pattern for Coffin's tenor on "Say It Seems," while the drummer and bassist playfully ramble around his fierce improvisations, engaging in an infectious three-way conversation as the tune unwinds. "Quiet" is Coffin's penultimate pandemic tune, rendered on soprano which begins rather somnolently, has some curious Far Eastern strains, and later reaches soaring heights in this undulating dramatic piece, where space is the fourth collaborator and Krauss has a strong presence. The tune draws from his own Songs of Solitude, a meditative three-part rumination inspired by the early days of the pandemic.
Coffin continues with the soprano on the Wayne Shorter inspired "A Handful of Beans," which features his outstanding solo as well as one from Krauss as each explores the kind of lyrical terrain associated with the late musical legend. The tune reaches an apex near the four-minute mark with all three at full throttle before it quietly eases out. The brief drum interlude "Rusty Fortune" is all Perlson as "Su Filindeu #6" is all Krauss, giving an in-depth view of each's respective talents. Krauss' "Overcast" has Coffin gorgeously painting that gloomy picture on his alto flute, the very instrument owned by the late woodwinds master Yusef Lateef. This is clearly an album highlight with its mysterious vibe and the rhythmic patterns shaped by Perlson and Krauss. Following his solo piece, the set closes with the third consecutive composition penned by the bassist, "Here To Be Me." Again, the trio gets playful, taking us on a bumpy, exhilarating ride with Coffin's growling tenor leading the way much like "Say It Seems." From the serious to house rocking rhythmic rides like this one, this trio can bedazzle us by turns with moody pieces and uplifting, danceable ones. Let's hope this is not just a standalone session for this trio. With their chemistry as palpable as it is, more is in order.
Jim Hynes
Help Support Making a Scene
Your Support helps us pay for our server and allows us to continue to bring you the best coverage for the Indie Artists and the fans that Love them!
Make a one-time donation
Make a monthly donation
Make a yearly donation
Choose an amount
Or enter a custom amount
$
---
Your contribution is appreciated.
Your contribution is appreciated.
Your contribution is appreciated.
Donate
Donate monthly
Donate yearly
You can donate directly through Paypal!
Subscribe to Our Newsletter