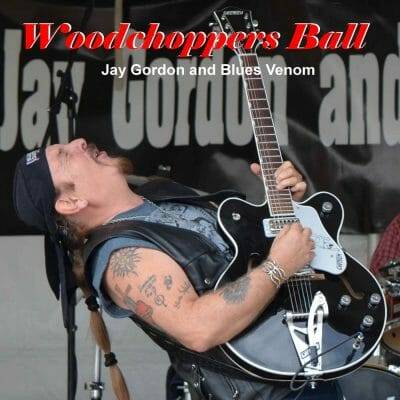 This is how tough Jay Gordon and Blues Venom are: The song "Chainsaw Boogie" features a guitar made from a real working chainsaw. It's a party song with a sound like nothing I've ever heard, pure mad genius!
The rest of the song is great, raw powerful blues as well. The opening number, "The Stinger," is you're in for rocking blues with a man who has truly been doused in the blues. "Hobo Hilton" tells the tale of Gordon living in LA and paying some hard dues literally in site of fame and Fortune: "I can see Capitol Records about a block away." It has some extremely tasty guitar that punctuates and enhances the message. "Stranger Blues" continues you the aural assault with screaming guitars and raw vocals that signify and testify.
Gordon steps away from the vocals to allow bassist Sharon Butcher to show her vocal chops on Koko Taylor's "VooDoo Woman" and she absolutely delivers the strong, tough, in your face lyrics. "Travelin' Riverside Blues" has some phenomenal slide guitar , coupled with the lyrics, proves Gordon is a consummate blues man."Pain" returns to the wailing guitar wizardry and "Message to Collins" simply takes the guitar and drums off the leash and lets them run wild. "
"Drippin' Blues" is the most traditional blues of any o these numbers and proves that Gordon and Blues Venom can do that as well.Every blues album, traditional or blues rock, needs a song about alcohol and "Pure Grain Alcohol" is a brilliant bit of storytelling in song.:Bues Venom" is a saga of being steeped in the blues, with that amazing guitar teemed with some truly scintillating harmonica from Richie Valen's younger broher Mario Ramirez.
It all ends in a rave-up with the tune "Original Sin." At no moment on the album does tee momentum lag. It's pure, head-on, in your-face, blues and rock 'n roll."
In the liner notes, Gordon states,"The whole concept behind my music is to promote the blues, keep it alive, show it's unique art form, take it to a higher level and still be able to play rock 'n roll while showing the marriage between blues and rock in my own style."
Did he succeed in those goals? 100%!
Buy this album if you love blues and rock, and if you really want to hear what a chainsaw guitar sounds like, you are in for a special treat. .