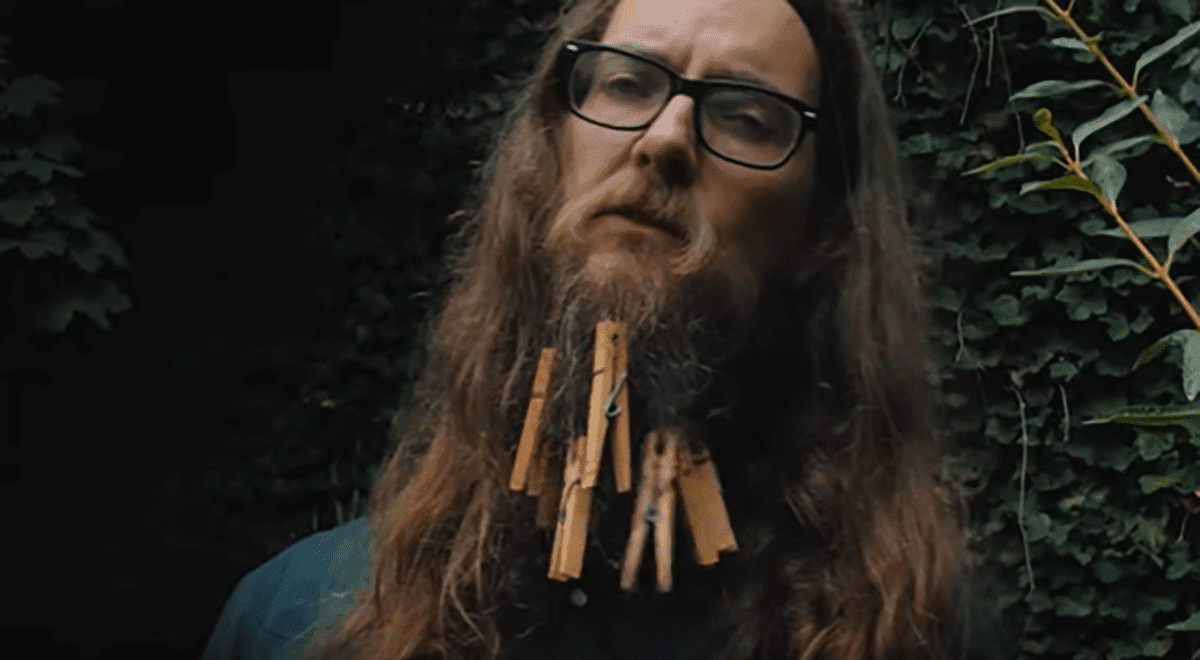 ---
---
---
---
---
---
---
---
---
---
Making a Scene Presents an Interview with Jason Stutts of Rust Dust
Some artists are deliberate in what they do, while others eagerly accept the mystery of it all. Jason Stutts, who goes by Rust Dust on record, belongs to the latter group, allowing songs to take shape in mere minutes or over the course of years, serving them the best he can with whatever sounds, words, energy and emotions manifest. "I don't typically sit down to write a song. Sometimes I'm lucky enough to recognize them when they appear," he says.
Appear they did, for Twere But It Were So Simple. Rust Dust's second LP for Omad, is a deceptively simple, spacious-sounding LP recorded live in a ramshackle Brooklyn brownstone. The jaunty instrumental eye-opener "Helter Fukov Awakens" segues into some improbable guitar pop, with the "all-lit-up-with-nowhere-to go" gusto of "UFO." The tasty "Ice Queen Sandwich" and "Speaking In Tongues" vibe together like Robyn Hitchcock cornering Townes Van Zandt at a buoyant, boozy rent party.
Things take a slower, somber turn on the delicately played and achingly sung title track conjuring images of "snakes in my pockets, and a rope around my neck," and "Sky," a haunting, heartbreaking collaboration with Omad main man John DeNicola. There's also a New Orleans-inflected number, "Must Be Jelly"—plucked and blown on banjo and trombone—and a handful of covers, including a driven "You Got To Move," inspired by the Rev. John Wilkins' arrangement, and a sparsely elegiac version of Dylan's "Knockin' On Heaven's Door."
Throughout, the album has a kick of country and an ample serving of blues roots to be expected from a devout guitar geek whose floor-to-ceiling collection includes guitars dating from the 1890's to the 1960's. (Full disclosure: Stutts' day job is repairing and restoring such stuff.) Remarkably, though, the only two guitars used on Twere… are a Godin Multiac, a modern nylon-string electric designed to sound acoustic when plugged in and an old Yamaha nylon. "The Godin is a practical, utilitarian instrument, but, yeah, a pretty odd choice, considering my vintage leanings," Stutts admits.
It was a shared appreciation for old gear that first brought Stutts and DeNicola together, and in 2017 the Oscar-winning, Grammy-nominated producer and songwriter helmed Diviners and Shivs, the first Rust Dust record. While that album was also recorded live, it got made in DeNicola's upstate New York studio; the lockdown of the last few years led Stutts to go full-on DIY for the follow-up. "I really enjoyed working in John's barn, with him and our engineer, Andris J. Balins, on Diviners and Shivs," he says. "But when these songs felt ready, I just set up multiple microphones and played them through an amplifier. With the exception of "Must Be Jelly," basically what you hear is how they came out live with a few effects in the mix."
Help Support Making a Scene
Your Support helps us pay for our server and allows us to continue to bring you the best coverage for the Indie Artists and the fans that Love them!
Make a one-time donation
Make a monthly donation
Make a yearly donation
Choose an amount
Or enter a custom amount
$
---
Your contribution is appreciated.
Your contribution is appreciated.
Your contribution is appreciated.
Donate
Donate monthly
Donate yearly
Subscribe to Our Newsletter