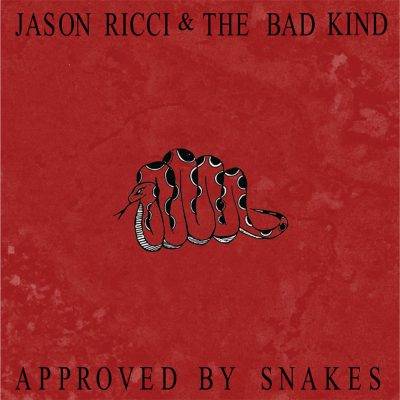 Jason Ricci & The Bad Kind
Approved By Snakes
Ellersoul Records
Jason Ricci has been the recipient of many awards including the coveted Blues Music Award for Blues Instrumentalist – Harmonica which he won in 2010. He is also the only openly gay male star in the blues community. As a performance artist of the highest caliber he has absorbed music from the funk and jazz genres which he incorporates into his own special brand. His songs are mostly personal as his own past experiences of drugs and life on the street have helped to make him what he is today: clean, sober, strong and proud.
Ricci's previous band "New Blood" was a very good band but he never had a band like The Bad Kind. While living in New Orleans Ricci put together a band of professional musicians who know how to play in support of an artist.
The Bad Kind includes guitarist John Lisi who has performed with Dr. John and recorded with Tabby Thomas, Big Jay McNeely, Henry Gray, Larry Garner, J. Monque'D, and Big Chief Monk Boudreaux. Lisi also fronts his own band Delta Funk and their last album was 2015's "Shut The Front Door" on Louisiana Red Hot Records.
Guitarist Sam Hotchkiss has played with two New Orleans bands, Smilin' Myron and Juice. Bassist Andy Kurz has recorded with the jazz quartet, Groove Merchant, fronted by the renowned Swiss drummer Charly Antolini. New Jersey bred drummer Adam Baumol has played with the New Orleans band Gravy Flavored Kisses.
Kurz's bass opens "My True Love Is A Dope Whore", written by the band, as Ricci's harp begins flittering around like he is taking in the scene on the street. Ricci's narrative reminds me of an updated "Take A Walk on the Wild Side" before becoming an eight minute funk fest "with a girl or a boy". Jason and Hotchkiss build the song into a frenzy before it finally climaxes.
The funky "Something Just Arrived", written by bassist Kurz and guitarist Hotchkiss, alert dopers that there is a new drug in town. Ricci takes an intense chromatic solo. This is one of my favorite songs on this fine album.
Lisi contributes three tunes including the hilarious but funky "My Mom's Gonna Yell At You", "when you get to heaven…she's gonna sit you right down and offer you a beer, bet your angel wings she's gonna make it clear, shouldn't have done what you have, have done…" Ricci's screamin' harp tone is heavenly. "I Got Cleaned Up" features an almost ska beat from bassist Kurz; Ricci's harp solo is unbelievable as both guitarists get a chance to solo. On "Disconnect" Lisi also provides the narrative as the band funks out.
There are two covers. The first is a ten minute version of tenor sax player Eddie Harris' "Listen Here", first recorded in 1967, which metamorphoses into Lee Dorsey's "Everything I Do is Going To Be Funky From Now On". The other cover is "Terrors of Nightlife" recorded by ex-heavy metal rocker Dax Riggs in 2007.
"Demon Lover", is the first song written by Ricci. It begins with a harp solo before vocalist Ricci describes a mystical demon lover, "kiss me deadly", who can rob you of your soul. Harpist Ricci, bassist Kurz, and percussionist Baumol are just fabulous.
Ricci's "Broken Toy" written with New Blood's Todd Edmunds is reprised from 2009's BMA nominated "Done with the Devil". It is performed as a medley with "Fink U Freaky" composed by the South African rap group Die Antwoord.
"I'm Too Strong For You" is a funky performance piece from Ricci. It runs four minutes on this album but the liner notes suggest that there is an extended online version. I did find a thirteen minute you tube video but I'm not sure that was the intended version.
"515" asks "do you know what it is your looking at? Heart of a snake and the eyes of a cat…" This is the funky tune that closes out this remarkable album.
Angry, intimidating, powerful and funky; these are words to describe Ricci. However "Approved By Snakes" places Jason Ricci and The Bad Kind into a whole new perspective. They are a definite contender for Band of The Year.
Richard Ludmerer
[amazon_link asins='B0724ZYZ5L,B00YDWNQSY,B001RX8PN8′ template='ProductCarousel' store='maasc-20′ marketplace='US' link_id='397c3fe1-5ad4-11e7-8e10-011fcbe8fc5e']