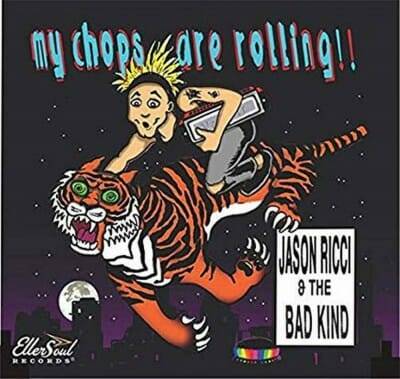 Jason Ricci and the Band Kind
My Chops Are Rolling
EllerSoul Records
Jason Ricci and the Bad Kind have a new album, My Chops Are Rolling, out July 19 and what a difference this one is for them! Their very popular Approved By Snakes was brilliant but sometimes brutally dark. This one is much lighter and with much less emphasis on drugs and tormented fights with the Devil. Even the cover is light-hearted! Both of the songs this writer had heard before, "Don't Badger The Witness" and "The Way I Hurt Myself" are presented in a more upbeat way, so that even on the painful latter song, the emphasis shifts to the gorgeous harmonica as well as the angst.
Of course, lighter for Jason does not mean not provocative! people with children and Atlanta sports fans without a strong sense of humor should definitely skip the third song. I mean, in both cases it is spelled right out, or almost out, in the title. "F— the Falcons(Who Dat Nation)" leaves not much to guess about (title further altered for my readers; there is only one letter missing on the album cover.) But then the man lives in New Orleans and he loves those Saints. He turned his strutting and boasting into a pretty great song, and for non-partisans the sweet singing by Mona Lisa and Ginger Darling of that profane phrase is hilarious. There is a version for radio without the profanity on the album as well.
As for the rest of the album, it is filled with treats, from the marvelous instrumental "Going to California" to the fantastic combination of Kathy Dibble's vocals and Ricci's harmonica on the soul classic "If You Should Lose Me." Then there are the light-hearted "My Chops Are Rolling"(with some more football talk and some fine funky jamming) and laugh-aloud "Sleeping on Biscuits." "Break In The Rain," "Snow Flakes and Horses" and "Think It Over" round out the diverse and original tracks.
It is good to hear this band playing just as well as they ever have without so many dark overtones. Jason, as usual, is still the best harmonica player I have ever heard, and a strong vocal performer too. You will enjoy this one. Skip that one number if you have to, Atlanta fans!