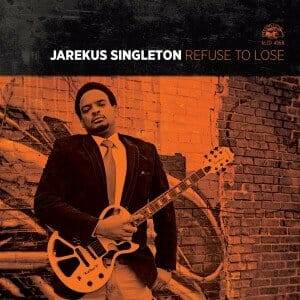 Jarekus Singleton
Refuse To Lose
Alligator Records
As a reviewer for Making A Scene there is nothing I like to do more than inform our readers about a great new talent. Sometimes I do not get it on first listening. Such is the case with Jarekus Singleton, the former 6-3 point guard from The University of Southern Mississippi.
Singleton, guitar and vocals, hails from Mississippi where the blues was born. He mixes his blues with the music of a younger generation as it includes unusual rhymes and hip-hop wordplay. All of the songs have been written or co-written by Singleton. Singleton's band includes James Salone, organ; Ben Sterling, bass; and "Junior" Blackmon, drums.
"I Refuse to Lose" opens with a flurry of guitar notes as Singleton states "my soul is my weapon and I won't conceal it". On "I Gotta Keep Pushin" we learn about his basketball career, "back in 2007, I averaged 25 points per game…had two NBA tryouts with the Pacers and the Cavaliers…then I had an injury…had to have surgery…to ruin my basketball career…growing up in Mississippi, I'm hearing blues all the time…my uncle took me to a blues club…I got bit by a blues bug…I got blues blood in my veins".
"High Minded" "your brain got a private plane…if your funeral starts at seven you'd probably show up at nine". "Sorry", "you actually think I'm gonna let you back so you can do your stupid 'ness again". On "Hero", Singleton sings "I used to look up to ya'…you actually used to be one of my hero's…I found out you mistreat people…if life was a number you'd be zero…I'm goin' be my own hero".
"Purposely" has an unusual double beat. "Gonna Let Go" is just great R n' B. Harp ace Brandon Santini guests on "Blame Game". Each of the twelve songs is well crafted.
Singleton connects in a way that others can not. Each time you listen you hear something you didn't hear the time before. Singleton should attract new listeners to the blues as he is one hip dude.
"Brain stormin' on my mamas couch."
Richard Ludmerer
https://open.spotify.com/album/2nprhPCdeRwcUcekMl7Xri