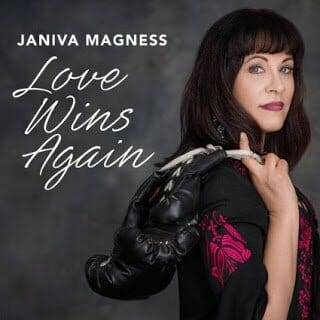 Janiva Magness
Love Wins Again
Blue Elan Records/Fathead Records
Janiva Magness was born in Detroit, Michigan. She wound up in the foster care system and was placed into a dozen homes before she got pregnant at the age of 17.
Inspired by the intensity of an Otis Rush performance "Otis played as if his life depended on it"; Magness took a job as a recording engineer in St. Paul. She formed her own band the Mojomatics before relocating to Los Angeles. Magness recorded two Independent cds on her own Fathead Records label before signing with Bluesleaf Records in 1999. She released three albums with Bluesleaf the last being 2003's "Use What You Got". She recorded two more albums for Northern Blues Music including 2004's "Bury Him at The Crossroads" and 2006's "Do I Move You". Magness won her first Blues Music Awards as Contemporary Female Artist of The Year in both 2006 and 2007. She signed with Alligator Records and in 2008 released "What Love Will Do". In 2009 she won Contemporary Female Artist of The Year for the third time and also won the 2009 Entertainer of The Year. She is the only female artist other than Koko Taylor to have ever won that award. Magness's 2012 Alligator recording "Stronger For It" resulted in her winning her fourth Contemporary Female Artist of The Year award but even more important to Magness was her BMA for 2013 "Song of The Year".
Magness had some hard beginnings including a suicide attempt but her self expression became her life line. She wound up leaving Alligator and decided to self produce and revived Fathead Records. In 2014 she released "Original" containing seven original compositions. The album resulted in Magness winning another BMA and broadening her fan base across multiple genres. Overall Magness has 25 BMA nominations and 7 wins.
During the past year Magness married T.J. Morton. Magness newest album, her twelfth, is entitled "Love Wins Again". It is a culmination of her life's work; at least to date. In the liner notes Magness declares that she now has "consecutive days and nights of happy." Magness has co-authored five new songs with her writing partner Dave Darling. The album opens with the title track which is the most forward thinking and positive song Magness has ever written "There ain't any better time than the present". My favorites however are "Moth To a Flame" and the James Brown inspired "Your House is Burnin".
Magness' writing partner Darling is also a four time Grammy nominated producer. He has written five more new songs including "Say You Will" and "Doorway". The only cover is a fabulous version of John Fogarty's "Long as I Can See the Light".
For the most part Blues musicians are easily accessible to their audience. Strangely they live through us as much as we live through their music. Recently at a performance in Bradenton, Fl. Magness was absolutely radiant.
Richard Ludmerer