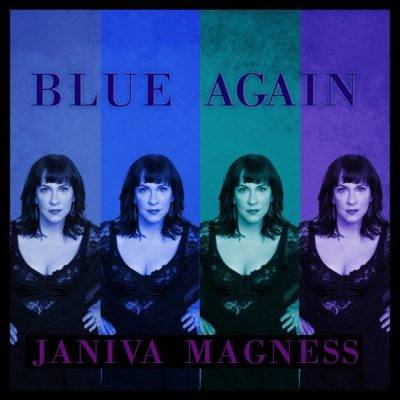 Janiva Magness
Blue Again
Blue Elan Records
Janiva Magness had some hard beginnings as she was a foster care child. Inspired by an Otis Rush performance she found her calling. She recorded her first album in 1991. She has since been nominated for twenty-six Blues Music Awards winning seven times. Magness won the BMA for Contemporary Female Artist of the Year in 2006, 2007, 2009, 2013, and 2015. In 2013 she also won for "Song of The Year". She is the only female artist other than Koko Taylor to win a BMA as "Entertainer of The Year".
This is Magness' thirteenth album overall. On her last two albums 2014's "Original" and 2016's "Love Wins Again" Magness gave us a total of twelve original compositions while most of the other songs were written for her by her producer Dave Darling. On "Blue Again" Magness seeks to return to the "Motherlode" of classic blues performances in order that she may once again drink from the "Well" that first inspired her.
The Janiva Magness Band includes Zach Zunis, guitar; Garrett Deloian, guitar; Gary "Scruff" Davenport, bass; Matt Teeu, drums; and Arlan Schierbaum, Hammond organ. The album is once again produced by Darling.
"I Can Tell" written by Samuel Smith was a 1962 single for Bo Diddley on the Checker Record label. It's been recorded several times and is the title track to John Hammond's 1967 Atlantic records album. Guesting is David "Kid" Ramos" on lead guitar.
"I Love You More Than You'll Ever Know" is from Al Kooper. It first appeared on the Blood, Sweat, and Tears 1968 debut album "Child is The Father to The Man". It was also recorded by Donny Hathaway in 1972.
"If I Can't Have You" was co-written by Harvey Fuqua and Etta James. Fugua founded the "Moonglows" in 1950. Fugua was also a songwriter for Motown Records. The song was first recorded by the duo known as "Etta and Harvey" in 1959. The song is performed as a duet with Sugar Ray Rayford.
"Tired of Walking" is from Little Joe Hinton who first recorded it in 1962 on Kent Records.
"Buck" written by Andy Stroud was included on the 1967 album "Nina Simone Sings The Blues". Featured on harp is Magness' hubby T.J. Norton.
"Pack It Up" was recorded by Freddie King in 1974 and is the B side to "Shake Your Booty" on the R.S.O. Record label.
That's it. What we have is really a six song EP. But do not fret because each second, each note, each sigh, every breath on this recording is absolutely fabulous. This is Magness at her very, very best leaving everything else to Darlings equally fabulous production. This is highly recommended.
Richard Ludmerer
[amazon_link asins='B06XXQ4NBB,B01B9HA976,B000EF5N7Q,B006V7RJXC,B0017R5TY2,B00L4L8MCW,B0038P9LOA,B00005Y7KT,B0000AYL14′ template='ProductCarousel' store='maasc-20′ marketplace='US' link_id='bb5b66b6-3daf-11e7-8b6b-dfcd0e1e8ddb']