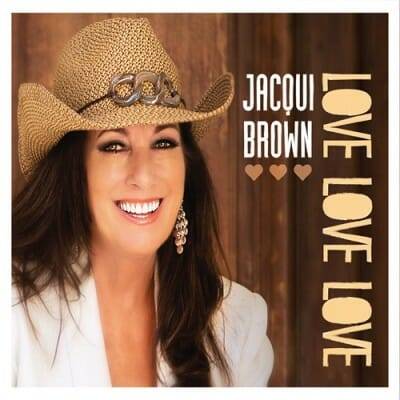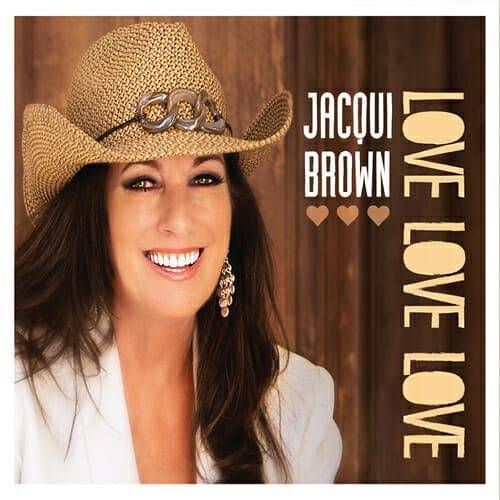 Jacqui Brown
Love, Love, Love
Woodward Avenue
At first this was puzzling. The brunette with the hat on the cover and inside jacket signaled country music but the label, Woodward Avenue, for this writer is associated with smooth jazz, real jazz, and soul. Woodward Avenue has a roster of great artists including Melba Moore. Readers on these pages have seen the Reverend Jimmy Smith of Atlanta pay tribute to organ legend Jimmy Smith in an album produced by Brother Paul Brown. You may have also seen a blues album or two from guitarist Paul Brown and keyboardist Brother Paul Brown. As it turns out, Jacqui is married to two-time Grammy winner, guitarist Paul Brown who produced this country-tinged album – Love Love Love. Even though they have been married for 40 years, this is not only Jacqui's first album, Paul claims it's the first time he's heard her sing. Jacqui Brown's story is rather amazing and uplifting.
With the release of this album that's been called country, Americana, bluesy and even gotten ink on Smooth Jazz websites., Jacqui Brown can add "remarkable singer-songwriter" to a resume that has heretofore been defined by three "A"s – Artist, Author, Advocate. Jacqui Brown doesn't lack confidence and proves here that she can easily handle yet another career.
At 22-years-old, she moved from Ontario, Canada, to California where she signed with the Wilhelmina Modeling Agency in Los Angeles, and worked across the board acting and modeling in the US, Europe, and Mexico. It was during that time she met and married Paul Brown. After stepping away from modeling and acting to raise her two children, she entered college for the first time in her 40's to study journalism, which landed her a job as an ace reporter for The Los Angeles Times. That was also the decade she began writing books, and she quickly became prolific with twenty-five books, most of which helped her recover her own life as she dealt with an addicted child. She also began her life-coaching career, intertwining her coaching with healing workshops she hosts that serve women struggling to find themselves again, many of those being mothers of drug addicted children.
Flash forward another decade, her undeniably funny, and sometimes raucous humor could not be contained and so she took to stand-up comedy, entertaining numerous audiences. Her next decade gave her another discovery moment. She sat down at the piano one day, even though, as she claims, she does not really know how to play piano, and she wrote a song for her daughter that caught her husband's ear and they ended up recording that song. 'Somebody's Child', a hauntingly beautiful tune, written from an addict's point of view, that landed on her husband's Uptown Blues. It sits here as the closing track.
As a singer-songwriter, Brown says she's inspired to write whatever comes to her whether it's an inspirational song, a kick-ass dance song, or a song about loss and the nature of moving on. Another especially moving song is another single, " Why Oh Why." So many people are facing changes in the world such as it is and many of the women (and some men) I work with, have or are, facing such big challenges due to losses of partners, children, homes, and jobs, and many are having to go it alone. I think this song represents all their words and sentiments about how hard it is to face life as it presents itself to them," said Brown. "Working with my incredibly talented husband on this project is a blessing on so many levels. Our children are both grown so we have this new time to spend together. Creating music that touches people's souls brings a whole new intimacy to our long life together."
Better yet Is Jacqui Brown's outlook. This was her message when she began to raise funds for this CD. "As you know, the project's objective is to help those who are lost in the world of addiction by raising money through the sales of this CD to donate scholarship funds for treatment, rehab, or other forms of healing! I am grateful for having the opportunity to help those who cannot help themselves."
All songs were written by Jacqui and Paul Brown and recorded with some of the best studio musicians including drummer Tony Braunagel, bassist Bob Glaub, drummer Lew Laing, and the aforementioned Browns. Fiddler Cindy Girard puts the country touch on "Bend," "Lovin' You," "You Had Me at Hello" and the ballad "Nothin's Like It Seems. Her husband also delivers background vocals while Brother Paul has his distinctive Hammond organ as a bed underneath Paul Brown's fine guitar work which has its blues spots on the title track, "Brought the House Down," "Cry Over You," "Flow Like a River," and "Somebody's Child" where Jacqui mostly also plays piano. Some prominent label folks are comparing the sound of this recording to that of Les and Mary Paul, high praise indeed. The production values are superb too.
Jacqui Brown sounds like she's been making records for years. But she's proven to be successful at any career she takes up. Importantly, and especially to those who think all these songs about love are just too sappy and syrupy, think again. Jacqui Brown's doing music for all the right reasons – because music can be a healing force.