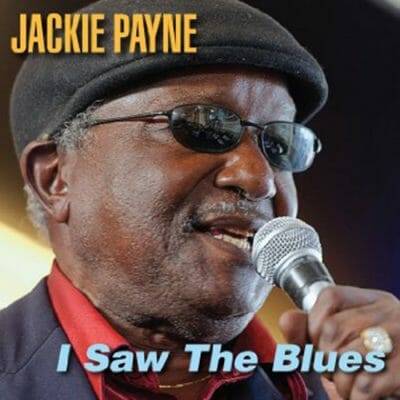 Jackie Payne
I Saw The Blues
Blue Dot Records
Jackie Payne was born in Athens, Ga. in 1946. At the age of seventeen he released his first single "Go Go Train" on the Jetstream label. As a result he toured with the Stax revue which then featured Otis Redding, Sam and Dave, and Carla Thomas.
After the army Payne became the lead singer with the Johnny Otis Show and he was with them for fifteen years. He shared in a Grammy award nomination as part of that Orchestra. In the late 1990's he co-founded the Jackie Payne Steve Edmondson Band and they went onto record three albums. Their Delta Groove album "Master of The Game" received a Blues Music Award for Best Soul Album of 2006.
Payne completed the vocal tracks for this album sometime in 2014 but before the album could be finished he suffered a stroke. His guitarist friends Kid Anderson, of Rick Estrin and The Nightcats and CEO of Greaseland Studios; and Anthony Paule of the Frank Bey Anthony Paule Band stepped up to help with the completion of this album.
Rounding out the band are Endre Tarczy, bass; Derrick D'Mar Martin, drums; Lorenzo Farrell (The Nightcats), organ; Bob Welsh (Elvin Bishop Band), piano; and the fabulous horn section of Ed Early (Elvin Bishop), trombone; Jeff Lewis, trumpet; and Frankie Ramos, tenor sax.
The selection of covers is demonstrative of the joy and swagger of Southern Soul blues. The opening track "Back to Normal" was written by Jonnie Barnett, Carson Whitsett and Dan Penn and recorded by Johnny Adams in 1993. "When The Blues Comes Knockin" was first recorded by Frank Bey; it appears on his 2007 album "Blues in The Pocket". "Wife, Woman, Hootchie" is from Billy Ray Charles and appears on his 2010 recording "Drunk, Busted, Disgusted and Can't Be Trusted". Charles is a singer in the tradition of Marvin Sease which means that the lyrics get a little funky. "I Get Off On It" is from Tony Joe White and first recorded in 1980. "Somewhere Down The Line" is from Little Johnny Taylor; Aki Kumor sits in on harmonica. "I'll Drink Your Bathwater Baby" was recorded by Ollie Nightingale in 1995.
Payne also contributes six new songs. The autobiographical "I Saw The Blues" with some great organ from Farrell; "Kicking Back With The Blues" featuring Early's trombone; "Feel Like Doin' My Thing" with a great horn arrangement; "Six Million Dollar Man" with Anderson on lead guitar; and the lounge-like "Rock Me With A Steady Roll" featuring Welsh on piano. "Full Moon Blues" was co-authored by Payne with Paule who takes a turn on slide.
Payne is one of our most expressive vocalists. Thanks have to go to co-producers, Anderson, and Paule for completing this fabulous album which is already being touted as one of Payne's best. We also would like to send him some love and wish him a complete recovery.
Richard Ludmerer