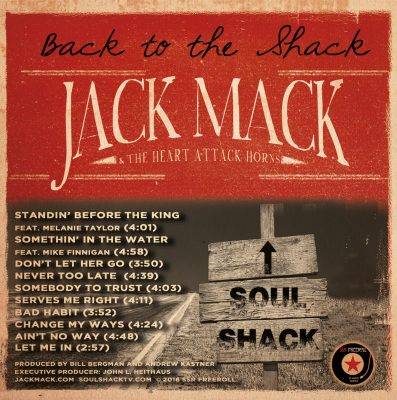 Jack Mack & The Heart Attack Horns
Back to The Shack
SSR Free Roll
Jack Mack and The Heart Attack were originally formed as an R n B cover band in 1982. The Eagles had just broken up and Glenn Frey hadn't yet started his solo career. So Frey found some friends to have fun with. Included were Lee Thornberg of Tower of Power, trumpet and trombone; Bill Bergman, saxophone; Andrew Kastner, guitar; and Max Gronenthal a.k.a. Max Carl who now sings with Grand Funk Railroad. They established their Thursday night residency at Club Lingerie in Hollywood. In 1982 they released a studio album, now referred to as "The Cardiac Party" cd, and another called "Club Lingerie".
Every few years Jack Mack would re-unite and record some old and new material. In 1990 they released "Jack It Up". It wasn't until 1999 that they released "Arrhythmia". In 2002 they released "Live in Philadelphia". In 2011 Jack Mack and The Heart Attack celebrated their 30th Anniversary by releasing "Soul Meeting" featuring vocalists Bill Champlin, Carl (who at the time was the lead singer of 38 Special), Mike Finnegan, Tim Scott, Mark Campbell and special guest Curtis Salgado. In 2014 they released a five song EP entitled "Lookin Up".
On "Back to The Shack" this now legendary band includes Campbell, lead vocals; Kastner, guitars; Ed Berghoff, acoustic guitar; Carlos Murguia and Finnegan, keyboards; Bruce Atkinson, bass; and Tony Braunagel or Les Falconer, drums. The Heart Attack horns include Thornberg, trumpet and trombone; Bergman, sax; and Les Lovitt, trumpet. Nine of the ten songs are newly written by Kastner, Campbell and Bergman. All but one of the horn arrangements are by Bergman.
"Standing Before the King" is a tribute to B.B. King. The vocal is shared between Campbell and Melanie Taylor who is also a background singer along with Niki Crawford, and Kathy Merrick. "Something in The Water" features keyboardist Finnegan. These are good songs but then I believe the album gets even better.
On "Don't Let Her Go","Never Too Late" and "Serves Me Right" Bergman's horn arrangements are nothing short of fantastic. By the time I got to "Change My Way" and "Aint No Way" I also realized that Campbell is a great vocalist.
On the closer "Let Me In", Kastner's guitar solo, Marguia's piano, the horns, the rhythm section, and Campbell's vocal prove that there is good reason why these guys have become legendary.
The album is dedicated to those who have inspired them; James Brown; B.B. King; Solomon Burke; Otis Redding; Sam Cooke; Albert King; Marvin Gaye; Wilson Pickett; and a special thanks to Glenn Frey.
I'm hoping that these guys tour behind this fabulous recording. Jack Mack is back.
Richard Ludmerer
[amazon_link asins='B01LZ1O4PE,B01M1IO4PZ,B01LZW65Z3,B002X13FO2,B002CL35WK,B00GC2MHJM' template='ProductCarousel' store='maasc-20′ marketplace='US' link_id='1cf6b849-fa1f-11e6-a20c-557c41bf4e9d']