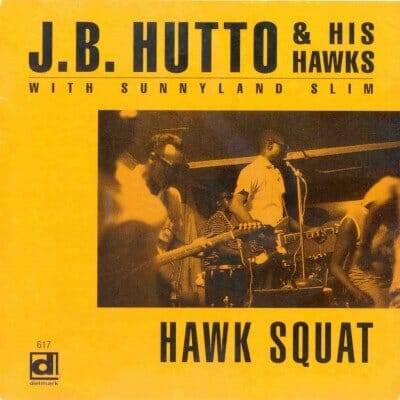 J.B. Hutto & His Hawks
Hawk Squat
Delmark Records
Joseph B. Hutto was born in South Carolina in 1926. His family moved to Augusta, Ga. where he wound up singing in church. When he was 23 his father died and the family relocated in Chicago.
Hutto played the drums and piano before switching to guitar. He played in a slide style he learned from Elmore James. Hutto named his band The Hawks after the wind that blows hard in Chicago. In 1954 Hutto had three singles on the Chance Records label.
In the late 1950's Hutto gave up music but he returned in 1965 with a new band lineup. He recorded for Vanguard, Testament and Delmark records. His 1968 Delmark recording "Hawk Squat" is considered his best. In 1975, after Hound Dog Taylor died, Hutto took over the "Houserockers". He recorded his last album for Varrick Records in 1983.
Hutto died in 1983 at the age of fifty-seven. In 1985 Hutto was inducted into The Blues Hall of Fame by The Blues Foundation. In 2014 J.B. Hutto & His Hawks "Hawk Squat" album was also inducted into The Blues Hall of Hame as a "Classic of Blues Recording-Album".
The album was just re-issued by Delmark Records and it includes six previously unreleased tracks and a beautiful twenty page booklet with liner notes and photos.
The album consists of sessions recorded in 1966 and 1968. This rockin' band features Hutto, vocals and guitar; Lee Jackson, guitar; Sunnyland Slim, piano and organ; free jazz pioneer Maurice McIntyre, tenor sax; Junior Pettis or Dave Myers, bass; and Frank Kirkland, drums.
The sound quality is good. Highlights include the opening track "Speak My Mind", the shuffle "Too Much Pride", "Hip Shakin'," the title track "Hawk Squat" and my favorite "20 % Alcohol".
Hutto's sound and music is being carried on today by his nephew Lil Ed Williams and his band The Blues Imperials. If you're a blues aficionado you have to own this recording.
Richard Ludmerer