FENDER
PreSonus
---
---
---
---
---
---
---
---
---
---
Making a Scene Presents an Interview with a Pro – Jim Odom Talks about the Fender/PreSonus Acquisition
Ever since the announcement was made that Fender Musical Instruments was "Acquiring" PreSonus Audio Electronics the existing PreSonus userbase started to buzz about how this is going to affect their investment in PreSonus's Hardware and more importantly their Software DAW "Studio One". Some had visions of what happened to Cakewalk Sonar after it was purchased by Gibson only to be later discontinued by Gibson leaving their whole userbase adrift (Myself Included). Since the initial announcement there was a complete blackout of information as to the details of the deal between Fender and PreSonus leaving many to speculate and of course the rumors started to abound.
In order to clear up some of the rumors and to help clear up some of the details, we talk with PreSonus co Founder Jim Odom, in his first interview since the announcement of the deal. We discuss what the deal is, how it is going to affect the users and what he sees as the future of PreSonus as a Fender Company. Though there are some aspects that have to remain close to the vest as the deal details get hammered out, we have the opportunity to hear directly from Jim what the advantages are for the future of the company he help create and how it can help move the company into the future!
Fender Musical Instruments
Since 1946, Fender has revolutionized music and culture as one of the world's leading musical instrument manufacturers, marketers and distributors. Fender Musical Instruments Corporation (FMIC)–whose portfolio of brands includes Fender®, Squier®, Gretsch® guitars, Jackson®, EVH® and Charvel®–follows a player-centric approach to crafting the highest-quality instruments and digital experiences across genres.
Since the beginning Fender, with the Telecaster, Stratocaster, Precision Bass, Jazz Bass, and their line of Tube Amplifiers had defined a generation of musicians that used their instruments and amplifiers to create the defining sounds of the Chicago Blues and eventually Rock and Roll!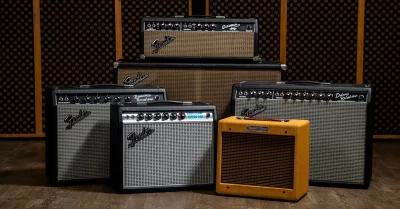 In 1965 Leo Fender sold his companies to the Columbia Broadcasting System (CBS) for $13 million. This was almost two million more than they had paid for The New York Yankees a year before. CBS entered the musical instruments field by acquiring the Fender companies (Fender Sales, Inc., Fender Electric Instrument Company, Inc., Fender Acoustic Instrument Company, Inc., Fender-Rhodes, Inc., Terrafen, Inc., Clef-Tronix, Inc., Randall Publishing Co., Inc., and V.C. Squier Company), as well as Electro-Music Inc. (Leslie speakers), Rogers drums, Steinway pianos, Gemeinhardt flutes, Lyon & Healy harps, Rodgers (institutional) organs, and Gulbransen home organs.
In 1985, Servco Pacific was part of the small investor group that backed industry icon, Bill Schultz, in the buyout of Fender from CBS. Over 25 years later, Servco increased its ownership with the purchase of Weston Presidio's stake in Fender. Through this acquisition, Servco sought to optimize the potential of this iconic music brand and selected TPG Growth as an equal partner in this journey.  Fukunaga added "Servco has a 100-year track record that includes stewarding iconic brands through committed, long-term partnerships that span multiple generations.
In January of 2020 Fender Musical Instruments Corporation (FMIC) today announced Servco Pacific Inc. (Servco) and TPG Growth have entered into a sale and purchase agreement in which Servco will acquire TPG's shares in the company.
Since 2015, under Servco Pacific inc, Fender's digital arm has introduced a new ecosystem of products and interactive experiences to accompany players at every stage of their musical journey. This includes innovative apps and learning platforms designed to complement Fender guitars, amplifiers, effects pedals, accessories and pro-audio gear, and inspire players through an immersive musical experience. FMIC is dedicated to unlocking the power of musical expression for all players, from beginners to history-making legends.
PreSonus Audio Electronics
In 1995, PreSonus Audio Electronics, Inc was founded on the principle of designing innovative audio products that provide professional sound quality and features without sacrificing affordability. And for the last 25 years, their goal was simple: build innovative solutions for musicians, content creators, producers, and audio engineers. Today, PreSonus is a leading designer and manufacturer of both recording and live-sound hardware and software solutions that solve real-world problems for real working creatives.
PreSonus Chief Strategy Officer Jim Odom, a Berklee-trained guitarist, producer, and audio engineer, co-founded our company with fellow LSU engineering graduate and current PreSonus VP of Manufacturing Brian Smith. Jim and Brian's goal was to build professional and affordable music-production tools for musicians and audio engineers.
From humble beginnings in Jim's garage, our first product was the DCP8, a digitally controlled, 8-channel analog compressor/limiter/gate with fader and mute automation as well as grouping all under digital control. The secret to this design was digital (MIDI) control over analog circuitry. PreSonus was awarded a patent over this innovative technology in 1995 and it is still employed today in our XMAX-Remote mic preamp design used on StudioLive Series III mixers and Quantum-series audio interfaces.
Between 1998 and 2000, They released their first famed series of mic preamps, hand-built in our new facility in the Baton Rouge Bon Carre Technology Park. The MP20, M80, and VXP all featured the proprietary IDSS control. This unique feature provided manual adjustment over the current drain on the input stage FET amplifier, allowing the user to boost the signal's harmonic series evenly; providing warmth without distortion, a feature that quickly made these preamps popular among our first customers and are still sought out by the current generation of eBay gear-hunters.

The story goes like this: during his dealer visits our current Senior Vice President of Global Sales, Rick Naqvi, noticed that the most popular audio interfaces at the time offered ADAT inputs for people to connect their ADAT machines and transfer audio to a computer, but not a lot of mic preamps to record a full band without needing a lot of outboard gear. That's when Rick had what we call a "dude, dawg!" moment and called Jim with the crazy idea of putting ADAT A/D conversion on an 8-channel mic preamp so people could record a full drum kit, and thus the first DigiMax was born. Building on the success of our preamp designs, we released the original DigiMax 8-channel preamp with ADAT conversion. An industry-leading design, the original DigiMax and its successors provided therising group of home-studio recordists with the ability to easily add analog inputs to their ADAT-equipped audio interfaces.
Throughout this time, they continued to release products to support the burgeoning home recording revolution—including the first rackmount monitoring controller, fulfilling the function of the center section of a large format console for the small format, console-less home studio. Still shipping today, the Central Station and Central Station PLUS, as well as both versions of the Monitor Station, have brought advanced monitoring functions to two generations of in-the-box recording engineers.
From 2005 to 2009, their engineering team worked at a feverish pace, releasing first-to-market product after product, bringing new features and tools to our growing customer base. Beginning in 2005, with the launch of the Inspire, PreSonus interfaces took FireWire audio recording to a new level. The Inspire 1394 was not only the first audio interface to be completely controlled via software, it was also the first audio interface that could be expanded simply by daisy-chaining multiple units over FireWire—a feature for which all PreSonus FireWire products would become known.
It was during this same year that Jim decided the best way to ensure the best user-experience possible was to provide a complete suite of recording tools. To that end, they partnered with KristalLabs Software Ltd., a startup company founded by Wolfgang Kundrus and Matthias Juwan, to begin working on Capture™ and Studio One®. In 2008, after a tremendous development effort, they released the original StudioLive 16.4.2 digital mixer with Capture v1, two landmark releases for their customers.
The StudioLive 16.4.2 was not only their first digital mixer, it was also the first digital mixer to feature a continuously bidirectional FireWire interface and a one-to-one workflow that made it easy to perform virtual soundchecks, insert plug-in effects, and return playback streams to individual channels on the mixer. Featuring the same Fat Channel for which StudioLive mixers are now famous, the StudioLive 16.4.2 was a runaway hit product, bringing a host of intuitive and powerful digital mixer features at an affordable price point. Capture was another first-of-its-kind product, a truly integrated multitrack recording application dedicated to making recording with a StudioLive mixer as easy as possible.
This five years of firsts culminated in the release of Studio One in 2009, the first DAW with integrated recording and mastering in the same application. Studio One's intuitive drag-and-drop workflow quickly garnered it a core following of loyal users. At the end of 2009, PreSonus acquired all of KristalLabs' assets, leading to the creation of PreSonus Software Limited and a new global team of engineers and creative thinkers.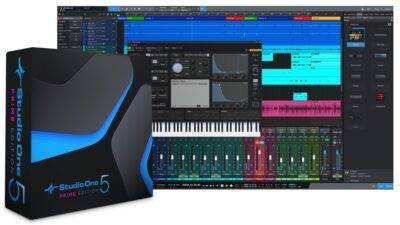 Building on the success of Studio One's initial launch, Matthias and his team of Studio One developers teamed up with another startup: Soundcloud. In 2010, Studio One proudly became the first DAW with direct-to-Soundcloud export. This innovative feature meant that Studio One users could now record, produce, mix, master, and publish their music all from a single application.
During the development of Studio One v2, the PreSonus Software team began a co-development effort with Celemony to create the Audio Random Access (ARA) plug-in extension to facilitate the full integration of Melodyne into Studio One. In 2011, the revolutionary feature was unveiled as an industry first.
With the formation of PreSonus Software Limited, our product managers and engineers turned their focus to greater hardware/software integration. StudioLive Remote was unveiled in 2011, becoming the very first digital mixer control app in Apple's App Store and adding wireless remote mixing to StudioLive digital mixers.
In 2012, we collaborated with Rational Acoustics to add SMAART Wizards to the VSL application for StudioLive mixers, making them the first digital mixers with integrated SMAART room analysis. This same year, we released QMix, the first iPhone remote monitor mixing app for a digital mixer.
During the development of the StudioLive AI-series digital mixers, our software team in Hamburg invented a new technology that would become critical to creating a fully integrated hardware/software user experience. UCNET was unveiled in 2013 and brought a new level of integration between StudioLive AI-series mixers, Capture, and Studio One. With UCNET, Capture could now facilitate a fully automated Virtual Soundcheck, remotely engaging digital returns and recalling StudioLive mix scenes at the click of a button. Studio One also added the Fat Channel plug-in and the ability to load StudioLive mix scenes onto the Studio One console when loading Capture sessions.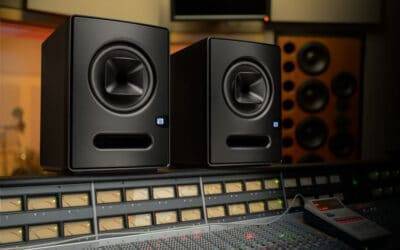 In 2013, they acquired the assets of Notion Music, adding Notion™ music notation and composition software and their other solutions to our product line-up. This innovative product was the first notation app to run on iOS in addition to Mac and Windows, one of the most downloaded music creation apps, and was featured in Apple TV commercials and ads worldwide. Notion and their team were a natural fit in the PreSonus culture of inventive technology development.
This same year, they released our first speaker products. The Eris- and Sceptre-series studio monitors quickly garnered praise and popularity for their accurate frequency response and sonic clarity. Created in partnership with Dave Gunness and Fulcrum Acoustics, they also released the StudioLive AI-series loudspeakers, the first powered loudspeakers with iPad control over the onboard systems processors and featuring the same horn-loaded coaxial design with Temporal Equalization™ as the Sceptre-series studio monitors. In 2014, we released a Dante option card for the StudioLive AI-series loudspeakers, thus creating the first ever Dante-equipped powered loudspeaker. This was also the year that we acquired WorxAudio, a respected manufacturer of commersional sound-reinforcement speakers.
In 2019, after years of continued growth, our Eris monitors became one of the best-selling studio monitors in the world. It was also during these years, that PreSonus products were awarded their first TEC awards: Capture for iPad (2015), Notion 2 for iOS (2016), FaderPort 8 (2018), and FaderPort 16 (2019).
Over 27 Years of Innovation: 2022
Today, their team of product managers, software engineers, hardware designers, and audio nerds continue to develop a breadth of innovative solutions for audio production. From Bluetooth media reference monitors to professional studio monitors, point-source loudspeakers to award-winning CDLs, headphones to monitoring controllers, mobile audio interfaces to 128-channel Thunderbolt audio systems, 8-channel analog mixers to 64-channel AVB-networkable digital mixer systems, Capture Mobile for iPad to Notion notation software to Studio One Professional 5.5 and the innovative PreSonus Spere, PreSonus prides itself on creating end-to-end solutions for anyone to achieve their creative vision a perfect fit for fender.
Find our Podcasts on these outlets
Help Support Making a Scene
Your Support helps us pay for our server and allows us to continue to bring you the best coverage for the Indie Artists and the fans that Love them!
Make a one-time donation
Make a monthly donation
Make a yearly donation
Choose an amount
Or enter a custom amount
$
---
Your contribution is appreciated.
Your contribution is appreciated.
Your contribution is appreciated.
Donate
Donate monthly
Donate yearly
You can donate directly through Paypal!
Subscribe to Our Newsletter