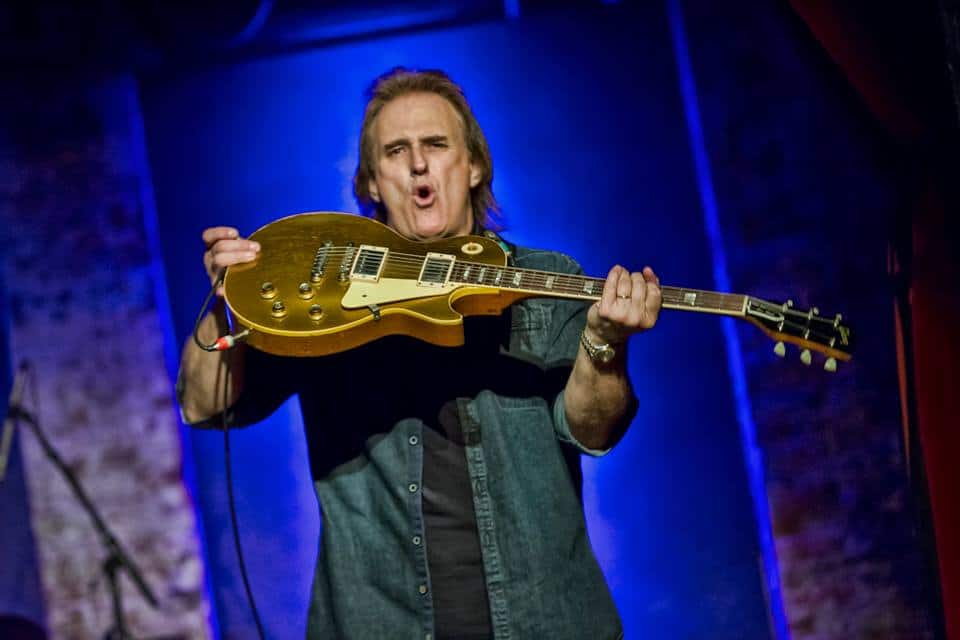 ---
---
---
---
After carrying the mantle for eight years of the coveted role of lead guitarist with John Mayall's legendary Bluesbreakers, Rocky Athas returned to his successfully established solo career. In 2017, the much anticipated reunion between Rocky's good friend and multi-Grammy winning producer, Jim Gaines, delivered Shakin' the Dust to rave reviews!
Partnering repeatedly with Grammy Award-winning producer Jim Gaines, Rocky Athas has released a series of albums, including Miracle, Voodoo Moon, and Lightning Strikes Twice, and his band of Texas musicians has wowed audiences.
At the beginning of his career, Rocky was the creative vortex behind Lightning, one of the biggest draws in Texas nightclub history, regularly opening for national acts.
By the age of 23, the Oak Cliff, Texas native had been included in Buddy Magazine's now-legendary list of Top Ten Guitarists –one of the first and youngest to receive the honor. Over time, Rocky has shared that honor with the likes of Eric Johnson, Jimmie and Stevie Ray Vaughan, Billy Gibbons (of ZZtop), and Johnny Winter.
Moving on from Lightning, Rocky began appearing as the lead guitarist for national acts, including the southern rock one-of-a-kind Jim Dandy and Black Oak Arkansas. Two of BOA's greatest hits, "Ready as Hell" and "Wild Bunch", were written by Rocky and feature his playing.
While playing with BOA, Rocky was introduced to the Bolin brothers–drummer extraordinaire Johnnie Bolin, and Tommy Bolin (of Deep Purple and James Gang). Johnnie and Rocky cemented a life-long bond as brothers. After Tommy's death, Rocky performed, toured, and recorded Tommy Bolin Tribute shows with Johnnie in support of the Tommy Bolin Archives foundation. Joining them for these efforts was their friend and amazing vocalist and bassist Glenn Hughes, of Deep Purple and Trapeze.
Throughout his career, Rocky has been asked about his friendship with Stevie Ray Vaughan, a fellow Oak Cliff native and legendary guitarist. Rocky is extremely proud of their shared Oak Cliff roots and their friendship. In Kerri Leigh's biography Stevie Ray Soul To Soul, Rocky shares some stories of that early friendship, before either Rocky or Stevie had known music or fame. In 2000, Rocky worked with Buddy Miles and Stevie Ray Vaughan's rhythm section, Double Trouble, on The Bluesberries album for Ruf Records. Rocky also recorded the classic Jimi Hendrix's "The Wind Cries Mary" for Ruf Records' album Blue Haze – Songs of Jimi Hendrix.
While working on The Bluesberries project, Rocky forged a friendship with Grammy Award-winning producer Jim Gaines, who has worked with Santana, Steve Miller, Journey, and Stevie Ray Vaughan and who was later named Blues Producer of the Year in 2003. As the friendship flourished, Rocky wrote, recorded, and released his first worldwide album, Miracle, produced by Jim.
In the late oughts, Rocky was made an offer he couldn't refuse: John Mayall, the iconic "Godfather of British Blues", had asked him to play lead guitar on his next album. Needless to say, Rocky was honored to be recognized for his skill and thrilled to join Mayall's legendary outfit, The Bluesbreakers. Former members included Eric Clapton, Peter Green, Jack Bruce, John McVie, Mick Fleetwood, and Mick Taylor. Within weeks of the call from John Mayall, they were together in the studio working on Tough. The album was a smashing success, and Rocky's performance did not go unnoticed. Guitar Player Magazine wrote that Rocky was, "a veteran Texas gunslinger with a wicked tone and a thriving solo career of his own."
Over the next few years, Rocky continued to record and tour with Mayall's The Bluesbreakers. Mayall's album A Special Lifefeatured stellar guitar performances by Rocky, prompting Neil Spencer of Uncut Magazine to highly praise the new work, "… whose guitarist, Rocky Athas, recalls the young Eric Clapton."
With a mutual admiration nurtured by thousands of miles on the road together, Rocky was proud to stand next to John Mayall, rockin' the blues around the world and blazing a fresh, new, innovative sound with the veteran bluesman.
In September of 2016, John Mayall announced that he would reduce his performance format to a trio and become his own guitar player. While Rocky no longer tours with the band, he holds nothing but respect and gratitude for its founding member.
In 2014, Rocky released Let My Guitar Do The Talking…With My Friends on Cherryburst Records. The album is "all-instrumental, all-guitar, all the time" and samples several vintage guitars from Rocky's personal collection. It also features guest appearances by long-time friend and fellow Texan Smokin' Joe Kubek and an exclusive performance by John Mayall on keyboards,
In 2015, the ultimate, commemorative Rocky Athas series was released, highlighting Rocky's most crowd-pleasing solo work. Also included are never-before-released bonus tracks paying homage to artists who influenced him, like Eric Clapton and Leslie West. The release of The Essential Rocky Athas – Volume I & II is hailed globally by critics as "a delectable album tailor-made for the blues enthusiast" filled with "delicious howling guitar riffs".
Don't miss this authentic Texas guitar legend and former Bluesbreaker!
[amazon_link asins='B076H4WSSM,B01BQN6XSC,B01BQN6XQ4,B01BQN6WCY,B0007ZT2M0,B00009KATM,B000UPBYKA' template='ProductCarousel' store='maasc-20′ marketplace='US' link_id='25eeb225-0aa2-11e8-ab74-63f14e9ddd48′]