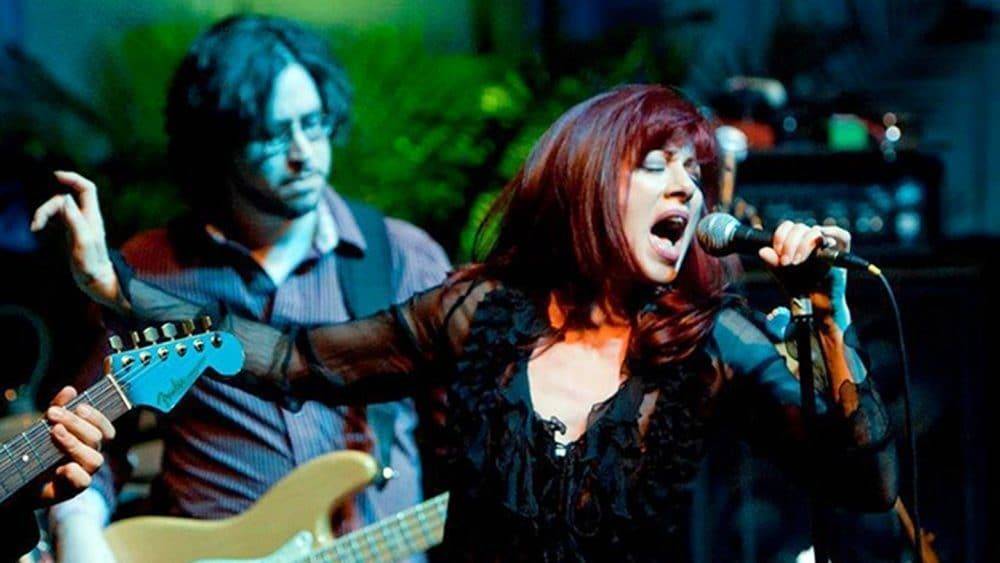 ---
---
---
---
Nikki Armstrong- Vocalist/Songwriter/ Bandleader. www.nikkiarmstrong.com
Born in Riverhead, Long Island, Nikki studied music and voice in Boston, LA, and New York; most notably with Hal Schaefer (Peggy Lee, Marilyn Monroe). Nikki is also a trained professional dancer and actress. Noted for soulful interpretations of material from standards to rock, she has been compared to, Tina Turner, Gladys Knight, Bonnie Raitt and Janis Joplin.
Nikki strives to perform every song "in the now" and never the same way twice. After writing and doing session work in Sydney, Australia and Los Angeles, Nikki decided to change her focus to live performance. This took her back to New York City. Nikki has been performing in the New York Tri-State area for over 20 years, with her bands, Whole Lotta Blues (blues/rock/funk) and The Nikki Armstrong Project (jazz/blues), as well as "Just Janis" a tribute show.
She has performed and recorded with Soul- Jazz guitarist Melvin Sparks, Bucky Pizzarelli, Les Paul and many others. Regularly performing in festivals and major venues, Nikki has opened for The Commitments, Joan Osborne, Dave Mason, Dickey Betts, Hubert Sumlin, Ivan Neville's Dumpstafunk, Johnny A, Coco Montoya, Cornell Dupree, and Parliament Funkadelic, has performed in the Florida Keys, on Caribbean Cruise ships, and can be seen regularly at BB King Blues Club in Times Square and Trumpets Jazz in New Jersey. In 2012, Nikki resumed touring outside of the New York area. Playing to packed houses in France and was also inducted into the New York Blues Hall of Fame.
She has five independent CD releases…Blues and Jazz, Live at B.B. King's, Turnin' & Burnin', New, Borrowed & Blue and the 2012 release Now and Then. In 2014 she returned to France for a second tour and also became bi-coastal, returning to Los Angeles area performing, collaborating, and searching for exactly the right players to form and launch her next musical endeavor Mama SpanX .
Mama SpanX is a multi – member soul/rock/funk group made up of highly experienced and virtuoso musicians from the various musical genres. With strong influences by artists/bands such as Tower of Power, James Brown, Gladys Knight and Ike and Tina Turner the bands musical emphasis is on strong melodies/lyrics and grooves that at the same time highlight and feature the individual players as well as an exciting stage show.
Mama SpanX Background:
Leader/singer/songwriter and New York Blues Hall of Fame vocalist Nikki Armstrong, known for her soulful vocals and high energy performances, got the concept while collaborating over several years with Soul/Jazz Guitarist/Producer Melvin Sparks. Melvin, a major influence on the jam band scene, came up with the name "Mama SpanX ". After Melvin's passing in 2011 and then performing all over the eastern seaboard and abroad, Nikki finally began forming the band in 2015.
The first artist to join was Drummer/composer/arranger Ben Beckley. Nikki and Ben had collaborated previously, songwriting and producing in LA before Nikki relocated to New York.
Dixie Frog recording artist/Blues guitarist Steve Johnson and his girlfriend, Latin/Jazz Saxophonist Julie Sax then joined. The couple and Nikki had played together frequently on the New York scene before Steve and Julie relocated to the LA area.
To contribute to the soul and gospel aspects of the band, two prominent fixtures on the LA Blues and R&B scene, Saxophonist Steve Sadd and Keyboard/Organist Harlan Spector became the next assets to the group bringing their chops and versatility.
The search for the ideal bottom end to the group took almost 6 months. Six string fret-less Bassist, David Abercrombie added the perfect pocket for the band!
This 7 pieces team of like-minded musicians forms the main core of Mama SpanX. See Bio page for more info Nikki and the SPANKERS!
[amazon_link asins='B06XB8GSYJ,B06XBD63PG,B06XBF4VZG,B06XBG2GBW,B06XBFTTYD,B06XBDFF85,B06XBCR22N,B06XBCQF3B,B06XBCN59W' template='ProductCarousel' store='maasc-20′ marketplace='US' link_id='cc997090-dc33-11e7-8b2f-73ec2e21b5d9′]