Bobby Womack
" BluesWax Sittin' In With Bobby Womack
By Bob Putignano
Robert Putignano does interviews like most people eat potato chips during Super Bowl. It's almost second nature. In reality that's what makes his stuff so good. He makes it look easy. But even I was shocked at how much he got out of Bobby Womack (Bytes, October 14), the classic soul man whose played with a stellar list of luminaries and rarely talks about it.
Runners up for best bytes have to start with Bill Graham's Life After La Bamba (Bytes December 3). Graham takes us back to "the day the music died," February 3, 1959 and relives the first of what would become a plethora of rock and roll tragedies. Not only does he take us there, he brings us into the psyche of Richie Valens' brother who was only two years old when Richie died in the plane crash with Buddy Holly and The Big Bopper. That said, we see how this tragedy – and the memory of this young rocker – has impacted his brother's life a half century later.
If you'd like insight into the obsession musicians and music journalists have for The Blues, check out Roger Hurricane Wilson's Les Paul tribute (August 19). Wilson is both a musician and a writer, and the thrill he had playing with Les Paul is palpable. I also recommend rereading Phil Reser's interview with J. J. Grey of Mofro (October 8 and 14). Reser goes into depth on how Grey creates his wonderful songs. And finally, Mark Goodman goes one on one with the legendary Stax guitarist Steve Cropper (April 8 and 15) – Don Wilcock, Blueswax editor
He Doesn't Have to Fight The Game Anymore
I was pretty psyched with getting the opportunity to chat with the legendary Bobby Womack. I had quite a few questions to ask the recent Rock & Roll Hall of Fame inductee. Why not? Womack had been around so many seminal artists like Sam Cooke, Ray Charles, James Brown, Wilson Pickett, Sly Stone, Jimi Hendrix, Joe Tex, Aretha, King Curtis, Wilton Felder, Gabor Szabo, Patti LaBelle, The Rolling Stones, Rod Stewart, Stevie Wonder, and on and on and on.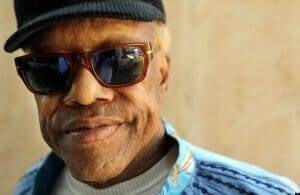 After being blown away by his excellent performance at the 2009 Long Beach Blues Festival, Bobby was gracious to sit down with me for about thirty minutes. To give you an idea as to how cool a cat Womack was, before we got started, he introduced me to his booking manager who just happened to be the brother of the great Otis Redding! Now that's the way to start things off on the right foot, and I joked with Bobby saying, "Man, I don't know if I have more questions for Bobby or for Mr. Roger Redding. Bobby laughed mightily, and it was at that time that I was certain that this would be fun interview.
The sixty-five-year-old Womack is extremely fit and responded rapidly and happily with a constant smile on his face. He maintains a great sense of wit and seems quite happy with his life.
Bob Putignano for BluesWax: Hi, Bobby, congrats on your recent induction into the Rock and Roll Hall.
Bobby Womack: Thanks, man. To be honest with you, I take things in stride, just one day at a time. I've gotten to the point where I've said, "I've recorded a lot of different things, and people still buy it. It's still the truth, and that overrules everything else."
BW: Ain't that the truth! May I name drop with you?
Bobby: Sure.
BW: Sly Stone.
Bobby: I got close to Sly because I kept saying, "This is a very creative guy," and that deep-fried voice of his, it sizzles, crackles and spits. Sly asked me to play on his There's A Riot Going On LP.
BW: Hendrix.
BW: I met Jimi on the road with the Valentinos during the mid-60s at the time Jimi was backing Gorgeous George Odell. Those were lean times as Hendrix would cut his sandwich in half and wrap the other half like he would never eat it again. A week later, he'd open that sandwich back up and chow down. The main thing I remember about Jimi is that he constantly played his guitar all the time when we were on the bus, and I do mean non-stop. You could hear that scratching sound. I learned to accept him. I took a liking to him and vice-versa.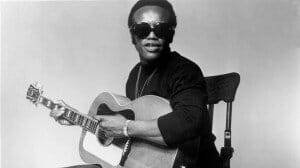 BW: Brother Ray.
Bobby: In 1966 I'd lined up the gig in Ray Charles' band. Ray was cool to say, "Play with me." He had this big old book that looked like a telephone book with all of his songs with all of the charts. I told Ray that I could not read music, and Charles didn't believe me. But he still asked me to accompany him on a few songs to see if I could make the cut. Every song he played, I was all over it. Ray would say, "How do you know where I'm going?" I said, "I see you before you get there and I just slide into it."
BW: Sam Cooke.
Bobby: I talked my way into opening for Sam Cooke's Soul Stirrers at this Baptist Church in 1953. Cooke asked, "Can you really sing?" "Yes, me and my brothers, we all sing." I was nine at the time. Sam says, "If I let you open up the show, you're not going to steal the show, are you?" And I said, "No, I'm not going to steal anything," but I think Cooke was only teasing with me. Anyway; we tore the place up, and the place went nuts. So, we dropped out of school when Cooke signed the Womack Brothers to his record label, SAR. Although he told us there wasn't any money to be made in gospel, we started to record gospel. But Sam wanted us to follow in his footsteps and start to also make rock and roll music. I told Sam that my father would kill us! That's when Cooke made a deal where we would release a gospel song and would follow that up with a rock and roll tune.
BW: How did that work out? Bobby: It didn't. [laughs] So, we went back to becoming the Valentinos again, and around '62 we came up with "Lookin' For A Love" which became a smash! My dad wasn't thrilled and kicked us out of the house because he said we were playing the devil's music. It was around that time that Cooke sent us three thousand dollars to purchase a new car so we could get from Cleveland to his home in LA. We bought a used Caddy instead which gave us a lot of problems. We broke down constantly but eventually made our way to Los Angeles. A worried Sam was going nuts and was saying, "They should've been here by now." Finally, we got to a phone booth in LA and called Sam to pick us up, and he got us in his Ferrari. I'll never forget that day. Cooke also made sure to call our parents to tell them that we were okay.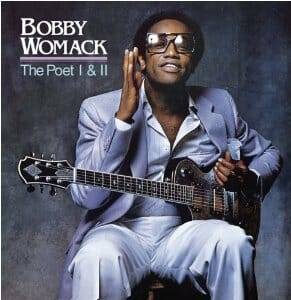 BW: Did you record and/or tour with Cooke?
Bobby: Yes, and around '63 Sam was all excited about a new song "A Change Is Gonna Come' and asked my opinion. I told him, "I t feels like death." Sam was startled, and I told him it was great, but it feels like something bad happened or was about to happen. Sam said he would never release it. A year later, Cooke was dead. You know the story about the manager of a Los Angeles motel said that a woman shot him in self defense. We were on the road touring as the Valentinos when we heard, and I was completely devastated.
BW: That had to be a rough time for you.
Bobby: Losing Sam and my brother was rough. I was trying to be a musician, but I lost that because I also then married Sam's wife, and they started comparing me with the greatest artist that ever lived. As far as I'm concerned, there's only one Sam Cooke. Under pressure I picked up the habit. But by the '90s I cleaned up which was the biggest accomplishment for me. You know, looking back on all of those creative musicians, I've seen so many go down. They lose themselves. And if you lose yourself, you lose everything. I just wanted to go back to where I came from, back to the beginning where I didn't know about drugs, none of that. I was just wanted to sing because I love to sing.
BW: Wilson Pickett.
Bobby: Pickett reminded me of myself as he was insecure. He wasn't educated, but he wrote and performed some great songs. We scored a nice hit together with "I'm A Midnight Mover," too.
BW: Rolling Stones covering "Its All Over Now.'
BW: Their first number one single! I wasn't too crazy about the Stones covering that song, but Cooke told me that it would be one of the best moves I ever made. He was right, especially when the royalty checks started to roll in [laughs], but looking back, I probably got a small piece of what I was supposed to get, but it was big!
BW: Speaking of royalties, "Breezin'."
Bobby: That was good, very good to me!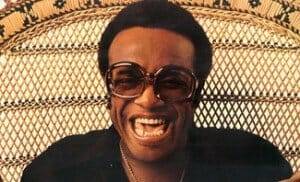 BW: The first time I heard "Breezin'" was not the George Benson's version. I'd first heard it on Gabor Szabo's (appropriately titled) High Contrast LP where you played some extremely strong rhythm guitar.
Bobby: You are right about that LP, but mostly "Breezin'" was a one-off track (and the High Contrast album) that just worked well.
BW: Man, that record really perked up my ears as you and Gabor blended together magically. The producer Tommy LiPuma had great vision to team you two up and was furthermore brilliant to cull "Breezin'" several years later to score a smash hit and a Grammy for George Benson.
Bobby: Sometimes you never know where these things go, but I am glad it worked out for Benson, and for me!
BW: It sure did. So, with an incredible history, what's next for Bobby Womack?
Bobby: Like I said earlier, I take things one day at a time, I've been fortunate, so I don't have to fight the game anymore.
BW: Good for you, Bobby, just know that after seeing you and your band perform today, that me – and I am sure many others – would like to see you perform more and more!
Special thanks to Cary Baker's assistant Julie Arkenstone who was largely instrumental for making this interview with Womack happen. More info at: https://conqueroo.com
Bob Putignano is a contributing editor at BluesWax. You may contact Bob at: bob8003@yahoo.com web site: www.SoundsofBlue.com
Bob Putignano: www.SoundsofBlue.com
Bob Putignano: www.SoundsofBlue.com
Weekly Music Editor at: https://www.WestchesterGuardian.com – NYC area Newspaper Now celebrating 15 + years on the air at WFDU https://wfdu.fm