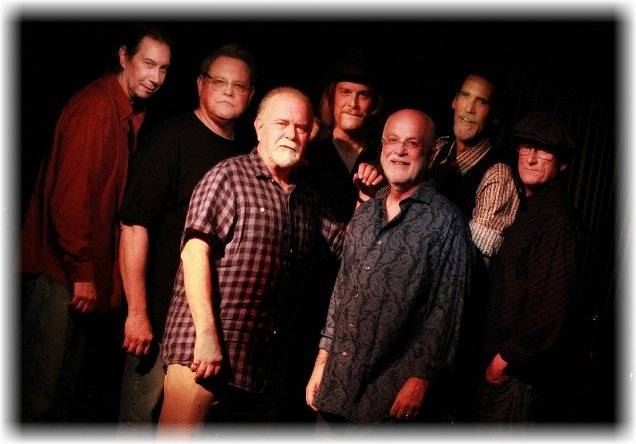 ---
---
---
---
The Big Shoes Story
Big Shoes was the creation of drummer/producer Andy Peake. In 2012. With a local trend among musicians to form "tribute" bands, Andy had the wild idea to gather musicians of like mind to create a tribute to the 1970's eclectic and brilliant band, Little Feat. Big Shoes gathered a following based on the Little Feat fans came to see Big Shoes. As time passed the boys in Big Shoes realized how much they enjoyed the genre and their fellow band members and decided to record and perform their own material.
The Creative Fire
After recording an experimental project entitled "Sole Music," the Shoes gave away most copies to fans but the fire had been lit to dig deeper. Several of the band members had a history of successful songwriting and the band recorded their first saleable album, "Shoes Blues.' Andy Peake continued to invest and improve in his studio and the band expanded their repertoire to be able to play in a number of situations mixing their original material with the Little Feat repertoire as well as favorite bluesy covers and originals.
The Present and Future
After over a year of recording,editing and mixing the newest Big Shoes album, Step On It!, the Shoes have joined forces with promotional veteran, KL Productions to distribute CDs to a heap of press outlets, radio stations and online outlets sympathetic to the blues influenced music that Big Shoes creates. Official release date for "Step On It was set for Friday, Feb. 23rd, 2018. Starting a band from ground up by a group of musicians who have been playing on hit records since the 1970s has been an ambitious project but the musicians have truly found it to be a labor of love. "Step On It!" is unique with a sense of humor and rock and roll passion that has been with the band members all of their lives. It is clear that the same passion will remain with each of them for the rest of their lives. It's built in now.
Big Shoes is comprised of
Rick Huckaby – Vocals, acoustic guitar.
Rick is a successful Nashville songwriter, support musician and recording artist. He has had numerous songs that he has written recorded by major label artists. Rick was signed to a major Nashville record label as an artist. He now heads his own record label and writes daily for himself and other artists. He is truly a major label quality vocalist and interprets Big Shoes' material with soul and conviction.
Will McFarlane – Vocals, slide and electric guitar.
Will commutes to Nashville from Muscle Shoals Alabama. He was recently inducted into the Musician's Hall of Fame in Nashville. He has played on records for Bobby Blue Bland, Little Milton and Etta James to name only a few. He was also a musical partner with Bonnie Raitt for 6 years.
Mark T. Jordan – Keyboards, vocals.
As pianist, Hammond organist, singer/songwriter and arranger, Mark Jordan is a page in American pop culture, having toured and recorded with Van Morrison, Bonnie Raitt, Jackson Browne, Boz Scaggs, Edgar Winter, and Lyle Lovett, Taj Mahal and many more.
Tom Szell – Bass guitar, vocals.
Tom's most recent artist support gig was with guitar virtuoso, Robben Ford. He is soft-spoken about his outstanding bass playing but highly regarded in the competitive Nashville music scene.
Kenne Cramer – Vocals, slide and electric guitar.
Kenne has toured or recorded with Ronnie Milsap, Lee Roy Parnell,T. Graham Brown, and Dr. Hook. He can also be seen these days performing with former Little Feat vocalist Shaun Murphy.
Andy Peake – Drums, vocals.
As a resident of the Nashville music scene for 30 years, Andy's touring and recording credits include blues influenced artists Lee Roy Parnell and Delbert McClinton while heavily influenced by artists Little Feat and Bonnie Raitt. Andy Peake recruited and coordinated Big Shoes. He engineered and produced both the "Shoe Blues" and the "Step On It" albums for the band.
Bryan Brock – Percussion
Class of 1995 music performance major at the reknowned University of North Texas School of Music, Bryan was an in-demand session and live percussionist/drummer in greater Los Angeles for years before moving to Nashville. Credits in LA included Dr. Dre and Frankie Valli. He quickly went to work in Nashville with a score of latin percussion projects in addition to his work with Big Shoes.
Hear are a few videos of Big Shoes performing their own and cover songs.
[amazon_link asins='B0776K6TDW' template='ProductCarousel' store='maasc-20′ marketplace='US' link_id='2e57d3df-0a96-11e8-87f8-ef66fa0d9b60′]