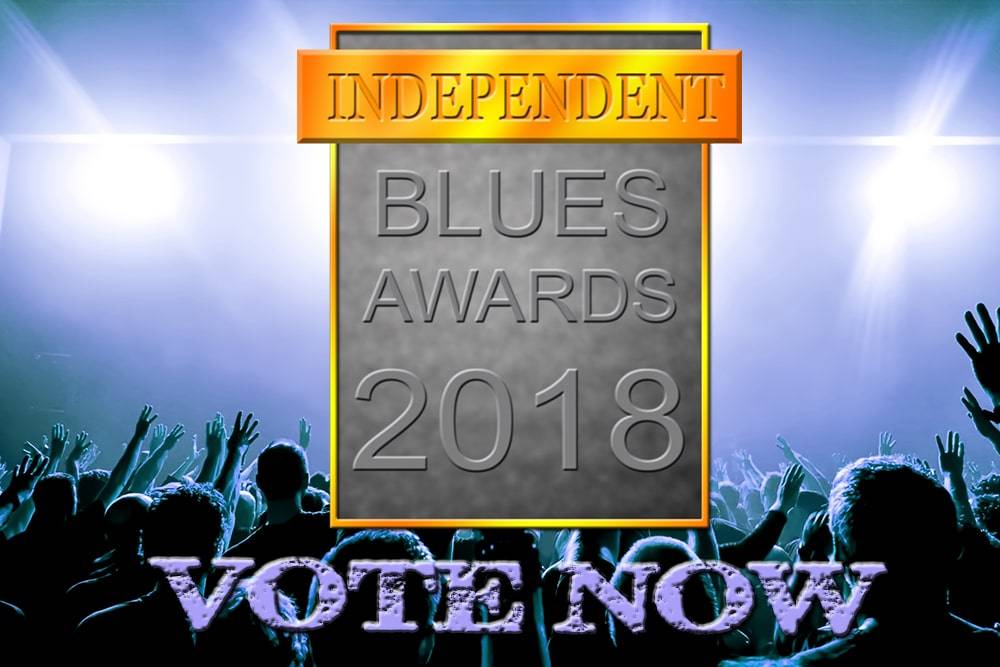 The 2018 Independent Blues awards nominations are now in and ready for you to vote on. We do things a bit different than other awards in that we give you the opportunity to explore and experience artists and music you may not be familiar with.
In order to maximize you experience we highly recommend that you sign up for a FREE Spotify Account. We use Spotify players and links throughout the voting ballot so you can listen to and explore the nominated artists. This helps the artists as they get paid for their played songs, but it also helps them get into the Spotify Matrix so they can be discovered by other listeners on Spotify.
It would help them even more if you create your own playlist in your spotify account and add all your favorite songs and artists. Share this playlist on facebook, twitter and with your friends! Being added to spotify user playlists elevates an artists status on Spotify!
As you go through the ballot we use a simple link format, The link attached to the artist's name will take you to their website, The Link attached to the CD Title will take you to a Spotify playlist for that CD and the Buy Link will take you to Amazon.com if you want to purchase either the physical CD or mp3 downloads. By using these links even if an artists does not win, they will receive a large benefit from their nomination!
If you take the opportunity to use this ballot as intended this can take some time, which is why we are extending the voting till July 17 2018! We have also placed a preview of the ballot below so you can explore our nominees before you commit to actually voting. Once you start voting, all the links are in the ballot just in case you want to revisit any of the nomiated artists.
1 VOTE PER EMAIL ADDRESS
ONLY FULLY COMPLETED BALLOTS WILL BE ELIGIBLE TO BE COUNTED!!
CONGRATULATIONS TO ALL THE NOMINEES and THANK YOU TO ALL WHO VOTES!
Independent Blues CD Awards!
The Independent Blues Acoustic CD
Jeff Dale – The Southside Lives – Buy
The Bones of J.R. Jones – Spirit's Furnance – Buy
Doug Macleod – Break The Chain – Buy
Joshua Jacobson – Good Little Thing – Buy
Likho Duo – Blues and the World Beyond – Buy
Steve Howell and Jason Weinheimer – A Hundred Years From Today – Buy
Eric Bibb – Migration Blues – buy
Guy Davis and Fabrizio Poggi – Sonny and Brownie's Last Train – Buy
Best Independent Blues Contemporary CD
Joel DaSilva – Everywhere From Here – Buy
Tas Cru – Simmered and Stewed – Buy
Victor Wainwright – Victor Wainwright and the Train – Buy
Danielle Nicole – Cry No More – Buy
Mindi Abair and the Boneshakers – East West Sessions – Buy
John Nemeth – Feeling Freaky – Buy
Bernard Allison – Let it Go – Buy
Vanessa Collier – Meeting my Shadow – Buy
Best Independent Blues Tradtional CD
Chris Daniels and the Kings – Blues With Horns – Buy
Linsey Alexander – Two Cats – Buy
Reverend Shawn Amos – Breaks it Down – Buy
Mick Kolassa – Double Standard – Buy
Curtis Salgado and Alan Hager – Rough Cut – Buy
Mitch Woods – Friends Along the Way – Buy
Tommy Castro – Stompin' Ground – Buy
Big Bill Morganfield – Bloodstains on the wall – Buy
Best Independent Blues R&B/Soul CD
Shaun Murphy – Mighty Gates – Buy
Janiva Magness – Love is an Army – Buy
The Lucky Losers – In Any Town – Buy
Altered Five Blues Band – Charmed & Dangerous – Buy
Thornetta Davis – Honest Woman – Buy
Southern Avenue – Southern Avenue – Buy
John McNamara – Roll With it – Buy
Wee Willie Walker – After A While – Buy
Best Independent Blues Rock CD
Sean Chambers – Trouble and Whiskey – Buy
Mike Zito – Make Blues Not War – Buy
Lew Jetton and 61 South – Palestine Blues – Buy
Tinsley Ellis – Winning Hand – Buy
Walter Trout – We're all in this together – Buy
Albert Castiglia – Up All Night – Buy
Catfish – Broken Man – Buy
John Pagano Band – One More Round – Buy
Best Modern Roots CD
Fantastic Negrito – The Last Days of Oakland – Buy
Larkin Poe – Peach – Buy
Andrew "JoJo" Chapman – Well it's About Time – Buy
Randall Bramblett – Juke Joint at the Edge of the World – Buy
Samantha Fish – Belle of the West – Buy
The Stone Foxes – Visalia – Buy
Little G Weevil – Something Poppin – Buy
North Mississippi AllStars – Pray for Peace – Buy
Best Indepedent Blues LIVE CD
Jimmie Vaughan Trio – Live a C-Boy's – Buy
The Love Light Orchestra featuring John Nemeth – The Love Light Orchestra – Buy
Ghost Town Blues Band – Backstage Pass – Buy
John Mayall – Three for the Road – Buy
Sonny Landreth – Recorded Live in Lafayette – Buy
Nick Schnebelen – Live in Kansas City – Buy
Wee Willie Walker – Live at The Notodden Blues Festival – Buy
Casey Hensley – LIVE – Buy
Best Independent Blues New Artists CD
Vintage #18 – Grit – Buy
Mindi Abair and the Boneshakers – East West Sessions – Buy
Ghalia & Mama's Boys – Let the Demons Out – Buy
Southern Avenue – Southern Avenue – Buy
Vanessa Collier – Meeting my Shadow – Buy
John Pagano Band – One More Round – Buy
Jay Willie Blues Band – Jay Walkin – Buy
Independent Blues Artist Awards
Best Independent Male Blues Artist
Best Independent Female Blues Artist
Best Traditional Blues Band
Best Contemporary Blues Band
Mindi Abair and the BoneShakers Listen
Independent Blues-Soul Artist
Best Blues Rock Band
Best Modern Roots Band
North Mississippi Allstars Listen
Best New Artist
Mindi Abair and the Boneshakers Listen
Independent Blues Artist Gateway Award
Through their innovative and creative interpretation of the Blues, these artists Introduce new Fans to Blues rooted music. Choose which artists you believe had the biggest influence in bringing new awarness and fans to the genre.
North Mississippi Allstars Listen
Best Independent Blues Stage Performance
Choose Which artist whose performance moves you. If you have not seen an artist Live, Click on the Youtube link and view a collection of their performances to make an informed choice.
Road Warrior Award
It is not easy being on the road as a musician. This award recoginizes the sacrafices that these artists make by spending endless hours traveling from town to town to bring us their music, This is time away from their friends and family. A Road Warrior is dedicated to their craft and art!
Independent Blues Song Awards
Best Traditional Blues Song

Best R&B/Soul Song
Best Contemporary Blues Song
Best Blues Rock Song
Best Modern Roots Song
Best Song for the Common Good
Songs That speaks to our social condition!
Best Music Video
Mindi Abair and the Boneshakers