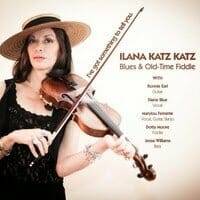 Ilana Katz Katz
Blues & Old Time Fiddle: I've Got Something to Tell You
Independent
This is a modern approach to old time fiddle. Katz incorporates Blues and originals to augment her repertoire of traditional tunes. Her guest musicians include Ronnie Earl; Jesse Williams; Diane Blue; Marylou Ferrante; and Dotty Moore.
Earl sits in on guitar on John Lee Hooker's "She Long She's Tall (She Weeps Like a Willow Tree)". Earl's guitar and Katz's fiddle begin to cook before he solos. Katz sings. On, Robert Lockwood Jr.'s "Take a Little Walk with Me", Diane Blue is the vocalist.
Lockwood is a favorite of Earl's and his guitar is especially nice here. Katz includes two songs from Memphis Minnie. Both "Ain't Nothin' in Ramblin'" and "Frisco Town" are performed as a duo with guitarist and vocalist Ferrante. Katz has composed three instrumentals. "Marlyn's Blues" is dedicated to the memory of her mom. William's bass accentuates Katz's fiddle and Earl's guitar. This trio also plays on "PB Cracker Blues" named for the snack but definitely a treat for our ears. "Conan's Farewell" is a dirge for Katz's cat.
Katz is also a street musician. She and her busking partner were near the finish line of the 2013 Boston Marathon when the bomber terrorized the city. Everyone was emotionally affected and these words poured from Katz. Set to music "Runnin' in Peace" is heart felt as sung by Blue. Earl and Williams round out the ensemble. This song was also included on Earl's most recent album on Stony Plain records.
Four traditional fiddle tunes are included by Katz. On "Cruel Willie Blues" Ferrante accompanies on guitar. On "Johnny Don't Get Drunk", Ferrante switches to banjo. Katz plays the fiddle solo on "Piney Bridge". The most beautiful traditional tune here is the "Old Mediera Waltz". Played by Katz and Moore on twin fiddles it evokes a myriad assortment of images.
These are very laid back sessions, informal and intimate. Katz is a breath of fresh air.
Richard Ludmerer