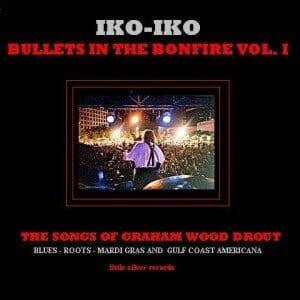 Iko-Iko
Bullets in The Bonfire Vol. 1
Little Silver Records
The band Iko-Iko has been in existence for nearly thirty years. The band is named after the classic New Orleans song authored by James "Sugar Boy" Crawford. Since the beginning they have been lead by singer-songwriter Graham Wood Drout. They started as the house band at Miami's blues club, Tobacco Road, where they shared the stage with Willie Dixon, Bo Diddley, and Ron Wood among others. Iko-Iko's first album was released in 1987 on Kingsnake Records. It featured label mate Lucky Peterson on keyboards. A live album was recorded in 1992. These were followed by two more albums both on the Little Silver Records label.
This newest album is a compilation of previously released material. From that first album is the title track "Snowstorm in The Jungle". Included from the live album is "Motherless Children" recorded at Tobacco Road. There are five songs from "Protected by Voodoo" Iko-Iko's 1997 release; including "Celebration" also recorded by Albert Castiglia. In 2000 Iko-Iko released "Shine" and there are three songs from that one including "(I Never Had An) American Dream".
In 2002 Castiglia released his own first album "Burn" and his band at the time included Drout. "The Day The Old Man Died" is sung here by Castiglia. "The Ghosts of Mississippi" was included on 2005's "The Bittersweet Sessions" a duo album featuring Drout with Castiglia. It was also the title track of Joey Gilmore's album of the same name. Albert Castiglia's new 2014 album "Solid Ground" contains three new songs written by Drout.
For several years Drout was plagued with illness. He has since recovered and has resumed his career as frontman for this band which now features Drout, guitar, bass and vocals; John Gordon Wenzel, guitar; Mitch Mestel, bass; Ron Taylor; keyboard; and Jimmy Daniel, drums. Iko-Iko is not only a Blues Band but they are an American original. "It's Blues but with an Americana backstrap pulling Drout and crew into the realm of Tom Petty, early J. Giles Band and even Bob Dylan, funky and with a rock urgency."
Stepping back into the limelight Iko-Iko just won South Florida Blues Society's Battle of The Bands. They are headed to Memphis in January to compete in the 2015 International Blues Challenge. If you haven't yet heard this band you now have a chance to catch up with them.
Richard Ludmerer