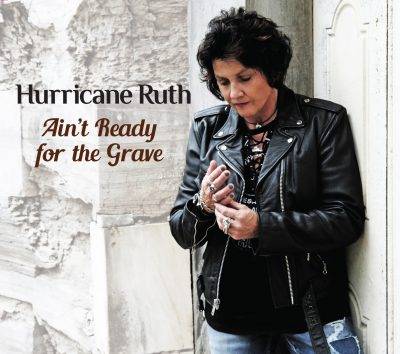 Hurricane Ruth
Ain't Ready For The Grave
Hurricane Ruth Records
Hurricane Ruth LaMaster is from southern Illinois. Her father Milt owned the Glendale Tavern in Beardstown. On Sundays musicians would come to jam and her father sat in on drums. She has been performing professionally since 1979. Ruth has been on stage with John Lee Hooker, B.B. King, Willie Dixon and Taj Mahal; and more recently with Royal Southern Brotherhood, Kenny Wayne Shepherd and Ronnie Baker Brooks.
Hurricane Ruth was an International Blues Challenge participant in 2012. That same year she released her first album "The Power of The Blues… Feels Like A Hurricane". In 2014 she followed up with "Born on The River". "Winds of Change", a four song EP, was released in 2015.
The band on this new studio recording includes Hurricane Ruth, vocals; two time Grammy Award winning producer Tom Hambridge, drums; Reese Wynans (who worked with Stevie Ray Vaughan), keyboards; Michael Rhodes, bass; Pat Buchanan and Rob McNelley (who worked with Delbert McClinton), guitars; and background singers The McCrary Sisters and Wendy Moten. The album was recorded in Nashville, Tn. Nine of the twelve songs were co-written by Hurricane Ruth and Hambridge; five of them with Hambridge's regular writing partner Richard Fleming.
"Barrelhouse Joe's" sets the scene. It's Friday night at a tavern similar to the one Ruth's dad owned. Wynans is featured on piano. On "Hard Rockin' Woman" Hambridge and Rhodes lay down the foundation for what might be Hurricane Ruth's anthem. Buchanan's slide guitar is perfect. "Far From The Cradle" contains the line "ain't ready for the grave" and it became the title of this recording. McNelley is on slide.
On "Estilene" Ruth chatises a young lady for messing around with a married man. McNelley's on rhythm guitar and Wynan's on the B-3. "Beekeeper" will make you want to get up and dance. This time Buchanan's on rhythm guitar and once again Wynan's on the B-3.
"My Heart Aches For You" is a slow blues with Wynan on piano. I love the lyric "me and my friend Jack Daniels". "Cheating Blues" was written by Hambridge with guitar from McNelley and some funky bass from Rhodes.
"Whole Lotta Rosie" is the only cover and it's from Angus Young, Bon Scott, and Malcolm Young; better known as AC/DC. The song first appeared on their 1978 recording "If You Want Blood (You've Got It)".
The McCrary Sisters and Wendy Moten provide the backing vocals on the soulful "Good Stuff" and on the gospel styled "Yes I Know". On the latter Hurricane Ruth and Wynans take us to church.
The band is great. Hurricane Ruth is a hard rockin' blues woman. She possesses a powerful and soulful voice. Surprisingly it comes from a woman who is only five feet tall. As a talent she stands much taller.
Richard Ludmerer
[amazon_link asins='B01MY9T99Y,B00NMTK6BE,B00779L92K,B01MR7LVHB,B01MUCA9R4,B01MS92325,B01MZBCWXG' template='ProductCarousel' store='maasc-20′ marketplace='US' link_id='df23dc2d-0455-11e7-bc97-933f7e12c368′]