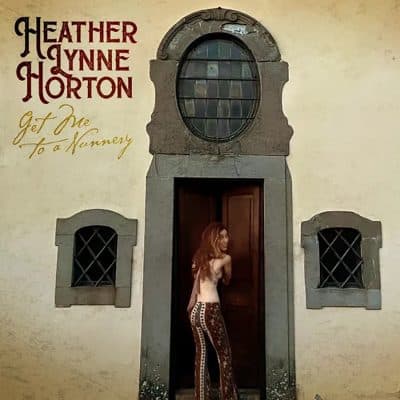 Heather Lynne Horton
Get Me to a Nunnery
Pauper Sky
Singer-songwriter Heather Lynne Horton delivers the richly ethereal Get Me to a Nunnery, transporting us to some otherworldly place that seems cushioned by clouds and sounds that echo well beyond mere earthly realms.  It's a sound forged by her violin, layered voices, and the keyboards and guitars of husband singer-songwriter Michael McDermott, guitarist Will Kimbrough, and keyboardist John Deaderick. Bassist Matt Thompson and drummer Steven Gillis round out the supporting cast. Yet, while the arresting sound may will be one's first impression, the hypnotic album is rooted in the spirit of the late Sinead O'Connor. Horton's liner notes end this way, "My belief was that like so many of humanities protectors, only in her death would her genius be professed. With great sorrow, Sinead O'Conner dies in the exact days the record was completed. May the world redeem her." That statement sheds light on the album title and what's at the heart of Horton's songs. The record is about systemic oppression and the strength we need to overcome the growing discrimination toward and condemnation of those who choose to be different. In other words, it is about empowerment. Yet, if one chooses to just lose oneself in the spellbinding music, healing qualities can be found there too.
Horton urges us to go deeper though as she found herself doing in making the album. Lyrically this is a most provocative album. The opening "After All This Time" essays how in even long-term relationships, we hide aspects of ourselves from one another.  "I Don't Like Your Children" is a hard-hitting statement on how unbashful children often see things that adults are reluctant to express, thus confronting the adult with a reality that makes the adult uncomfortable – "I don't like your children/Way they speak is like they spit on the elderly/Cling to the opinion/No one taught them etiquette or humility."  Horton's "Ten Times" champions female causes, underscoring the difficulties women face in the male-driven world – "Ten times as hard for a woman/Ten times as hard for a girl."
"Call a Spade A Spade" is a proclamation of being fed up with being put down, the protagonist announcing that she is now unafraid. The dreamy ballad "Beatrix" invokes her favorite witch while the richly dark "Sunset Marigold" seems to be a set in an echo chamber where we hear Horton pining about being abandoned and regaling against deception.  "You Said So" also ruminates on a duplicitous relationship. "Six Foot" is as troubling as any here, as the protagonist expresses the futility of her relationship with her parents to the repetitive refrains of "I won't ask why anymore." Yet Horton finds strength to literally rise above it in "Take Off" – "And I'll fly on/I'll Fly on/For I am a Star."  The instrumental chamber music like "Lin's Never Ending Song" is also requisitely triumphant.
Horton's essay on vanishing empathy should make us uncomfortable just as the calming, trance-like music does the opposite. Therein lies the magic of this recording.
Help Support Making a Scene
Your Support helps us pay for our server and allows us to continue to bring you the best coverage for the Indie Artists and the fans that Love them!
Make a one-time donation
Make a monthly donation
Make a yearly donation
Choose an amount
Or enter a custom amount
$
---
Your contribution is appreciated.
Your contribution is appreciated.
Your contribution is appreciated.
Donate
Donate monthly
Donate yearly
You can donate directly through Paypal!
Subscribe to Our Newsletter