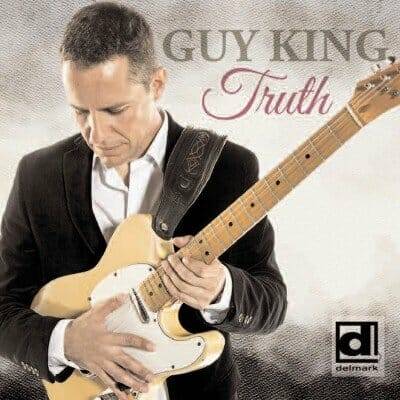 Guy King
Truth
Delmark Records
Guy King was born in Israel. He moved to the states and settled in Chicago. King joined Willie Kent's shuffle driven blues band and served as both lead guitarist and band leader until Kent's death in 2006.
After starting his own band King played Buddy Guy's Legends, Rosa's Lounge and other Chicago area night spots. King opened for Buddy Guy and others and toured the world.
King recorded his first album "Livin' It" in Chicago at Twist Turner's House of Sound in July of 2008. That album included blues, jazz inflected standards and original songs in a range of styles. Downbeat gave it three out of five stars. King appeared at festivals including both The Chicago Blues Festival, and Montreal Jazz Festival. In 2015 King signed with Delmark Records and began working on "Truth".
"Truth" was recorded at Delmark's Riverside Studio in Chicago on September 25th through 28th. It's produced by Dick Shurman whose production credits include Albert Collins, Otis Rush, Johnny Heartsman, Fenton Robinson, Johnny Winter and others. In 1987 Shurman won a Grammy, with co-producer Bruce Iglauer, for his work on the 1985 album "Showdown" featuring Collins, Robert Cray and Johnny Copeland. Shurman is also a 2014 inductee into the Blues Foundation's Hall of Fame for his record production, sound engineering, and journalism.
The band on this recording includes King, vocals and guitar; Amr Marcin Fahmy, Rhodes and B-3, Jake Vinsel, bass; George Fludas, drums; the horn section of Marques Carroll, trumpet; Christopher Neal, tenor sax; Brent Griffin Jr., Baritone sax; and background vocalists Sarah Marie Young, Kiara Shackleford; and Jihan Murray-Smith.
Included are three originals co-written with biographer/songwriter David Ritz. The title track "Truth" is a light blues-jazz groove. Kings sings beautifully. The horn section punctuates the lyrics while the overall sound is augmented by Fludas' tom tom's.
"My Happiness" is a vocal duet with Ms.Young. Young's singing is absolutely beautiful. A great horn arrangement and guitar solo by King complete this fabulous production. King concludes with the statement "That's The Truth, Sarah".
The third co-written song is "A Day in The Life With The Blues"; this jazzy arrangement features the horn players as they each get a chance to solo.
King shows his soulful side on two songs from Ray Charles. "The Same Thing That Can Make You Laugh Can Make You Cry" and "Hey Now". The horns on these are fabulous.
Also included is Johnny Guitar Watson's "It's About The Dollar Bill". The funky arrangement reminds me of Boz Scaggs "Lowdown"; two from Percy Mayfield "Cookin in Style" and "Something's Wrong"; the Steve Cropper/Don Covay "You got a love like a See-Saw"; "There Must Be a Better World Somewhere" written by Doc Pomus and Mac Rebennack; and Harold Arlen's bonafide jazz classic "I Got a Right to Sing The Blues" which was recorded by everyone from Billie Holiday to Sam Cooke.
Guy King's guitar licks and passionate vocals are exciting listening. Fine production helps to make this recording one of the years best.
Richard Ludmerer
https://open.spotify.com/album/0vN2h4YTf3I8YUHpfrT6xi