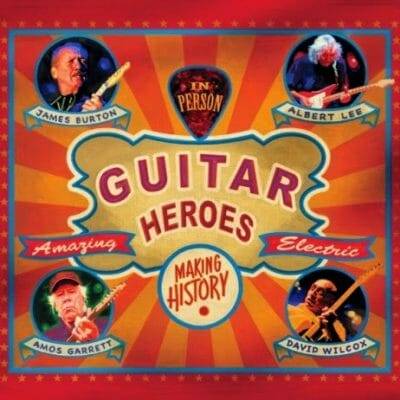 This is what happens when you put a group of legendary guitar players together to make a live recording called Guitar Heroes. You get gold.
Originally this performance was supposed to be just a souvenir for the players, who were performing at the Vancouver Island MusicFest in 2013. But when James Burton, Albert Lee, Amos Garrett and David Wilcox got together a day early to rehearse at the Cumberland Hotel, the result was so spectacular that it just had to be released. Even Albert Lee proclaimed, "Welcome to my dreams here!"
And this album is a dream for any lover of blues, rockabilly, and roots music. The four masters have been playing with top musicians since the 1950's, as well as recording their own products. James Burton is known best for his work with Elvis Presley, but he also spent 11 years with Ricky Nelson and played with other greats like Gram Parsons and Emmylou Harris and scores of others in rock 'n roll and country. Albert Lee played with Emmylou Harris, too, and spent 5 years with Eric Clapton, plus he has had more than 20 solos albums of his own. Amos Garrett played with Harris, Ian and Syvlia, Bonnie Raitt and so many more. David Wilcox played with Ian Tyson and Maria Muldaur and has had multiple gold and platinum albums in Canada. Together they are as influential and skillful as any group of guitar players you will ever hear.
And they like and respect each other, too. It is easy to hear how much fun they are having as they rip through classics like "Suzy Q,""That's All Right, Mama," "Flip, Flop and Fly,""Sleep Walk," "Polk Salad Annie," and 6 more songs, all perfect. The notes and the repartee fly as they take turns on vocals and leads. It just doesn't get any better than this. Their distinctive styles blend and inspire each other and it all is just magic.
Get Guitar Heroes to enjoy some great music and a bit of musical history as well. It's not often you get to hear a supergroup with this kind of experience all together in one place, singing and playing with no overdubs and having a blast, as you will too.