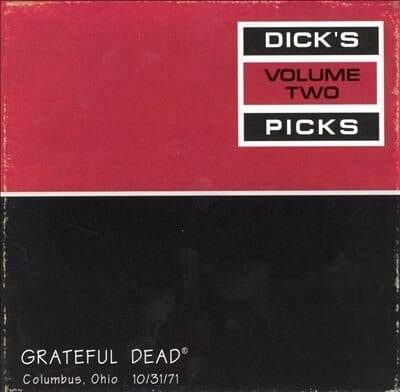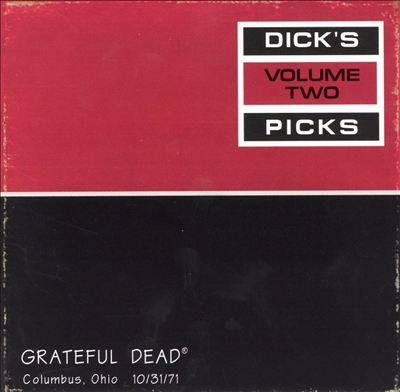 Grateful Dead "Dick's Picks Volume Two" Columbus, OH 10/31/71 www.RealGoneMusic.com
Dick's Picks Two (originally issued in 1995) is the lone single disc release from the magnificent "Dick's Picks" series. All told: There were thirty-six "Dick's Picks." Nonetheless: This one packs a powerful wallop – flowing for nearly an hour of non-stop dynamic jamming. Weir's guitar and especially Godchaux's piano are mostly lost in the audio mix, but the sound capture of Garcia's guitar, Lesh' bass and Kreutzmann's drumming are meticulously vibrant and crystal clear, as is the vocal clarity.
This edition was the second release and Dick Latvala was just starting to excavate the least circulated traders-shows from the Grateful Dead's extensive music vaults. For this sophomore edition Latvala cherry-picked the combo's second of two sets from Halloween, 1971 from the Ohio Theater in Columbus, OH. The lineup consists of Jerry Garcia (lead guitar/vocals), Bill Kreutzmann (drums), Phil Lesh (bass/vocals), Bob Weir (guitar/vocals), and newcomer Keith Godchaux (keyboards) replacing the ailing Ron "Pigpen" McKernan (organ/harmonica/vocals,) but Godchaux does not sing. Note: This performance is only Godchaux's tenth live concert with the band, probably explaining why his piano is suppressed in the mix.
The opening "Dark Star" (23:14) offers vibrant colored explorations mostly from Garcia creative guitar who is constantly pushing the envelope with expressive and thought provoking segments, Lesh nudges Garcia with his own unique and inspiring bass-playing and shines in a similar mindset with Garcia as does Kreutzmann's jazzy and imaginative drumming. The "Jam" segment of "Dark Star" gently introduces occasional riffs of "Eyes of the World" which didn't appear until '73, interesting. Out from the "Jam" Weir signals for a compelling; "Sugar Magnolia," then into a punchy but short "St. Stephen" that doesn't flow into its typical "The Eleven," instead it's a thumping "Not Fade Away." "Not Fade Away" segues to a lengthy (10:37) and their reliable companion "Going Down the Road Feeling Bad," into the finale of "Not Fade Away" that brings the house down with high-energy rock and roll shimmer. It's a great set that covers a multitude of stylistic changes that are molded together as one long uninterrupted set/jam.
The fall of 1971 was a time of change for the Grateful Dead; Godchaux's piano had just begun to be integrated into the band's sound. The indisposed Ron "Pigpen" McKernan played organ and more importantly handled at least a quarter of the band's lead vocal songs, leaving Garcia and Weir having to carry the majority of the singing chores, filling the void of Pigpen's vocals and songs he was featured on.
This performance was recorded by Rex Jackson who captured the vibe of the theater with above-par detailed sound with an excellent balance of the bands instrumentation that smartly meshes the crowd reaction and applause with the music. Recorded Live – October 31, 1971 at the Ohio Theater, Columbus, OH: Happy Halloween from nearly forty-five years ago.
The rear cover of the CD carries the following message: Caveat Emptor: "This compact disc has been digitally remastered directly from the original quarter track 7.5 ips analog tape. It is a snapshot of history, not a modern professional recording, and may therefore exhibit some technical anomalies and the unavoidable effects of the ravages of time."
For 17 years Bob Putignano has been pivotal at WFDU with his Sounds of Blue radio show (Wed. & Fri. 9am-1pm) www.SoundsofBlue.com – https://wfdu.fm Previously a contributing editor at Blues Revue, Blueswax, and Goldmine magazines, currently the Music Editor for the Yonkers Tribune www.YonkersTribune.com & www.MakingAScene.org Bob was also the 2003 recipient of the "Keeping the Blues Alive" award (given by the Blues Foundation in Memphis) for his achievements in radio broadcasting. Putignano can be contacted at: BobP@SoundsofBlue.com