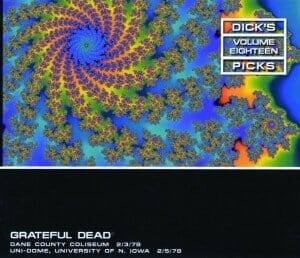 Grateful Dead "Dick's Picks Eighteen" 2/3 & 2/5/78 (3 CD's) www.RealGoneMusic.com This Dick's Picks edition is somewhat unique in that disc one is taken from two shows that are combined to "create" a first set of performances. Disc two contains the entire second set from 2/3, and disc three is the entire second set from 2/5.
Disc one opens with a somewhat funky "Bertha" that melds and fits well with "Good Lovin'" where it's obvious that the band sounds pretty loose yet tight. I'm guessing as these shows were both recorded in dead of winter in Madison, WI, and Cedar Falls, IA that the cold weather was on the Dead's minds especially when they shuffle into soulful rendition of "Cold Rain and Snow." The great Bobby Womack recently passed so it was heartwarming for me to hear the band sweetly cover his "It's All Over Now" (made famous by the Rolling Stones) that becomes a bit raucous near its ending. The shuffling "Deal" shifts into overdrive, and the closer of "The Music Never Stopped" starts off a little rushed but Garcia takes it into the stratosphere with a series of flurried notes during the instrumental segment that really lifts off when he leads the band back down to earth to rock-out the outro jam. Whew!
The chunkier parts of this box take place on discs two and three. Disc two opens with a awkward "Estimated Prophet" that unravels into a pretty and lengthy instrumental intro of "Eyes of the World" that tastefully evolves as a masterful and creative jam with minimal doses from Garcia voice, then they find their way to a mega sized (24:35) "Playing in the Band" that also boasts sharp playing by all especially Lesh's bass and Godchaux's piano comps. You knew it wouldn't be long before Garcia would enter as they stroll into a light and airy jam that's lively and playful, as each musician is very attentive and adding color to what everyone else is creating. This jam finally finds its way to a gorgeous and delightful "The Wheel" and exits back to another nine minutes of "Playing In the Band." The interplay throughout is high-quality especially during the coupling of "The Wheel" as they jam back to "Playing In the Band,"
that fortunately doesn't include Donna Godchaux's tribal screams. It's not time to head for the exit doors just yet as they conclude their set with a pretty high-spirited cover of Chuck Berry's "Johnny B. Goode."
Disc three opens with a punchy "Sampson and Delilah," then after a short break they launch "Scarlet Begonias" that surges with clairvoyant chemistry between Garcia and Godchaux, seguing to the often paired "Fire On the Mountain" for a total of nearly thirty minutes. Their anthem "Truckin'" sways along at a pedestrian pace but gains momentum during the instrumental section, thankfully there's only a two minute drum solo as they then blare on a unusually short (9:02) "The Other One" that offers some intense moments. Emerging from "The Other One" comes the splendor and beauty of "Wharf Rat" that is especially heartfelt during Garcia's ending guitar solo. It's Chuck Berry time again but this time it's with "Around and Around," that's particularly extended (8:35.) A lot of that time is used with reaching and leaping Garcia who is ripping Berry like classic chords with Jerry's own unique supersonic solos.
The song selection and the band's treatment of material provide a snapshot portrait from the Dead's 1978 timeframe. Dick's Picks Vol. 18 is yet another good one from the original keeper of their tape vaults; the deceased Dick Latvala. This set also brings to life the stunning detailed sound clarity from all instruments and vocals courtesy of longtime recording engineer Betty Cantor-Jackson. So much so that you will feel like you were sitting in the front row of these shows. Even though these concerts took place some thirty-six years ago! Flashback and enjoy.
As per usual the Dick's Picks series always issue their Caveat Emptor statement: "This CD was produced using the original 7″ reel-to-reel soundboard tapes running at 7.5 IPS and 15 IPS. It is a snapshot of history and not a modern professional recording and may therefore exhibit some minor technical anomalies. We have, however, aimed to make it just exactly perfect, as Dick would have liked it."
Musicians
Jerry Garcia – lead guitar, vocals
Donna Jean Godchaux – vocals
Keith Godchaux – keyboards
Mickey Hart – drums
Bill Kreutzmann – drums
Phil Lesh – electric bass, vocals
Bob Weir – rhythm guitar, whistle, vocals
For fifteen years Bob Putignano has been pivotal at WFDU with his Sounds of Blue radio show: www.SoundsofBlue.com – Previously a senior contributing editor at Blues Revue, Blueswax, and Goldmine magazines, and Music Editor for the Westchester Guardian. Putignano can be contacted at: bob8003@yahoo.com