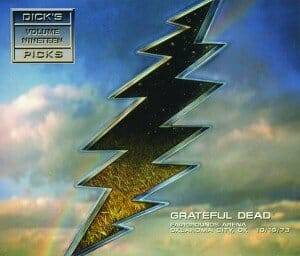 Grateful Dead "Dick's Picks 19" 10/19/73 www.RealGoneMusic.com
Here we go again making our way onto the way-back machine. Set your controls to 10/19/73, destination the Farigrounds Arena in Oklahoma City. This CD set includes three discs – all from the same show. The sound quality and the bands performance are initially shaky, but as recording engineer Bill Candelario improves the mix, the band kicks in too. That being said you can probably disregard most of disc one except for (when things change for the better) on an upbeat cover of "They Love Each Other." Disc two opens with a mind blowing "Playing In the Band" (18:23) that lifts off quickly from the vocal intros to a wild but solid spaced-out jam. Garcia and Lesh are telepathically joined by each-others brains and create fascinating scenarios on the fly, eventually they find their way back to the main theme at full throttle, and conclude their first set.
The second set opens with "China Cat Sunflower" and again they quickly turn away from the vocal microphones and start the instrumental jam, during the bridge segment it's obvious that the entire band is dead-on creating stories within songs until they make their way to a rousing "I Know You Rider." Other second set standouts include a pretty hot "Big River," but the heavy portions occur on a gorgeous and somewhat long (15:45) "Dark Star" that melds into (what couldn't be more appropriately named "Mind Left Body Jam" for almost eleven minutes. Finding their minds the band segues to "Morning Dew" it's a very pretty and gorgeous reality, during this tune there's also explosive soloing that's also giftedly sweet, and Garcia's vocals are clearly emotive. I'd expected that this was the set closer, and it did end the set, but they band returned to encore with a swirling "Eyes of the World" (14:31) with a superb Lesh bass solo then the band abruptly shifted to "Stella Blue." Don't leave your seats yet, as they rock and roll us home with "Johnny B. Goode." Good night everyone, you got your money's worth with over three hours of music, the majority coming from the second set.
This show represents that in 1973 the Dead were rapidly evolving as musicians, demonstrating an advanced state of instinctive concepts. They were also fueling their passions to expand without limitations, generating flexible forms of cohesive expressions with remarkable segues that flowed with elasticity from a beginning tune sculpture, to highly sophisticated instrumental jams, that (eventually) were woven into the next tune. This was a rare and powerful commodity, the likes of which I had never heard prior, or since. Unfortunately the band soon could not (with any regularity) contain and capture their unique and intuitive abilities to connect these miraculous dots/songs, as most of their powers increasingly eroded and eventually evaporated- poof! That being said; enjoy this nineteenth edition of Dick's Picks, it's mystically special.
The rear cover of Dick's Picks 19 carries the following: Caveat Emptor: "Despite a rather skeevy ouverture, the sound quality of this release quickly settles into a nice, warm groove. Listen closely, however, for you may just find that your mind will be blown by the music contained herein."
For fifteen years Bob Putignano has been pivotal at WFDU with his Sounds of Blue radio show: www.SoundsofBlue.com – Previously a senior contributing editor at Blues Revue, Blueswax, and Goldmine magazines, and Music Editor for the Westchester Guardian. Putignano can be contacted at: bob8003@yahoo.com
Bob Putignano: www.SoundsofBlue.com
Weekly Music Editor at: http://www.WestchesterGuardian.com – NYC area Newspaper Now celebrating 15 + years on the air at WFDU http://wfdu.fm