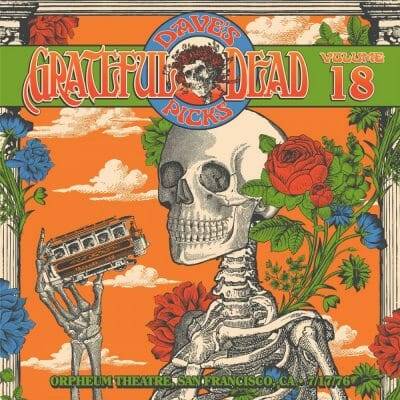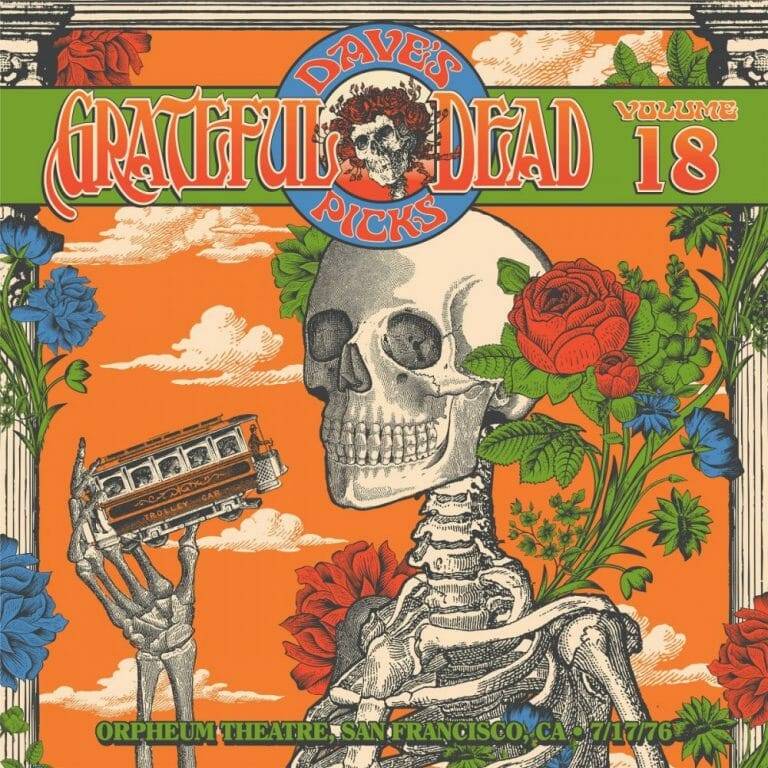 Grateful Dead "Dave's Picks Volume 18" Orpheum Theatre San Francisco, CA 7/17/76 – 3 CD's Plus a 4th (limited edition) Bonus disc. www.Dead.net – www.Rhino.com
This eighteenth edition of the Dave's Picks series is taken from the Dead's "comeback tour," from a six night stretch at the Orpheum Theatre in San Francisco. The three CD box consists of two discs of the full nights proceedings from July 17th, disc three has random selections from the prior night. Subscribers at www.Dead.net also received the bonus disc that included eight different tracks from July 16th. *Note: The Dead had just started to tour after a self-imposed eighteen-month break. The 16th was Friday's performance, and the 17th was the fifth of the six night extravaganza and "One More Saturday Night."
Disc One: Per usual the first set offers little to get excited about. The customary war horses; Chuck Berry's "Promised Land," "Mama Tried," "Deal," Big River," and another Chuck Berry cover "Johnny B. Goode," bookends the first segment. The aforementioned tunes are regularly recycled to warm up the band to spark what hopefully would be served-up later. Typically I'd always look for interplay hints to feel if the band might ignite in their second set. But most of this first set is a laidback leisurely stroll, and I didn't get a very good impression about what to expect from their second set. Plus the first set must have been short as the last track on disc one is the opening song from the second set "Samson and Delilah," it didn't impress.
Disc Two: My heart sank when I heard the opening notes to; "Comes a Time" not one of my favorites, and the liner-notes booklet indicates that it's a sixteen minute rendition! Garcia's vocals are also off target, but during the instrumental passage Jerry finds a beautiful seam to sow and this "Comes a Time" has found a new plateau that starts to toy with "The Other One" until Lesh unleashes his trademark bass-run and it's onto "The Other One" in full force albeit (5:46) in length. Their interaction captivates as Lesh leads us into a ten minute free-form "Space" jam that unwinds and settles down into relatively short (7:37) "Eyes of the World." The "Jam" out of "Eyes of the World" flows in and around the theme and stays coherent and fluent touching back to another short take of "The Other One." Keith Godchaux is also on his game, but his wife is no-where to be found – and that's okay. "The Other One" awkwardly transitions to a fiery "Goin' Down the Road Feeling Bad" and quickly rights itself. It's Saturday night; and the band wraps this nonstop excursion with a potent yet predictable "One More Saturday Night." Not done; they encore with a somewhat lethargic "U.S. Blues." Thank you and goodnight.
Disc Three: Takes us back one night to 7/16. The third disc opens with a lengthy (14:26) "Not Fade Away" that doesn't segue and is all by itself confidently flowing and (more) superior sounding than any tunes from discs one and two, Weir says goodnight probably meaning this was their set closer – odd. Next is "Big River" (7:02) probably from the first set – sparkles with high-speed and below the radar hijinks from Garcia's crafty and swift guitar lines. Finally a song from their recent "Blues for Allah" album; "The Music Never Stops" rocks and rolls towards "Scarlet Begonias" that smartly jams – drowning out Donna Godchaux's short-lived attempts to hijack the instrumental passage with her (too often) moans and groans. Disc three concludes with "U.S. Blues" that unspectacularly and probably ended their first set.
Limited Edition Bonus Disc: Resembling disc three the bonus disc also chooses songs from Friday's July 16th concert. The first track "Playing in the Band" veers off to a spontaneous instrumental jam after one introductory vocal chorus. This jam almost lifts towards lost-in-space zones when Lesh fires off a series of bass lines that Garcia picks up and brings the band back to a (more) cohesive reality where all members are contributing to the cause that finally segues to an unimpressive and too lengthy (8:03) "Cosmic Charlie." I couldn't figure if the "Spanish Jam" track came after "Cosmic Charlie" or was taken from another part of the show but after a few minutes of aimless noodling this jam gels well with flying sparks and abundant creativity into a relatively short (3:53) "Drums" break. Following "Drums," "The Wheel" makes a sunrise like glowing appearance as Garcia's guitar radiates with super clear toned conviction especially during the instrumental passage that cleverly finds its way back to a "Playing in the Band" reprise where it sounds like someone lowered the volume at the end, weird. Subsequently a drawn-out rendition of "High Time" (10:13) was too challenging and impossible to endure. The closing bonus track; finds Lesh and Weir offering happy birthday wishes to Bill Graham then tear into a solid "Sugar Magnolia." By the way: Graham wasn't born on either of these concert dates or in June, he was born in January so the guys were having some sort fun with Graham.
Other than a handful of disc one's first-set volume level glitches, Betty Cantor-Jackson's original recording offers a lifelike capture of each instrument, with warm vocals, and is detailed and clear throughout. Not sure if Dick "Dick's Picks" Latvala would have recommended releasing these two nights of performances, as there are several pointless and a few repeated tracks that could have reduced this recording from three CD's to two discs. That being said: the third disc (from 7/16) should have excluded throwaway versions of "Brown-Eyed Women," "Looks Like Rain," "Peggy-O," and "U.S. Blues," besides "Peggy-O," and "U.S. Blues" already appear on discs one and two. You already know that I would have left off the ten minute "High Time" from the bonus disc too. Which could have made for a super bonus disc of tunes from 7/16 concert that's from a different performance found on the main 2 CD box set from 7/17, got it? Not easy for me to say either… Bottom line; these jams are (timewise) shorter and concise than previous years, they are also seemingly (more) calculated with less risk taking. Yet there is a certain laidback and unique elegance that permeates from these two nights. Nonetheless: their creative juices are fluid, as is their fiery dynamics and intuitive interplay. Need I say anything more?
For 17 years Bob Putignano has been pivotal with his Sounds of Blue radio show. Hear new Homegrown Sounds of Blue internet radio shows: https://soundsofblue.com/radioshowsmp3.htm
Previously a contributing editor at Blues Revue, Blueswax, and Goldmine magazines, currently the Music Editor for the Yonkers Tribune www.YonkersTribune.com & www.MakingAScene.org Bob was also the 2003 recipient of the "Keeping the Blues Alive" award (given by the Blues Foundation in Memphis) for his achievements in radio broadcasting. Putignano can be contacted at: BobP@SoundsofBlue.com