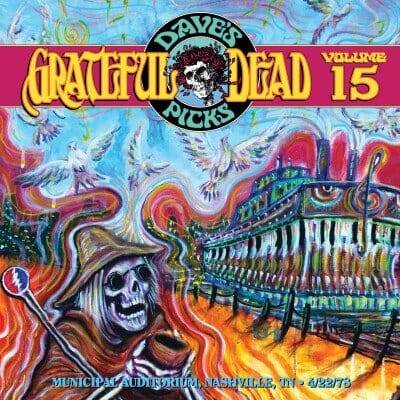 Grateful Dead "Dave's Picks Volume 15" Nashville, TN – 4/22/78 – Three-CD's www.Dead.net – www.Rhino.com
Mr. Lemeieux whose first name is Dave the namesake for the "Dave's Picks" series that's now reached its fifteenth volume. Dave states in the liners that when he released "Dave's Picks 7" a concert that was recorded two days prior to this edition "it was a very tough call choosing between that show and this one." Further opining: "We're pleased to finally get 4/22/78 out for you to enjoy." I find Lemeiux's comments informative especially for Dead fanatics (myself included) but thought that this concert has several annoying moments. Though there are numerous stunning passages and jams, and it's undeniable that the bands vocal and instrumental temperament is fiery throughout.
Disc one: Starts with a mildly modified and glistening "Bertha" with torrid guitar and vocal from Garcia, Lesh brims on bass as they shift to Weir's vocally charged rendition of "Good Lovin'." But oh-no next is the lethargic "Candyman," followed by an uneventful "Looks like Rain," and other run-of-the-mill first set throwaway/warmups like "Tennessee Jed," "Jack Straw," and a lengthy/dreadful (8:16) "Peggy-O." But they awaken closing with a kicking "New Minglewood Blues," and a swinging "Deal" that concludes with frenzied and levitated choruses of multiple "don't you let that deal go down." Weir comments "We quit, see you all later" and the first set is over, and yes there's more.
Disc two: Opens the second set with a punchy and high-octane propelled "Lazy Lightning" coupled with the usual pairing "Supplication." Unfortunately Garcia reaches for his tardy "It Must Have Been the Roses" a tune rarely called on for second sets, and it's a (8:22) yawn. The often awkward "Estimated Prophet" strolls into an intoxicating jam led by Garcia's playful guitar expeditions that finds it way to an accelerated "Eyes of the World" with Garcia's bursting guitar lines that are fascinating that aren't over-amplified. Towards the end of this free-flowing jam there's an especially fresh instrumental passageway that unfortunately precedes the dreaded dual drum solo that's now called "Rhythm Devils," otherwise known as a good time (14:09) to take a long stroll around the arena, or if you are home – fast-forward onto:
Disc Three: Out from the drumming streams a rocked-out and pulsating "Not Fade Away" that's reminiscent of Bo Diddley's "Who Do You Love." The second portion of the second set seemingly feels like a classic performance in the making: until Weir decides to turn-up his amp and play slide guitar. Talk about questionable decisions. Mr. Weir cannot play slide, he's a very competent rhythm player but he's also not a soloist and certainly (except in his own mind) is no Duane Allman. As Weir singlehanded train-wrecks this now very weird "Not Fade Away" jam, Garcia senses the oddness and muscles his guitar into the fracas, yet Weir doesn't yield until: Garcia wisely takes us to the safe haven of "Wharf Rat." Thankfully Weir tucks-away his slide for the evening – Amen! Garcia's vocals are passionate especially during the moving lyric "I'll Get Up and Fly Away," and "I'm Sure She's Been True to You," as the band lifts-off in reliable surroundings, Garcia erupts like a supernova dramatically saving the evening with crackling and spontaneous guitar soloing. The exuberant Garcia then crafts another gorgeous instrumental portion before guiding the band to Weir's trustworthy "Sugar Magnolia." Weir's voice bristles and again Garcia's guitar sizzles (this time) with some good old-schooled rock and roll that seemingly sends to crowd to Deadhead heaven. But there's one more (isn't there always) "One More Saturday Night" is tirelessly performed by the band, as it seems as though that they could have done (a not unheard of) third set. But I doubt anyone in Nashville had any complaints with the head-rushing finale(s.)
In summary and as previously stated – this is not an epic Grateful Dead night, but it does contain numerous compelling jams that are fluent and inspired. Note: Either lost in the board mix or not up to par this night was Keith Godchaux's piano, his wife's vocals are also appropriately muzzled and therefore entertaining, it's Weir and Garcia strong and enthusiastic vocals that carry the load. Bottom line: Other than the aforementioned occasional blunders, this '78 Tennessee evening is quite-the-goods especially when the creative energy readily flows. Enjoy!
For almost 17 years Bob Putignano has been pivotal at WFDU with his Sounds of Blue radio show (Wed. & Fri. 9am-1pm) www.SoundsofBlue.com – 2015's most pledged to ($21,000+) radio program at https://wfdu.fm Previously a contributing editor at Blues Revue, Blueswax, and Goldmine magazines, currently the Music Editor for the Yonkers Tribune www.YonkersTribune.com – www.MakingAScene.org & www.wfdu.fm/Whats-Happening/Bob's Music Reviews/bobs music reviews/ Bob was the 2003 recipient of the "Keeping the Blues Alive" award (given by the Blues Foundation in Memphis) for his achievements in radio broadcasting. Putignano can be contacted at: bob8003@yahoo.com