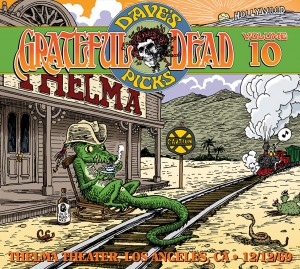 Grateful Dead "Dave's Picks Volume 10" Thelma, Los Angeles, CA 12/12/69 www.Dead.net – www.Rhino.com
Dave's Picks, Vol. 10: Thelma, Los Angeles, CA 12/12/69 is a snapshot of the band just prior to when they would enter the studio to record "Workingman's Dead," and they're hitting on seven of the eight tracks ("New Speedway Boogie" was the only tune not performed) that would be included on what would become their first commercial success. Pigpen rides high leading on (mostly) blues and soul classics, checkout his charge with the band on a thirty-two minute cover of "Turn On Your Love Light," and the exotic "Caution (Do Not Stop on Tracks)" for almost twenty-three minutes, that morphs into over seven minutes of "Feedback" and ends the night with a sweet rendition of "And We Bid You Goodnight."
It was at this time that the Dead were just about to be firing on all of their God given strengths, balancing blues, jazz, soul, and making their unique contributions to improvisational acid rock. They were also developing a performance playlist where many of the tunes performed on this night would eventually become longtime mainstays of the hundreds of shows that would come afterwards: like "Me and My Uncle," "Cumberland Blues," "China Cat Sunflower/I Know You Rider," "Casey Jones," "Mama Tried," "Good Lovin'," and "Uncle John's Band," are well known successful war-horses that the band performed and developed for many years thereafter.
Musicians: Jerry Garcia – guitar, vocals, Bob Weir – guitar, vocals, Pigpen – organ, vocals, Tom Constanten – keyboards, Phil Lesh – bass, vocals, Bill Kreutzmann – drums, Mickey Hart – drums
Credits: Recording – Owsley Stanley, CD mastering – Jeffrey Norman
Early subscription versions from www.Dead.net of Dave's Picks 10 included a collectable bonus disc, I cannot comment about this bonus disc as it wasn't included with the package I received. But I can tell you that if you are fortunate to find a copy of this single bonus disc, that it was recorded at the same venue, but one night prior to this three CD set. And it includes a twenty minute "Dark Star," thirteen minutes of "St. Stephen," that flows into nearly nine minutes of "The Eleven," five minutes of "Cumberland Blues," twenty-four minutes of "That's It for the Other One – Cryptical Envelopment," and seven minutes of "Cosmic Charlie." Copies of this bonus disc can be found at the usual suspect sites like www.Amazon.com and www.Ebay.com Good luck and happy shopping!
For fifteen years Bob Putignano has been pivotal at WFDU with his Sounds of Blue radio show: www.SoundsofBlue.com – Previously a senior contributing editor at Blues Revue, Blueswax, and Goldmine magazines, and Music Editor for the Westchester Guardian. Putignano can be contacted at: bob8003@yahoo.com
Bob Putignano: www.SoundsofBlue.com
Weekly Music Editor at: http://www.WestchesterGuardian.com – NYC area Newspaper Now celebrating 15 + years on the air at WFDU http://wfdu.fm
If you would like to purchase a copy of this CD click Below