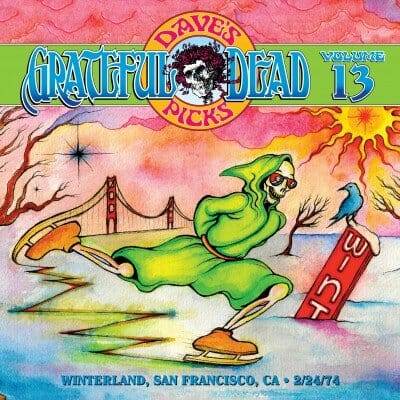 Grateful Dead "Dave's Picks Vol. 13" 2/24/74 (3 CD's) www.Dead.net – www.Rhino.com
The bottomless Dave's Picks series presents handpicked Grateful Dead performances from over four decades of thousands of gigs. Volume thirteen unearths the entire three-set performance from the final night of their three-night run at San Francisco's legendary (previously an ice-skating rink) Winterland Ballroom/Arena. This particular evening finds the band test-driving their incredible sound-system that soon became known as their famous and appropriately titled "wall of sound." This audiophile system was far ahead of its time but required a large crew of workers to assemble and dismantle this system for movement from town to town. These mammoth and meticulous responsibilities almost bankrupted the band, but the sound and transient dynamics were startling. Few if any other touring band offered a sound-system that rivaled. This "wall of sound" system was equally potent at indoor theaters/arenas as well as at large outdoor stadiums.
Bill Graham delivers a brief welcome "Whatever is going on in the rest of the world; wars, kidnappings or crimes, this is a peaceful Sunday night with the Grateful Dead," as the band shuffles into "U.S. Blues." The usual first set tunes follow, none of which leave lasting memories. Bottom of the barrel awards go to; seven tough to endure minutes of "Candyman," and "Loser." Highlights are few, even the "China Cat Sunflower – I Know You Rider" drags, as does the freaky and disjointed marathon (18:27) "Playing in the Band," thankfully ends their first very long set, where the only highlight (for me) was Bill Graham's introduction.
Set two/disc two. The usually fiery "Cumberland Blues" opens the set but it's just so-so, as is the tiresome "It Must Have Been the Roses." Johnny Cash' "Big River" shows some flash, as does the subsequent "Bertha." But the fifteen plus minutes of "Weather Report Suite Parts 1 and 2" explores interesting spaces yet lacks the intensity of other performed variations settling down on a ten minute and weary "Row Jimmy." It's not feeling like a Grateful Dead second set as the band performs "Ship of Fools" which has me fast-forwarding to the set closing throwaway "Promised Land."
Was it guilt that brought on full third set? I don't know. The Dead start with an almost thirty minute "Dark Star" that takes a while to gel, but after Garcia's eventual vocal, Lesh' noodling bass playing seemingly awakens Garcia's guitar and Godchaux's keyboards. Finally the mystical magic kicks-in as this "Dark Star" becomes a spontaneous jam creating themes and new rhythmic structures that could/should have been used for future songs. The creativity streams to a majestic and powerful "Morning Dew," that I thought would end the evening. But no – there's more, a lot more. Shifting gears to rock and roll with "Sugar Magnolia," that blares (non-stop) to "Not Fade Away," into the usual but hot "Goin' Down the Road Feeling Bad," back to a climaxing "Not Fade Away." They've redeemed themselves saving the night with a remarkable turnaround. Believe it or not; they encore with Dylan's "It's All Over Now Baby Blue" it's not perfect, but it charmingly adds a personal and distinctive glow onto the evening's festivities.
Non-musical nice touches include the liners that offer two news-clipping reviews, plus Dick Latvala's handwritten concert notes where he rightfully opines about the sound as being just "pretty good" because this release doesn't have the dynamics of other live Dead releases. In summary there's little to savor from disc one, the music improves on disc two, but if you can make it to the last set on disc three – you'll be rewarded with a potent performance and capture of the early '74 edition of the Grateful Dead. Enjoy.
For sixteen years Bob Putignano has been pivotal at WFDU with his Sounds of Blue radio show (Mon. & Wed. 9am-1pm) www.SoundsofBlue.com – Previously a senior contributing editor at Blues Revue, Blueswax, and Goldmine magazines, currently the Music Editor for the Yonkers Tribune www.YonkersTribune.com – www.MakingAScene.org & www.wfdu.fm/Whats-Happening/Bob's Music Reviews/bobs music reviews/ Bob was the 2003 recipient of the "Keeping the Blues Alive" award (given by the Blues Foundation in Memphis) for his achievements in radio broadcasting. Putignano can be contacted at: bob8003@yahoo.com
Bob Putignano: www.SoundsofBlue.com Wed. & Fri. 9am-1pm:
2015's most pledged to radio program at WFDU @ $21,000+ http://WFDU.fm Now celebrating 15 + years on the air in the NYC area Music Editor: www.yonkerstribune.com, www.makingascene.org & wfdu.fm/Whats-Happening/Bob's Music Reviews/bobs music reviews/