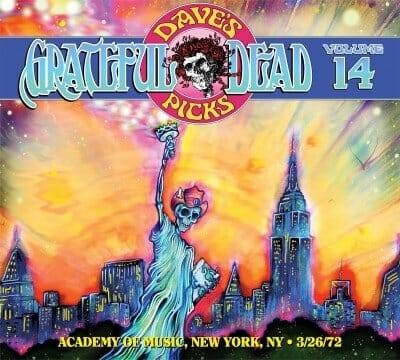 Grateful Dead "Dave's Picks 14" Academy of Music, NYC 3/26/72 – 3 CD's – www.Dead.net – www.Rhino.com
This is the fourteenth edition of the "Dave's Picks" series of live performances from the bands vast tape vault. Recorded on March 26, 1972 in New York City at the now defunct Academy of Music, that was located just north of Greenwich Village on East 14th St., across from the landmark S. Klein department store off Union Square. This was a seven show run that took place with only a one night break that partially funded their upcoming European tour. This period was the beginning days of Keith and Donna Godchaux, and the near ending for Ron "Pigpen" McKernan who made the trip to Europe but passed-away less than one year after these Spring NYC shows. The entire "Dave's Picks" releases have been re-mastered for HDCD by the band's longtime studio engineer Jeffrey Norman, and this night was originally recorded by Rex Jackson and includes Jesse Jarnow's detailed liners that narrate this early '72 time-zone. There's also a New York Post newspaper clipping that (somewhat) opines about a different performance (that was previously released via the "Dick's Picks" series; Volume thirty to be precise.) Go figure? The 2015 "Dave's Picks" series are limited edition releases of just sixteen thousand and five hundred copies, and are already sold-out at www.Dead.net * Early subscription subscribers received a single bonus-disc that I cannot report on as my copy did not include the bonus CD.
Disc one: Opens the first set with Weir's "Greatest Story Ever Told" from his debut "Ace" LP where it's obvious that this tune is still working out some kinks, but the band is meshing and firing well together. Other first set favorites are Pigpen's "Chinatown Shuffle," "Mr. Charlie," Big Boss Man," and a kickass (17:15) set closing cover of "Good Lovin'"that opens disc two. Other first set mentions belong to "Big Railroad Blues," and the constantly evolving "Playing in the Band" previously performed without a jam segment has now grown to a little over twelve minutes with about fifty percent of spontaneous interplay. The only other factoid to add is that this was the last tour Garcia took his pedal steel out on the road, so this version of "Looks Like Rain" in noteworthy as one of Jerry's last live pedal steel performances.
Disc two: (After "Good Lovin'.) Blasts open the second set with a wild and torrid nearly nineteen minute "Truckin'" that unravels to a short one-drummer "Drums" segment with Bill Kreutzmann that sets-up the (early '70's era) customary "The Other One" that trembles and explodes; it's far from usual or ordinary. Out of "The Other One" the band shifts to another commonly used vehicle "Me and My Uncle," for a little over three minutes back to another five minutes of "The Other One."
Disc three is needed to parlay "The Other One" into the mystical "Wharf Rat." But even though (not counting the set break) the Dead have been rolling for almost two and a half hours: they rock and roll into "Sugar Magnolia," followed by Pigpen's somewhat uncommon "The Stranger (Two Souls In Communion.)" Most know that when Kreutzman bangs out the signature drum beats of "Not Fade Away" one could start to see the light at the end of the tunnel/performance. This version of the Buddy Holly classic kicks into high gear than shifts to its well-known coupling of the traditional "Goin' Down the Road Feeling Bad," back to "Not Fade Away:" One word describes the exuberance; whew! This final three part segment clocked-in for nearly eighteen minutes and I don't think that many cared that there wasn't an encore, considering three hours of potent and memorable music that covered multiple genres with mega doses of mind-stretching and blistering jams.
This spring of '72 performance took place during the same week that I first witnessed the Dead. It was a week that I saw them perform three times; opening night courtesy of my co-worker Joel Fertig,) the Saturday night Hells Angels benefit with Bo Diddley, and the final night. (With fond memories of my childhood friend whose family owned the Academy's next door Italian Restaurant who were able to smuggle me into the concluding/seventh performance.) But I definitely wasn't at this 3/26/72 show, so this three CD box is a bonus opportunity for me to experience more of what I otherwise witnessed forty-three plus years ago. I also suspect "Dave's Picks 14" will work well for your ears, brain; and music collection of Grateful Dead and other rock and roll favorites. This box is recommended listening for any and all music fans – enjoy!
For 16 years Bob Putignano has been pivotal at WFDU with his Sounds of Blue radio show (Wed. & Fri. 9am-1pm) www.SoundsofBlue.com – 2015's most pledged to ($21,000+) radio program at http://wfdu.fm Previously a contributing editor at Blues Revue, Blueswax, and Goldmine magazines, currently the Music Editor for the Yonkers Tribune www.YonkersTribune.com – www.MakingAScene.org & www.wfdu.fm/Whats-Happening/Bob's Music Reviews/bobs music reviews/ Bob was the 2003 recipient of the "Keeping the Blues Alive" award (given by the Blues Foundation in Memphis) for his achievements in radio broadcasting. Putignano can be contacted at: [email protected]